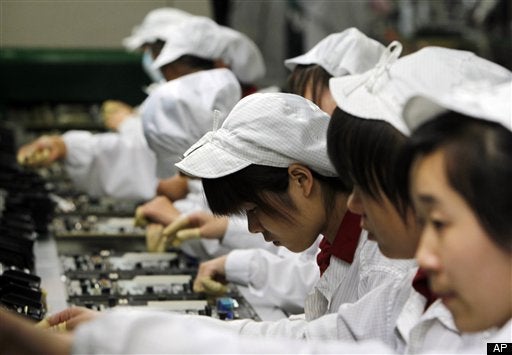 Apple sent COO Tim Cook to Foxconn, where a team of suicide prevention specialists had been dispatched to deal with the issues there. "The team commended Foxconn for taking quick action on several fronts simultaneously, including hiring a large number of psychological counselors, establishing a 24-hour care center, and even attaching large nets to the factory buildings to prevent impulsive suicides," the report said, going on to conclude that "Foxconn's response had definitely saved lives."
Apple's response to the suicides at Foxconn has garnered significant media attention over the past year, but Apple did not cut ties with the factory. According to their recent report, they did cut ties with a number of other factories violating their code, including one company that tried to bribe Apple officials to overlook violations, another that falsified payroll records, and one with over 90 underage workers.
Apple continues to work with several other facilities employing child labor, who have promised to work with Apple to prevent future underage workers. For those facilities found to be employing workers under 16, China's legal labor age, Apple is forcing the supplier to pay for educational expenses and lost wages for 6 months or until the worker turns 16, whichever is longer.
"During our investigation, we also discovered that the vocational school involved in hiring the underage workers had falsified student IDs and threatened retaliation against students who revealed their ages during our audits," the report went on to say. "We reported the school to appropriate authorities in the Chinese government."
Apple also discovered a facility that endangered their workers by exposing them to n-hexane, a chemical that reportedly left some workers unable to walk. "We required the facility to discontinue use of n-hexane, to fix the factory's ventilation systems," Apple said of the discovery.
Additionally, Apple found that less than a third of reviewed factories complied with the company's standards for working hours, which are a maximum of 60 hours a week. The company is working to improve management and oversight over these issues. Read the full report here.
Popular in the Community