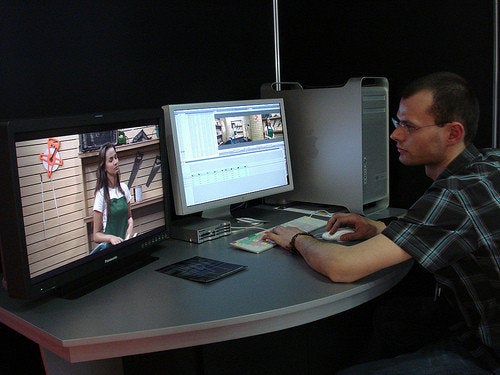 Apple (at least in its 21st century incarnation) is not known for its stumbles. Even the handful of lackluster releases of the last decade -- Apple TV and MobileMe are oft-cited standouts -- can only be considered failures relative to the astronomical success of product lines such as iPod, iPhone, iPad and Mac.
Last Tuesday, Apple released Final Cut Pro X, the long-awaited update to its ubiquitous professional video editor. Within hours of its debut on the App Store, blogs and forums were buzzing with what should have been excitement. The ensuing pandemonium, however, was almost uniformly negative.
Open petitions of protest were filed. Memes were unleashed. Even Conan O'Brien chimed in with a sketch, humorously pieced together by his resentful editors (in Final Cut Pro X, of course).
So what exactly went wrong?
The unanimous charge was that Apple had forsaken the professional community by releasing a product that closely resembles the consumer video editing program iMovie (a step down from the more sterile but more comprehensive Final Cut Studio suite). Among the most cited complaints were the loss of the print-to-tape function (crucial for exporting in broadcast environments), a "dumbing down" of the editing feature set, no ability to monitor playback on an external screen, and a radical new raw file layout that abandoned some of the more traditional processing formats. Perhaps less surprising, there also appeared to be no way to import or edit projects created with the older Final Cut software.
On Apple's App Store (the only venue that sells the software), the rating for FCP X quickly plummeted to an embarrassing 2.5 stars.
To be fair, most of the apparent oversights should have been included in the release, a move that almost certainly would have prevented the subsequent trolling and rage.
And yet, despite the apparent catastrophe, Apple will still likely come out ahead in the end. Why?
In this era of information overload and collective ADD, corporate slip-ups fade quickly from consumer memory. All of the free press Apple has received for Final Cut Pro X -- albeit negative at the outset -- has introduced a wide swath of amateurs to the existence of the more expensive Final Cut line. And when Apple undoubtedly releases fixes for the most egregious issues in FCP X, there are droves of new customers who will eventually jump on board.
As for high-end production studios, were any of them actually planning to make a brisk switch to brand new software upon its initial release? Unlikely. Industry adoption is, for good reason, cautious and lethargic. It took years for professionals to accept and incorporate the original Final Cut lineage into studio workflows. The same will likely hold true for FCP X. And as for the truly high-end studios, Avid remains the industry flagship.
As for mid-level editors, some may jump over to Adobe's competitive Premiere platform; others will stay with the fully-functional Final Cut Pro 7 interface, at least until Apple releases a few critical updates to FCP X.
Finally, plenty of brave early adopters have and will continue to jump headfirst into FCP X, which does offer some notable advantages over its admittedly outdated predecessor. The major speed and interface improvements alone, thanks to the freshly designed 64-bit architecture, are enough to convince plenty of users to take the plunge. Having used it briefly myself, I'll admit that while I like its updated interface, I'll be sticking with the older version of Final Cut until the kinks are fully worked out.
So is Final Cut Pro X Apple's "New Coke," otherwise known as the most ignominious marketing flop in corporate history? Perhaps.
But then again, take a look at Coca-Cola today. So much for lemons.
Related
Popular in the Community