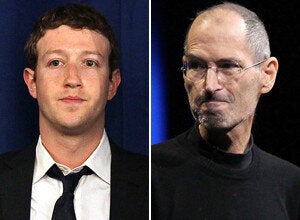 Apple has revamped the software that powers its iPhone, iPad and iPod touch to include, for the first time ever, a major integration with a social network -- but not the one you might think.
For the social media features in the new version of its iOS operating system, Apple, the world's most valuable technology company, did not partner with Facebook, the world's largest social networking site.
Instead, the Cupertino company opted to team up with Twitter, a micro-blogging service that has around half as many members as Facebook and remains far from attaining its mainstream status.
Twitter will be built in to iOS 5 and integrated across multiple Apple applications. By signing into Twitter just once, users will be able to instantly send tweets containing photos, videos, links and more.
Experts suggest the Facebook snub stemmed from Apple's desire to maintain control over the user experience and preserve its direct relationship with its customers, aims that clashed with Facebook's own ambitions.
As media companies, record labels and television studios know all too well, Apple wants to be the first point of contact for its users when they purchase a subscription, when they see an ad or when they browse for apps. The company has scrupulously maintained an iron grip over the entire experience consumers have with its products, whether at an Apple Store or in the App Store, which offers only applications that have been vetted by Apple.
Just as Apple has expanded its reach onto music players, television sets and computers, so too has Facebook grown its own platform, spreading its presence throughout the Internet in order to serve as the connective tissue for consumers' interactions online. The social networking site, once the online equivalent of the hard-copy Facebook directories given to college students, now serves as a hub for gaming, dating, sharing articles, renting videos, shopping, finding discounts and much more.
"We haven't seen the same antagonism between Apple and Facebook as we have between Google and Facebook, but I think there's the same underlying concern about being at center of customers' life and experience," said Charles Golvin, an analyst with the research firm Forrester. "Facebook desires to be at the center of the consumer experience and while it will work with others, it wants the Facebook experience to be at the core."
Facebook already has its own plans to spread onto cellphones -- and they don't have to include Apple. Though Facebook has denied rumors it plans to build a "Facebook phone," the social networking service has already been deeply integrated into smartphones such as the INQ Cloud Touch and Microsoft's Windows Phone 7 smartphone operating system.
And this may just be the beginning. Asked about Facebook's ambitions in mobile, CEO Mark Zuckerberg has said that Facebook should serve as "a platform for making all of these apps more social," offering "an extension of what we see happening on the web."
The lack of Facebook integration in iOS 5 may also stem from the social network's close ties to Microsoft, an early investor in Facebook that has partnered with the site on everything from smartphones to search. Microsoft has made Facebook front and center on Windows Phone 7, syncing photos, status updates, contacts and more from the social network.
"Microsoft is an investor in Facebook and Facebook is very deeply integrated into the Windows Phone operating system, so there may be contractual agreements there that would preclude integration with a competitor to Windows Phone," said Ross Rubin, an analyst at NPD.
At the same time, Facebook's relationship with Apple has been far less cozy. Talks between the two companies to integrate Facebook into Ping, an iTunes-based social networking service, reportedly fell apart last year.
Rubin also noted that Facebook "has not been supporting the iPad up to this point"—Facebook has yet to release an official iPad app, whereas Twitter has shown more consistent investment in developing for a range of Apple devices, with different versions of its app customized for the iPad, iPhone, and Mac.
Analysts concur that the success of Apple's iOS devices isn't likely to be hampered by Facebook's absence as an official partner.
But there may be winners. Apple's competitors, like Microsoft, have a way to instantly differentiate their products, and Twitter will likely get a major boost from Apple's brand.
Related
Popular in the Community