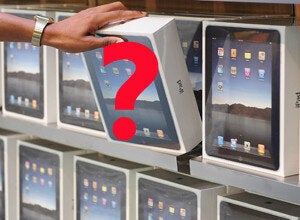 Apple CEO Steve Jobs made a surprise appearance during the company's earnings call Monday afternoon and shared his (blunt) take on Apple's competitors, as well as his view of the future of the iPad.
What will Apple's "iPad 2" look like? Despite rumors from outlets like Digitimes that Apple is at work on a 7-inch version of the iPad, Steve Jobs suggested users shouldn't hold their breath for a smaller iPad.
"The reason we [won't] make a 7-inch tablet isn't because we don't want to hit that price point, it's because we think the screen is too small to express the software," Jobs said, according to Apple Insider, adding, "As a software driven company we think about the software strategies first."
Jobs said he believes the "current crop of seven-inch tablets are going to be DOA, Dead on Arrival."
This size isn't sufficient to create great tablet apps in our opinion. Well, one could increase the resolution of the display to make up for some of the difference. It is meaningless, unless your tablet also includes sandpaper, so that the user can sand down their fingers to around one quarter of the present size. Apple's done extensive user-testing on touch interfaces over many years, and we really understand this stuff. There are clear limits of how close you can physically place elements on a touch screen before users cannot reliably tap, flick or pinch them. This is one of the key reasons we think the 10-inch screen size is the minimum size required to create great tablet apps.
Jobs also gave no hints that Apple was reconsidering its ban on Flash. An analyst asked Jobs where there were "any updates to your stance on Flash," to which Jobs replied, "Flash memory; we love Flash memory." Jobs added later, "Flash hasn't presented any problem at all. As you know, most of the video on the web is now available in HTML 5."
Although Jobs handily dismissed the smaller tablets during the earnings call, he's also been known to be misleading about products that Apple has in development. He said at the All Things Digital conference in June that Apple had no plans to develop a TV interface--then launched the revamped Apple TV just four months later. As CNET points out, in 2003 Jobs dismissed tablets at the All Things Digital conference, saying, "There are no plans to make a tablet [...] It turns out people want keyboards.... We look at the tablet, and we think it is going to fail." Several years later, witness the iPad.
What features do you hope the next generation iPad will have? Weigh in below.
Popular in the Community