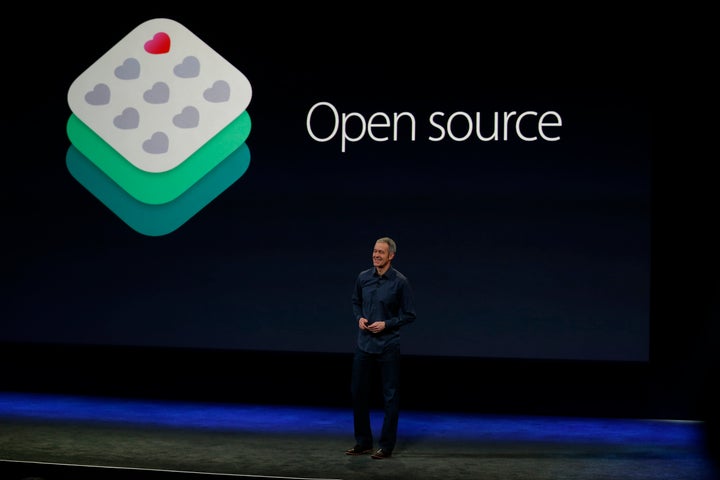 Apple is making it easier to collect your own medical data.
Inspired by the overwhelming success of last year's ResearchKit -- an open source app platform that allows research institutes to recruit and measure participants in medical research studies by iPhone -- the tech company is launching CareKit, a platform that allows individual users to now share the research data they're collecting with healthcare providers and concerned loved ones.
Jeff Williams, Apple's chief operating officer, announced CareKit on Monday and said it was a natural extension of ResearchKit's mission.
"What became clear to us later is that the very same tools used to advance medical research can also be used to help people with their care," said Williams.
ResearchKit created a seismic shift in the way that people can contribute to studies by opening up the study participant pool to anyone with an iPhone, as opposed to the traditional method of only recruiting people who live near a given institution. While iPhone users tend to be richer than the general population, it's also true that the people who have iPhones are more demographically diverse than the predominantly white male participants in most research studies.
CareKit's very first apps
One CareKit app has already been developed by the University of Rochester Medical Center. Building on the insights learned from mPower, their ResearchKit app to collect data from people with Parkinson's disease, the new CareKit app will allow users to share the research data with their caregiver.
Dr. Ray Dorsey, a Parkinson's disease researcher at URMC who helped develop mPower, explained that ResearchKit users have always had access to their own medical data. But CareKit brings users' own doctors into the mix in the hopes that sharing the research data with them can help the doctors make more informed decisions about their patient's care.
"ResearchKit's mPower allows people to participate in research regardless of who they are and where they live in the United States right now," Dorsey told HuffPost. "Can't we make it such that we can use that same data people are using for research to help guide their care and individualize their treatment wherever they live, and whoever they are?"
Another CareKit app developed by Texas Medical Center addresses post-surgery care. It helps keep track of a patient's temperature, movement and symptoms after surgery, allowing them to share the data with both their doctors and loved ones who want to support them.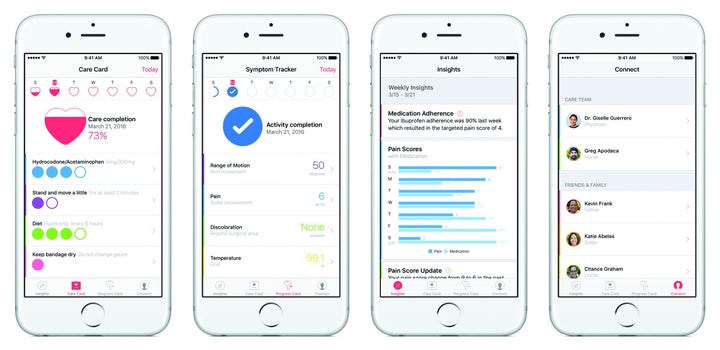 It's a far cry from what clinics usually give patients after surgery, said Williams.
"One of the things physicians tell us is that one of the most important things affecting outcome of surgery is actually what you do during the recovery process," said Williams. "Yet we go from being monitored by a team of highly trained specialists using leading edge technology to being discharged with this -- a single sheet of paper."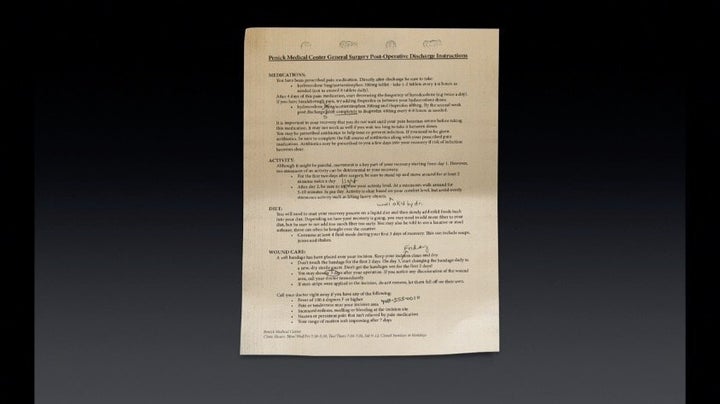 Of course, sharing smartphone data with one's doctor is nothing new. But the high quality of the apps on ResearchKit, and now CareKit, are what stands out for clinicians like Dr. Jaime Hatcher-Martin, an assistant professor in movement disorder neurology at Emory University and an expert on how technology can help improve patient care.
Most smartphone apps that collect medical data from users is self-reported, she pointed out. For example, people can enter their food for the day or log the medicines they take into their phones. But Hatcher-Martin, who did consulting work for Apple on the CareKit version of mPower, notes that these high-quality apps, developed by researchers who study specific conditions, also provide doctors with objective data such as measuring a person's tremor, recording a person's voice and even collecting information on a person's walking gait. Those measured data points, combined with the traditional self-report features in mPower, give doctors the best insight about how a particular medication may be affecting a patient, or how the disease is progressing.
"Having something that's more objective is one of the really big things that I enjoy and would be really good for [doctors]," she explained. "It's not just patient-driven data, it's objectively collected data."
ResearchKit's success, one year later
In addition to announcing the new launch, Williams discussed the resounding success of recruitment for ResearchKit apps, one year out. mPower became the largest Parkinson's study in history in less than 24 hours, he noted.
Williams also pointed out that Massachusetts General's app for a Type 2 diabetes study may have identified subcategories of the disease, where before doctors have understood it as a singular condition.
"We have been absolutely humbled and inspired by the response to ResearchKit, and we can't wait to see what great apps get created with CareKit," he said.
In the video below, researchers and patients discuss how ResearchKit apps like Autism & Beyond and the EpiWatch have changed the way they view the diseases they study and live with. To watch the entire CareKit announcement, check out video of the event. The health portion starts at minute 13:35 and ends at minute 24.
Related