Raise your kabuki brush if you tend to be a bit heavy-handed with blush. There's no need to feel embarrassed, as there's a fine line most of us have crossed when it comes to applying blush.
That's why we put together this quick guide, including the products you'll need, to help you not go overboard.
Step 1: Set a smooth foundation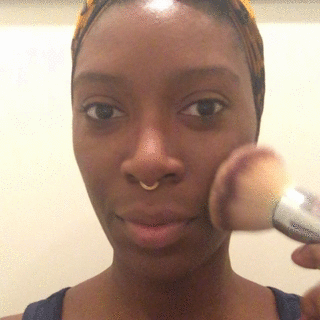 Stila Cosmetics Global Executive Director of Creative Artistry Sarah Lucero believes that it is imperative to spend the first 60 seconds perfecting your complexion with a sheer tinted moisturizer or your favorite foundation. "A polished and even texture will ensure that your blush is not competing or clashing against blotchy skin or uneven redness," she says.
Step 2: Get your flush on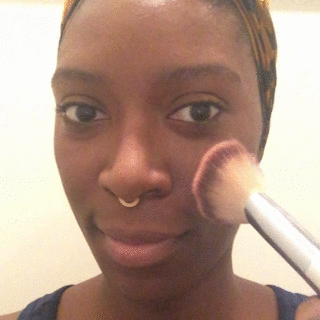 Once you've set the stage, so to speak, you'll want to choose the right formula and tool that works best for your complexion.
If you prefer powder blush, Lucero recommends using a soft brush and gently applying in an "X" motion to create a natural flush. She explains, "Focus on the apple of your cheek, as that is the area where you naturally blush."
If you like to use bronzer as your blush, then blend around your entire face with an added layer over cheekbones and down bridge of nose. "This will give the appearance as if you caught a bit of sunshine outdoors," says Lucero.
If you are pale or have a fair skin tone, try dipping the brush into a sheer pressed powder before your blush color. According to the makeup pro, this trick helps to coat the brush and will sheer out the powder formula, allowing you to gradually build color rather than looking clown-ish.
If you prefer cream blush, simply use your fingertips and gently tap the product onto cheeks. Never rub cream color into skin as you may become red.
Lucero's stance on shimmer and frosted blushes: Save them for the final touches. "I feel these could easily enhance and spotlight your pores, so use them for a pop on top of your classic blush color," she says.
Tired of whipping out your brush throughout the day to touch up your blush? Try layering it over a lip stain for lasting results.
Step 3: Look in the mirror and smile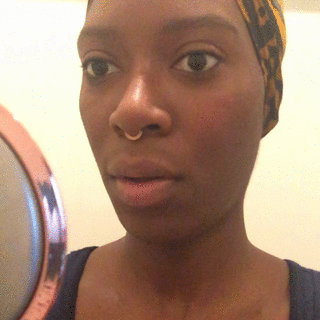 "The goal is to even out your complexion and add a hint of color back into your cheeks to reflect your youthful, healthy and beautiful attitude," says Lucero. Take this final minute to check yourself out, making sure that your natural skin comes through. Then, add a lip color in the same color family to tie your entire look together.