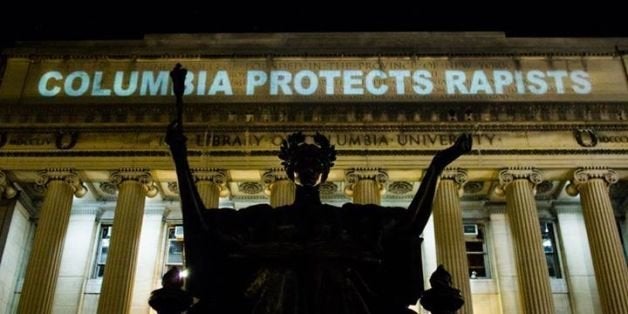 Warning: This post deals with issues of sexual violence.
When someone posted an article about No Red Tape's Days on Campus demonstration in the Columbia Class of 2019 Facebook group, I smiled.
I'm a member of Columbia College's Class of 2019. I'm also a survivor of sexual assault. This made the college application process extremely challenging for me. While my high school classmates sought information on majors and campus clubs, I was drowning in information about colleges failing to address sexual violence. Even the schools I looked at that weren't under investigation for violating Title IX had suspiciously low reported rates of sexual assault -- generally an indication that survivors are uncomfortable coming forward, or that schools are omitting known assaults.
Schools publish statistics on campus assaults yearly, but no school I applied to reported more than a couple dozen, despite having thousands of students on campus. This means that many schools, Columbia included, report assault rates of less than 1 percent, a far cry from the studies that have estimated that 20 percent of undergraduate women and 6.25 percent of undergraduate men are sexually assaulted in college.
I found myself in an extremely challenging position: I had to fall in love with a school that fails survivors like myself.
When I told my friends that I had decided to apply Early Decision to Columbia, they were stunned. They didn't understand why I wanted to attend a school facing a large Title IX suit, a school that allows the few students who are found responsible of gender-based misconduct to be TAs and RAs, and a school where a few short videos are substitutes for the comprehensive, ongoing consent workshops some activists have been requesting for years.
But it's precisely the fact that I've heard about what Columbia is doing wrong that made me comfortable applying. While schools nationwide are failing survivors (some not as much as Columbia, some more so), not every school has dozens of student activists who are willing and able to fight for change. I want to go to a school where there are students who will fight for survivors like myself and publicly call out administrators when policies fail. I found that school in Columbia.
No Red Tape's protest at Days on Campus reaffirmed for me that I made the right college choice. While I'm sympathetic to the fact that some other survivors were triggered -- and sincerely hope that in the future, student groups will find ways to warn survivors before broadcasting triggering language -- I think No Red Tape's protest was a vital part of Days on Campus. I don't think anyone should choose a school and be completely blind to its flaws, and when it comes to dealing with sexual violence, Columbia has many of them. We can't fix what we don't acknowledge. Some students might be annoyed by No Red Tape, but it's hard to deny that the group is drawing attention to an issue that has been largely swept under the rug by schools for decades.
Being at a place like Columbia, where activists raise awareness about sexual violence, is something I've wanted for years. I sat through over 20 hours of middle and high school sex education classes and never heard any adult utter the words "consent," "rape," or "sexual assault." I spent years hiding what happened to me because I thought it was something only I experienced. I didn't realize there were support groups and counseling services available to me until many years after I was assaulted.
I'm tired of feeling alone. I'm tired of not being surrounded by activists fighting for survivors like myself. I smiled at No Red Tape's protest for the same reason I almost started crying with joy when I was accepted to Columbia: I know that, come August, I won't be alone anymore.
Popular in the Community