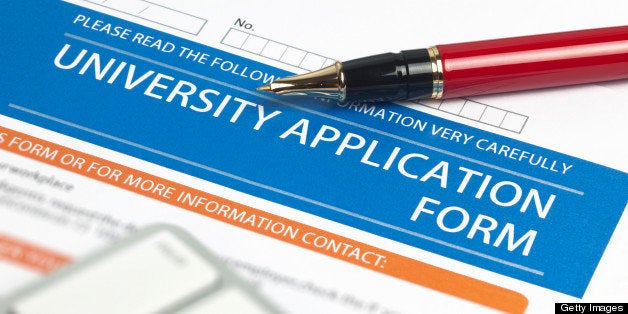 Most early application deadlines have passed, and college-bound seniors are currently in the process of wrapping up their remaining applications - with most students applying to a couple of schools that might be more difficult to gain admission to than others. These institutions on a student's college list, referred to as 'reach' colleges, are an important component to the college application process.
Back in August I wrote a piece about applying to 'likely' colleges and how it's important to have a balanced list of colleges in order to maximize your chances of gaining admission to great-fit schools. While it's important to have realistic expectations about where you may or may not be able to gain admission, it's also okay to dream big and apply to those colleges that seem like a 'reach.'
Students applying to reach colleges should consider their academic profile and the school's standards, and make sure they're close enough to that middle 50 percent to be considered. After college applications are submitted, computer programs often filter them based on those hard factors like grades and test scores to eliminate those applications that are well below the university's standards. Applying to a long-shot college with credentials that are significantly lower than the school's standards is just throwing money away since, unless you're granted an application fee waiver, you'll have to pay for that application - anywhere from $50-80 - and your application will likely be sent to the 'no' pile early on in the process.

'Reach' Doesn't Have to Mean 'Name Brand'
Just because a top-tier institution is a reach college for an applicant doesn't mean he or she should apply. A school's selectivity can make it seem more attractive than it otherwise would. After all, who wouldn't want to say they made it into a college that's hard to gain admission to?
Just like the other schools on your college list, the reach institutions you're applying to should be good-fit schools that meet your academic, financial, and social needs. Yale is not a good-fit college for everyone. Don't focus on the name of a school when selecting colleges to apply to. Do your research to find colleges that meet those needs and then determine where that school falls on your balanced college list.
How to Get Into A Reach College
If you do decide to go for that far-reach college, it's important that you know why you're a good fit for that institution and effectively demonstrate that in your application. All colleges have institutional needs, so it's important to not only highlight your specialty, but also understand what makes that institution a good fit for you. Colleges want to admit students who want to attend, and an application or supplemental essays that show your informed interest and the care that has gone into crafting that application can go a long way. It's also important to know when a special circumstance, like being a legacy applicant, can work in your favor.
When applying to reach colleges, target those reach schools that would show an interest in an applicant like you. For example, a selective liberal arts college might be recruiting more students interested in studying a science field like chemistry or physics. If you're really into physics, that school might be interested in recruiting you to apply and admitting you to fit that institutional need. This is why it's important to go to college fairs and campus visits to talk to college reps to find out what they're looking for and how you fit into the fabric of that campus.
Also, if your 'hard factors' aren't that strong, play up the 'soft factors' in your college application. Write compelling essays, get stellar recommendations from your counselor and teachers, take time to highlight your extracurricular activities and the impact you've made in your community, and more. Colleges are just as interested in who you are outside of the classroom, and want to admit students who will positively contribute to the campus community. Things like outstanding essays, recommendations, and activities can inspire an admissions officer to advocate on behalf of you when they're making tough admissions decisions. It's important to make yourself memorable.
Additional Tips for Applying to Reach Colleges
Keep your list balanced. Don't only apply to reach colleges thinking at least one has to admit you. This s why having a balanced list of target, reach, and likely colleges is important - you don't want to be stuck with no where to go next fall after applying only to institutions you had a slim chance of getting into.
Set realistic expectations. A reach college isn't going to be easy to get into, and it's almost impossible to predict what might happen after your application is submitted. Set realistic expectations about your chances of gaining admission to your reach colleges. If you apply only to reach colleges with an academic profile that is significantly lower than their median standards, know that your chances of admission are extremely slim. Stay positive but also keep a level head about what your application decision might be.
Choose the best-fit college for you. So you got into one or two of your reach colleges? That's great! But just because you get into a college that's not easy to gain admission to doesn't mean you have to go, or that it's the best-fit school for you. Take time to weigh all your college options after acceptances come in and choose the college that meets all your needs. You can be surprised to find that your feelings toward a particular college can change after acceptances come in.
Related
Popular in the Community