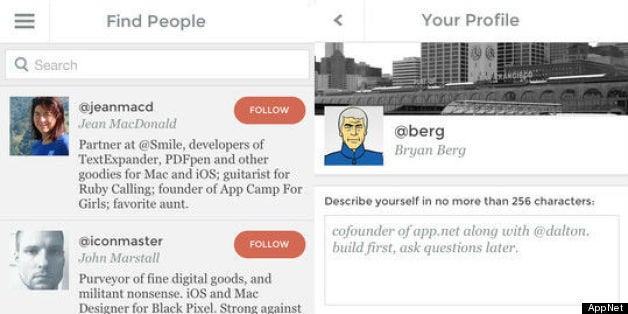 The subscription-based, ads-free Twitter alternative that lets you post messages up to 256 characters long has a new app that lets anyone join for free.
You can start a limited App.net account -- without an invite or immediately paying for a subscription -- by downloading its new iOS app called "App.net Passport," which launched Thursday. Founder of App.net Dalton Caldwell explained in a blog post that you can create an account, find and follow other App.net members, set up a profile and bio, and download and discover new App.net apps with Passport.
You can not post messages or message anyone within Passport as it's meant to be a gateway to get people into the service, find new ways to interact with it, and ultimately pay for full membership. This author recommends Riposte, a free Twitter-like App.net client, to begin messaging on the service.
The idea behind App.net as it was originally conceived was to create a social platform that allows developers to build on top of it, especially as Twitter more and more controlled its ecosystem and didn't play as nice with third-party apps. Its founder has also been adamant that there will never be any ads; instead it will be subscription-based. Among other things, a subscription to App.net, which starts at $36 per year, includes 10 GB of file storage.
"What the world needs is a user centered-service, where users control their data and there's an open platform for devs to build on," Caldwell said of App.net in an interview with The Huffington Post.
He noted that popular social networks today seem to think differently. But if you look at history, technology and users' choices can evolve quickly, and that's why he's built an open, rapidly-innovating platform.
"There was a time when MySpace was literally no. 1 in traffic. Everyone talked about how big a deal it was, how it could crush you," he said. "It's fascinating thinking back just how quickly tides can turn."
Caldwell said that the goal for App.net is to keep innovating and allowing developers to constantly improve the product.
"What makes me most optimistic is the breadth and depth of the available applications has been nothing short of amazing," Caldwell said.
(All the App.net apps can be browsed in the App.net Directory, which includes sections for iPhone, iPad, Android and Windows Phone; Mac, Windows, Linux, browser extensions; posting services, search and discovery and integrations.)
In February, App.net became a "freemium" service: you could be on it for free but only if you get an invite from a paid user. Free accounts are restricted to following 40 users, 500 MB of storage and uploading files up to 10 MB. Now you can get a free account with Passport as well.
Editor's note: This post was updated to include new quotes following a HuffPost interview with App.net Founder/CEO Dalton Caldwell.
BEFORE YOU GO