Economics 101 says that the value of something derives from how much a potential buyer would be willing to pay for it. This is true whether the object is new or an antique. An original set of silver or dinnerware may in fact be more valuable than its modern-day equivalent. Artifacts even more so.
Then there's ivory. Ivory and the trinkets made from it are in high demand globally. So much so that despite restrictions on illegal poaching and trafficking, elephants are still being killed at a tremendous rate of 35,000 per year, or about 96 elephants every day. Scientists at the Wildlife Conservation Society (WCS) predict African forest elephants may be extinct in the wild within a decade.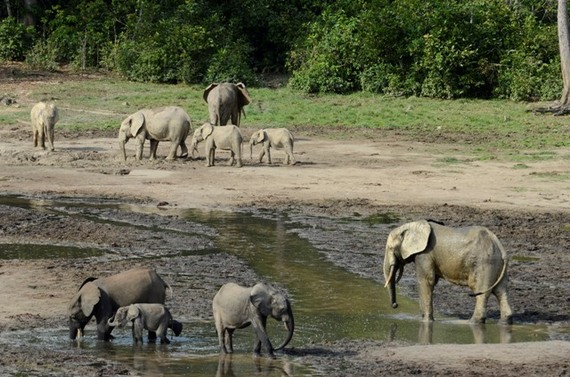 Wildlife Conservation Society scientists predict that without immediate action African forest elephants may be extinct in the wild within a decade. Photo by Cristián Samper/WCS.
Around the world, people are coming to the realization that elephant tusks should be valued when they remain securely on a living animal. Thankfully, the producers and appraisal experts at Antiques Roadshow have agreed with us and are now standing with the elephants by ending on-air ivory tusk appraisals.
Every time value is assigned to an ivory product, the market -- both legal and illegal -- goes up and serves as incentive for more killing. That's why the 96 Elephants campaign, comprised of 153 organizations representing 42 states, asked the producers of the Public Broadcasting System television show Antiques Roadshow, produced by Boston affiliate WGBH, to stop appraising ivory.
On Antiques Roadshow, people from across the country can have their household treasures and family heirlooms appraised by experts. While it may be thrilling to see Grandma's third generation Persian rug receive an appraisal value of thousands of dollars, for many it's downright horrifying when that same expert values a piece of carved ivory tusk at the same price.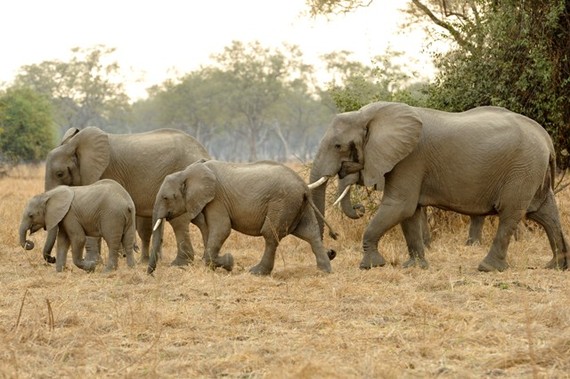 The 96 Elephants campaign asked the producers of the Public Broadcasting System television show Antiques Roadshow to stop appraising ivory. Photo by Julie Larsen Maher/WCS.

More than two decades ago, the Convention on the International Trade in Endangered Species of Wild Flora and Fauna (CITES) imposed a moratorium on the sale and trade of ivory obtained from African elephants killed after 1990. But because old ivory is virtually indistinguishable from new ivory once carved, enforcement of the ban has been difficult.
U.S. Fish and Wildlife Service criminal investigations and anti-smuggling efforts have shown clearly that the legal market frequently serves as a cover for illegal trade. Unscrupulous dealers sometimes deliberately identify ivory from recently killed elephants as antique, while others may choose not to ask too many questions about a given item's provenance.
Large ivory carvings present a greater risk for fraud than antique items with a small amount of ivory such as a musical instrument, furniture with ivory inlay, and ivory-tipped canes. Because the goal is not to hurt legal sellers of antiques or other blameless parties, there have been ongoing discussions with impacted organizations including auction houses to work out language that would allow such antiques with appropriate documentation to remain on the market.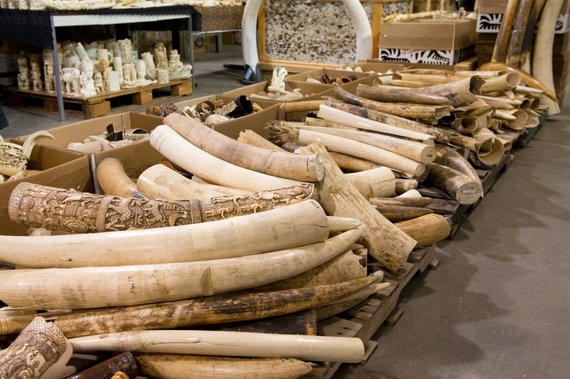 In November 2013, the U.S. Fish and Wildlife Service took the unprecedented step of pulverizing nearly six tons of elephant ivory stored at the National Wildlife Property Repository in Colorado. Photo by Julie Larsen Maher/WCS.
After hearing from thousands of concerned individuals, the producers of Antiques Roadshow decided to cease appraisals of ivory tusks and remove old appraisals of tusks from their web site. We can count this as a step forward in educating Americans about the issues surrounding ivory and wildlife trafficking.
It is heartening that we have seen some steps forward recently in the fight to save elephants. The U.S. government's decision to close down domestic ivory markets and its crush of confiscated illegal ivory sent the message that ivory should not be for sale. We can continue this momentum by spreading the word among new audiences like those who watch Antiques Roadshow, which has pledged to use future appraisals of items with small amounts of ivory to educate their viewers on the larger context of the objects.
We need to make sure that we get the message across that an elephant is worth more alive than dead. We know that the true cost of ivory is not the same as its value on Antiques Roadshow or on the street. It may not be official Economics 101 terminology, but we don't need an appraisal expert to tell us the value of a secure future for elephants in the wild: priceless.
------------------------------------------------------------------------
John F. Calvelli is Executive Vice President for Public Affairs at the Wildlife Conservation Society and Director of the 96 Elephants campaign.

Related
Popular in the Community