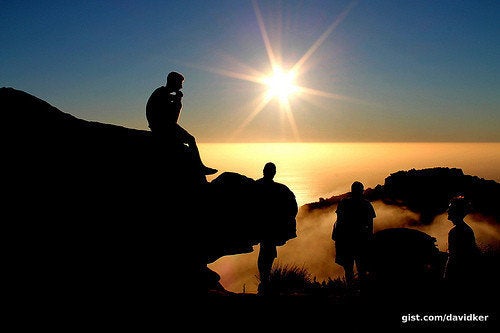 "Don't wait, the time is now!"
We hear these motivational statements often, telling us to seize the moment and grab life by its horns, yet we usually sit back and let the opportunities waste away. We plan to talk to that friend "tomorrow," or follow our dreams "soon." We push things off for the future and let our dreams constantly fall to the back burner. The hope is, though, that one day we come to realize that we can no longer wait to be the person we've always wanted to be. For me, this happened over the last year and half, and was marked by a significant death -- that of a close friend, a man of only 23 years old. His unexpected passing in May of 2011 was truly one of the most devastating things I've ever experienced.
We first met our freshman year in college, and became quick friends over our love of music. He had been writing various song lyrics over the years, and I had played guitar since the age of 12. It was a perfect fit, and that semester we made an original song, called "I Want to Be The Reason You Smile" -- a fitting title for something we both believed in. We were energetic students ready to share our passions with others, my friend even more so, with his huge smile and loud laugh that could light up a room in an instant.
That February, we both pledged a fraternity and had a semester to remember, as we forged new friendships and had many memories with our close-knit pledge class. My friend and I stuck with it to the end, and the following semester moved into the fraternity house as roommates. Our first words stepping into our huge double room were, "We've made it big!" That year was the time of our lives as young sophomores enjoying the quintessential college experience.
The following year, my friend had to move back home for personal reasons, and so we made an effort to keep in touch on a frequent basis. This continued over the years, until after my graduation in May of 2010. We both became busy with work, school, or other commitments; and our once weekly phone calls dwindled to every month to every two or three months. And as such, the last time we ever spoke was around his 23rd birthday in December of 2010. He called me again in February of 2011, and this is one of things I regret most -- I never called him back. I didn't pick up at the time, and figured I would just call him back shortly. And I forgot. I got busy again, and he fell out of my mind for some time until a warm May morning in New York City. I received a Facebook message that was sent to a group of my fraternity brothers. We were told that my friend had unexpectedly passed the weekend before.
My heart dropped. My pulse was racing. I was crippled with fear, anger, resentment and confusion. Lunchtime came soon, and as a spiritual person, I searched for silence and a place for prayer in this time of crisis, and pray I did. I prayed that this was not happening, that I was in some sick, tragic nightmare. I prayed that I was not actually losing one of my closest friends. Sometime later, I took the long, heavy steps back into reality -- the reality that my friend actually was gone, never to return.
The funeral service later that week was a tragic end to life of an amazing person, and yet a glorious show of togetherness for all of those who loved my friend. I heard stories of a young man who touched the lives of everyone he came in contact with. His joy for life and eagerness to help others was always accompanied by a huge smile and kind words.
I miss my friend greatly, but as I've come to realize, with every negative comes a positive, even though it may be shrouded by a wall of sorrow. For me, in my friend's passing, I found a moment of clarity and redefined purpose.
Around the time of his death, I had been a few months into a complete lifestyle change, and this event only furthered my determination to be a healthy, impassioned individual. In the 11 months since his passing, I've found my way to near-completion of a weight loss journey of 55+ pounds. I swapped out junk foods for whole foods, and now actually look forward to my workouts. I have cut out my toxic habits of alcohol and cigarette use. I have found time, on the side of my day job, to start a social business that seeks to spread my passion for health and charity with others. Lastly, I have made it a goal to make sure I connect with loved ones on a consistent basis, find a way to always help others and to be truly present in life. Although I still struggle at times, I now see myself in tune with the motivational mantras of our day -- I am able to seize the day, pursue my lifelong dreams and surmount obstacles that I never thought possible.
It took the loss of a close friend and young man of 23 for me to continue my pursuit of happiness. But it does not have to be this way for everyone. So today, I challenge you to tell your loved ones how much you really care, to skip happy hour and spend time with the kids, to stand up for the raise you deserve, to start the business that you've always wanted. There is truly no better time than now. As my dear friend always said, "Do what you do." Be who you are, and follow the destiny that is already laid out for you. Take that first step, and NEVER give up.
Related