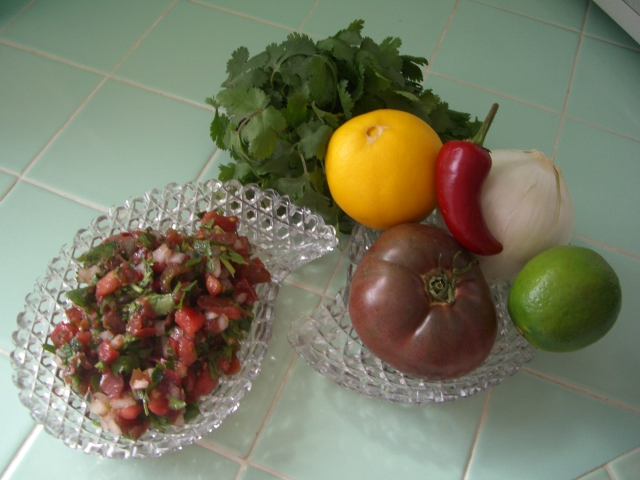 Mention the word "cilantro" in any social gathering and you're likely to get one of two responses: a rapturous "Love it!", or an exhalation sounding very much like "ptui!". The fresh form of the annual herb Coriandrum sativum is truly one of those "love it or hate it" foodstuffs that invoke an extreme of passion. Those who rave about it will cite its distinct fresh herbaceousness and unique flavor; those who disparage it will demean its "soapy" aftertaste and overwhelming pungency. I discovered there is even a website called "Ihatecilantro.com"!
I confess, I am a member of the cilantro lovers brigade -- I'll pile heaps of the leaves on my nachos, stir a handful into a pasta, and make a pesto of them for grilled salmon. But no matter which camp you fall into, it cannot be denied that there are definite health benefits to be had from cilantro that can be useful to us all.
Basically there are two components to the plant, causing it to be both herb and spice: the fresh leaves and stems -- known variously as cilantro, Chinese parsley, or Mexican parsley -- and the dried seeds, known as coriander or coriander seed. Its use is recorded as far back as 5000 BC, which makes it one of the oldest known spices. The Egyptians cultivated it, and associated it with immortality - coriander seeds were found in the tomb of that most famous of Pharaohs, King Tut; the Romans used it to preserve meats, and the Greeks used it in perfumes. It is even mentioned in the Bible, to describe the shape of the manna that fell from the heavens.
Folk medicine over the centuries in various countries has utilized coriander for a variety of maladies. In Iran, it was employed as a treatment for anxiety and insomnia; in India, an infusion of it was used as a diuretic; and holistic medicine in several cultures found it useful for curbing flatulence -- always a desirable benefit...
Modern medicine has identified a number of beneficial qualities in coriander that help place it high on the list of healing spices. Studies have shown coriander to be helpful in controlling blood sugar, cholesterol, and free radical production, by stimulating the production of insulin, reducing damaged fats in cell membranes, and increasing HDL levels. It appears that the volatile oils in the cilantro leaves, which are rich in phytonutrients, may have antimicrobial properties as well.
But perhaps the most intriguing and unique property of coriander is an antibacterial compound recently isolated by researchers, called dodecenal, found equally in the seed and leaves of the plant. This surprisingly potent antibiotic has been proven to be twice as effective in killing Salmonella as the most commonly-used antibiotic drug in current use. In fact, scientists have isolated an additional eight similar compounds in cilantro, thus placing it at the forefront of the current medical arsenal in warding off and possibly even treating Salmonella. Powerful medicine indeed!
So now you know how excellent an herb cilantro can be. Time to get some into your daily diet! A few tips on selecting, storing, and using:
- cilantro should be fresh, perky, and bright green, with no wilting
- to store, trim the bottoms of the bunch, place in a jar of water as if it were flowers, cover with plastic and refrigerate
- for the seed, best to buy it whole and grind as needed - easy to do with a mortar & pestle; or keep the jar of ground spice tightly sealed in a dark place
- always rinse fresh cilantro well just before using - it's often very sandy. And add it only at the last minute if your dish is something hot - cooking cilantro destroys the flavor.
There is a multitude of simple ways to incorporate cilantro into your daily diet: sprinkle a little ground coriander on fish before grilling, stir some chopped fresh cilantro into a quick chicken-vegetable soup, or make a dip for veggies with non-fat yoghurt, chopped spring onions & cilantro. Or make a healthy, delicious meal of the sandwich and salsa below!
Eggplant & Chickpea Pita Pocket
This mildly exotic sandwich makes an excellent luncheon, or pair with a crunchy green salad for a quick and easy light supper on a warm summer evening!
1/2 cup olive oil
2 teaspoons ground coriander
2 teaspoons ground cumin
1 cup chopped brown onion
1 large eggplant, cut into 1-inch dice (about 4 cups)
1 15-oz. can organic chickpeas, rinsed & drained
1/2 cup mango chutney
2 tablespoons fresh lemon juice
4 pita breads, cut in half to make 8 pockets
1 cup Yellow Tomato Salsa (recipe follows)
Heat olive oil, coriander and cumin in large heavy-bottomed saucepan. Add onions, cook over medium hit until just softened (about 4 minutes), stirring often. Add eggplant and continue to cook until eggplant is soft but not soggy. Remove from heat, stir in chickpeas, chutney & lemon juice. Allow to cool to room temperature. (Can be refrigerated for later use.)
Spoon about 2/3 cup of the mixture into each pita pocket; top with about 2 tablespoons of salsa.
Serves 4-8, depending on how hungry you are!
You can find heirloom tomatoes at your local farmers market, or even at your local supermarket these days. And the extra salsa is great with organic blue corn chips!
3 lbs. yellow heirloom tomatoes, chopped and drained
3/4 cup chopped white onion
1/3 cup chopped green onions
3/4 cup chopped fresh cilantro
1/2 cup chopped fresh flat-leaf parsley
1 teaspoon chopped fresh jalapeno pepper (or use Serrano for more heat!)
1 tablespoon fruity olive oil
2 teaspoons white vinegar
2 teaspoons fresh lemon juice
2 teaspoon fresh lime juice
Salt & pepper to taste
Combine all ingredients. Refrigerate for a few hours to let flavors blend.
Will keep for several days. Makes about 3 ½ cups.