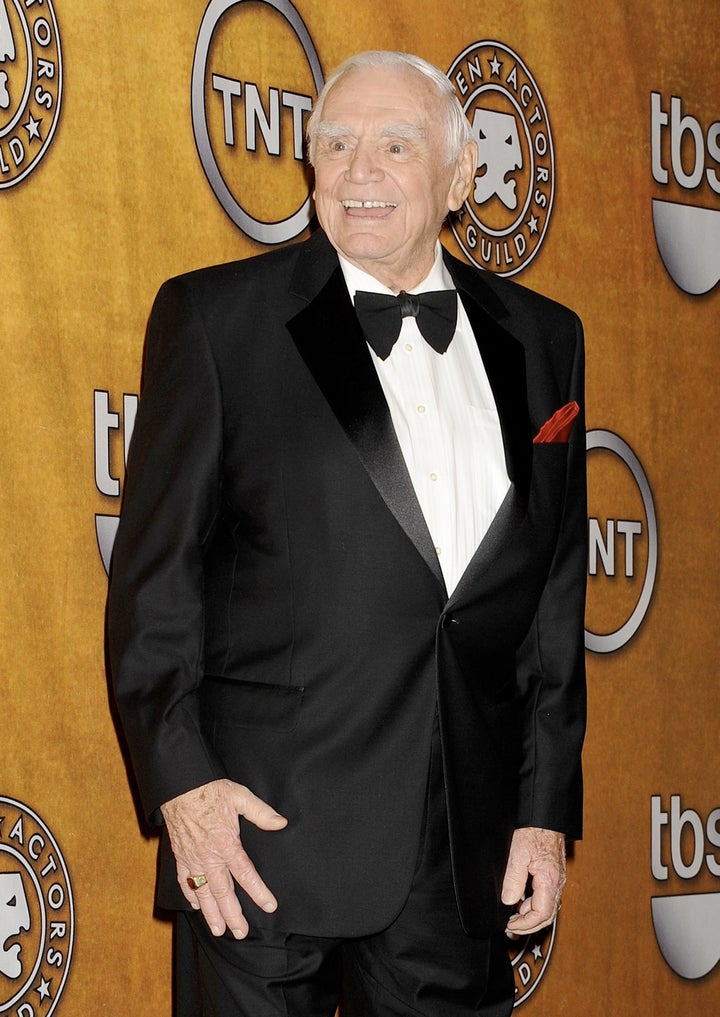 It is the only piece of celebrity memorabilia I display. It is an old-school, type-written letter, held up on my refrigerator by magnets of Elizabeth Taylor from Cat on a Hot Tin Roof on one side and Gene Kelly and Leslie Caron from An American in Paris on the other. It is dated April 25, 2011.
"Dear Ben," it begins inauspiciously.
Just wanted to let you know what a wonderful and unique experience it was for me to get to know you.

Most interviews are long and dreary but working with you was easy and very entertaining. I felt like you were an old friend and if you don't mind, I would appreciate you sending your contact information to me because I would like to continue our friendship.

Continue your good work and I hope to hear from you soon.
"Best regards," it concludes, "Ernie."
I called just about everyone in my universe when I got the letter last year, even though I'm certain it was the type of warm, human gesture that Ernest Borgnine did all the time. Didn't matter. Ernest Borgnine wanted to be my friend, and I was going to let everyone I'd ever met know about it.
Ernie and I had met a few days earlier in Hollywood for a Q & A prior to a screening at the Egyptian Theater of From Here to Eternity, where Ernie shared the screen with Burt Lancaster, Montgomery Clift, Frank Sinatra and Deborah Kerr. But signals got crossed and we both went to Grauman's Chinese first, thinking the event was there. Grauman's is a different classic Hollywood movie theater located nearby. They are two-tenths of a mile apart across Hollywood Boulevard. Having met him maybe 45 seconds earlier, I turned to Ernie to suggest he get back into his car and the driver would take him to the Egyptian. But Ernie wasn't there. He was already walking it. He was, at that point, 94 years old.
I had played softball that week and had banged my knee sliding into second base. I was limping. I wanted the car. I kid you not, I could barely keep up with Ernie.
He greeted everyone on the street -- and nearly everyone recognized him -- with an enthusiastic and warm "Hey there! How ya doin'?" But it was inside a theater where I got to see how much Ernest Borgnine mattered to people. Over the next year, he and I did three Q & A's for Turner Classic Movies. First at the Egyptian, then in December on the TCM Classic Movie Cruise and again this April in Portland, OR before a screening of the picture for which he won the Academy Award for Best Actor, Marty.
Each time I introduced Ernie, the crowd erupted viscerally. This wasn't cavalier Hollywood fandom. It was like some combination of George Clooney and Katy Perry. More like if George Clooney and Katy Perry had pulled your kids from a burning building. Sure, his fans loved him the way we all love certain stars. But with Ernie, the connection was much more substantial, so much more emotional. He meant something to them. His characters -- Marty Piletti, Quinton McHale -- affected how they felt about themselves. Ernest Borgnine mattered to their lives, and they wanted to show him. They wanted him to know.
I hope he knew he mattered to people like me, who weren't around for Fatso Judson or Marty or even McHale's Navy. He was already a legend when I met him, but he always acted like the kind of grandfather you'd create in a screenplay... you know, too good to be true.
On the TCM cruise in December, Ernie was pleased we hadn't booked anything for him Sunday because all he wanted to do was sit in his room and watch his Packers play the Raiders. That matched up nicely with what I wanted to do. I asked if he wanted company. "Sure," he said, "That'd be great." But I got cold feet and didn't want to impose. I regret that enormously. When an Oscar winner who looks exactly like Vince Lombardi (and played him in the 1973 TV movie Legend in Granite) invites you to watch the Packers with him, you do it.
In Portland, the ABC affiliate booked Ernie for a couple of segments during their morning talk show, AM Northwest. But his stories were too good for two segments. They blew out the rest of the show and kept talking to Ernie the whole time. He loved it.
Afterwards, Ernie, his longtime spokesman Harry Flynn and I got into the car to head back to the hotel. "Who wants pancakes?" Ernie asked. I'd already dropped the ball on the Packers, I thought; I'm not missing out on pancakes with Ernest Borgnine (to Ernie, by the way, there was no such thing as too much syrup). So we ate a great pancake breakfast and Ernie took maybe 15 pictures with customers, the chef, anyone who asked for a photo.
It was one of the great mornings of my life. I know I'm one of thousands -- millions really -- whose life was touched in some small but meaningful way by Ernest Borgnine. I hope he knew what a wonderful and unique experience it was for me to get to know him.
Calling all HuffPost superfans!
Sign up for membership to become a founding member and help shape HuffPost's next chapter