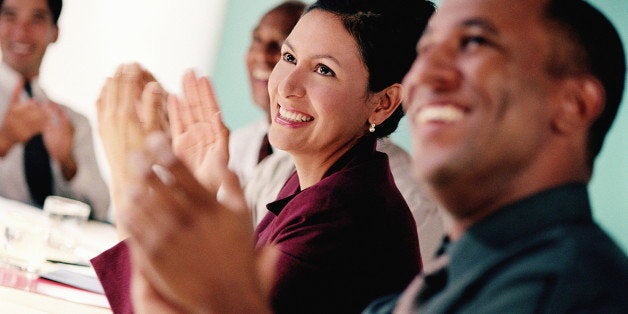 By: Chad Brooks
Published: 11/19/2013 05:08 AM EST on BusinessNewsDaily
It's the carrot, not the stick that keeps employees motivated in the workplace, new research shows.
A study by online career site Glassdoor revealed that more than 80 percent of employees say they're motivated to work harder when their boss shows appreciation for their work, compared to less than 40 percent who are inspired to work harder when their boss is demanding or because they fear losing their job.
Showing gratitude also helps keep workers from developing a wandering eye. More than half of those surveyed said they would stay longer at their company if they felt more appreciation from their boss.
While more money is the type of recognition employees would prefer most, employers can also keep their staff happy with a number of less-costly methods. The study found that 46 percent of employees would feel more appreciated if their boss gave them an unexpected treat, like snacks, lunches, dinners or thank you notes, while 24 percent would enjoy a company-sponsored social event, such as a holiday party or happy hour.
"There is a wide variety of ways to show employee appreciation that can go far towards keeping employees satisfied, engaged and retained," said Allyson Willoughby, Glassdoor's senior vice president of people and general counsel. "Even inexpensive forms of appreciation, like thank you cards and treats, or offering flexibility like telecommuting, show employees you value them."
Other forms of no-cost appreciation that employees want from employers include:
The research shows that with Thanksgiving approaching, employers have a number of opportunities to show their staff some gratitude for their hard work. Topping employees' wish list is having the day before and after the holiday off. Other perks employees would appreciate around Thanksgiving include a cash bonus, a grocery store gift card, a pre-Thanksgiving meal at work and the option to telecommute in the days before the holiday.
The study was based on surveys of 2,044 adults over the age of 18, of whom 891 are employed full or part time.
Copyright 2013 BusinessNewsDaily, a TechMediaNetwork company. All rights reserved. This material may not be published, broadcast, rewritten or redistributed. ]]>
Related