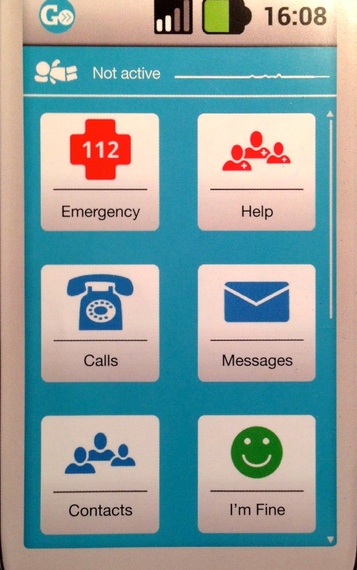 I wondered what was new for seniors this year at the second annual Aging 2.0 summit so I went to their San Francisco event. The enthusiastic attendees filled the auditorium, a mix of grey haired VCs, other investors, eager inventors, and tech company founders who finally get the enormity of boomers' spending potential to buy services and products that facilitate life after 60. No surprise there.
I also noticed a higher proportion of women of all ages than last year, including Katy Fike, co-founder of Aging 2.0, a gerontologist, businesswoman, and very-soon-to-be mother. In fact, she was due to give birth in only a few weeks. One of the featured speakers was 91-year-old Barbara Beskind who joined IDEO, one of the world's premier product design companies, at the age of 90. Working only one day a week, she focuses on problems specific to aging adults.
I like that such a well respected company like IDEO is putting energy and resources into the aging space and spoke with Gretchen Addi, Associate Partner at IDEO, who shared the talk and stage with Ms. Beskind. According to Addi, it was about 7 years ago when IDEO began to reflect on design for an aging population and started conversations with their clients to target that audience. It was also about the same time that Addi's father moved into her household. Making life accessible for him made designing for an aging population very personal. She described it as the "perfect storm" to enhance her awareness of seniors' needs and wants in products.
Similar to last year' summit, (see my previous blog) there were many products and services representing innovations in aging. Listening to talks and walking through exhibits I categorized types of offerings in my mind as: 1) those designed for the health care industry including assisted living, hospitals and health care providers in order to facilitate communication, payments, or data collection; 2) those designed for care-givers to monitor the well being and daily lives of older adults--generally with compromised health or limitations in mobility; 3) those providing rehabilitative functions--like the unique and clever "wearable device that reduces falls and foot ulcers for individuals with peripheral neuropathy by restoring the sensory feedback loop," (WalkJoy); and finally 4) devices that purport to make life easier or more enjoyable for seniors.
Having a press pass catapulted me into several discussions with app and robot vendors. I was struck by the number of similar types of services represented either because there is a perceived demand or, rather, based on a younger generation's image of what aging boomers and beyond should need. I say this because so many of the technology based devices focus on ways to remediate problems in daily living that a healthy population of seniors probably don't require. That being said, I realized after speaking with some of the creators that their ideas, beyond supporting needs like monitoring medications and making sure that gas and electric appliances are turned off in seniors' homes, are actually designed to comfort and support the 30, 45, or 60-year-old children of older parents. There's nothing wrong with that rationale if the older parents in question don't balk at the intrusiveness of these applications.
For example, two of the smartphone apps I liked best included one aimed more squarely at adult-children of older parents and the other at seniors directly. The first was introduced to me by its founder, a forty-something serial entrepreneur whose app CareAngel is intended to "watch over mom and dad." When we talked he pulled out his phone and demonstrated how he turned worries about his mom into an app to track her daily life. It checks in with her every morning, using his recorded voice, asking about everything from her vital signs to her mood. While she is in her mid seventies and in reasonably good health he feels that this app gives him peace of mind and she also finds it interesting. If she finds it intrusive, I don't know, but ironically it gives her more contact with her son than most of us have with our mid-forty sons!
So maybe it's OK to give up some privacy for more care. One of the features I really liked was CareAngel's focus on the "whole person" with various exercises, some of them with a mindfulness emphasis, depending on the user's responses and prompts.
The second app is designed to benefit the senior user directly. Gociety, is based in the Netherlands. Their "GoLivePhone" app (pictured above) helps to organize the user's life--everything from automatic reminders about medication routines to recording activity level, with absolute privacy until help is genuinely needed. For example, if the app didn't "record any activity for longer periods of time, an (if desired) automatic notification will be sent" to a caregiver of choosing. With a built-in user-friendly navigation system for walking or biking, it encourages a vigorous life style.
Overall I was impressed with the energy and innovative potential demonstrated throughout the day. Enhancing and simplifying the lives of all seniors, whether healthy and active or requiring aid to facilitate unique circumstances, provides an optimistic look into the future.
Popular in the Community