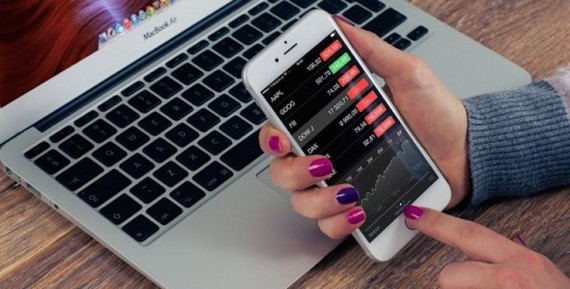 Screenshot: Androcid
Whether its stocks, commodities or currencies, mention the very idea of trading and you'll find that most laymen run a mile. To those outside of the industry, the idea of trading is an incredibly daunting one and that's no surprise considering how completely unapproachable it has been for so long. It's hard to deny that the world of trading has been one reserved exclusively for those with big money to invest and the technical knowledge to utilise that money.
However, trading is becoming more accessible than ever before, all thanks to a slew of new mobile apps launched with the intention of allowing just about anyone to dabble in trading from their phone.
The first and most prominent name in the mobile trading space is BUX. The app has actually been around for a couple of years, but has only recently picked up traction and is introducing a whole host of new players to the trading space and that's largely helped by how accessible it is to absolutely anybody.
The problem with most trading environments is that they're designed to be used by professionals and therefore require users to jump straight in with investing real money. However, not everybody is ready for that commitment, especially those with no prior knowledge of trading. That's where BUX's "funBUX" come in. The app has its own virtual currency that you can trade just like real money to get a feel for how the app works and most importantly how the whole process of trading works. What's fantastic is that Bux provides every user with 100 funBUX to get started, with additional currency available via number of mediums for those who need it.
BUX doesn't limit users to their FunBUX for longer than necessary, however. As soon as users feel ready, they're able to verify their account and throw in an amount as small as $50 to get started in the world of trading. BUX applies no pressure to get trading in the real world, meaning you can leave it until when you feel comfortable.
Whilst BUX can be operated entirely from your iOS or Android device, it does require you to invest a fair amount of your time, so might not necessarily be for everyone. That's where Acorns comes in. Acorns is another big player in the mobile trading space, pitching itself as a "micro investing platform". However, the best bit about Acorns is that it requires little interaction from its users, instead choosing to manage an investment portfolio comprised of your spare change.
That's right, Acorns is as simple as connecting every card you use to make purchases to your account via the app. Once that's complete, every time you make a purchase with one of those cards, Acorns will round that purchase up to the nearest dollar and the spare change will be invested automatically. That being said, those looking to use Acorns as a more regular investment platform can do by making one off payments to the app or setting up a recurring investment every day, week or month.
As aforementioned, Acorns is completely automated in terms of investing your money. All you have to do is give them your money and they'll decide how best to invest it and return you a reasonable profit. However, the mobile app does reward users with some control. Depending on how precious your money is to you, users are able to choose between different trading patterns to decide where their money is invested, allowing for the least risk for those who require it.
Ultimately, BUX and Acorns are designed to provide largely the same thing; the ability to trade small investment amounts from your smartphone, hence allowing a whole new demographic to enter the once inaccessible world of trading.
That being said, don't expect both apps to teach you everything there is to know about trading overnight. Whilst both BUX and Acorns come with resources that provide information about where best to make investments, it's outside resources that you'll want to turn to in order to find the most impartial advice. Just one quick look online and you'll find resources about investing in oil or investing in stocks.
However, not only are these apps completely changing who can access trading, but they're also changing how current trading platforms operate. If you take a look at the Apple App Store or the Google Play Store, you'll now find that plenty of trading platforms are offering mobile applications of their own. However, the fact still remains that many of these traditional platforms are largely inaccessible to those outside of industry.
Thankfully, the likes of Bux, Acorn and others provide a platform that allows just about anyone to get into the world of trading, without investing a large amount of capital and best of all, from the portability of their mobile phone.
Calling all HuffPost superfans!
Sign up for membership to become a founding member and help shape HuffPost's next chapter