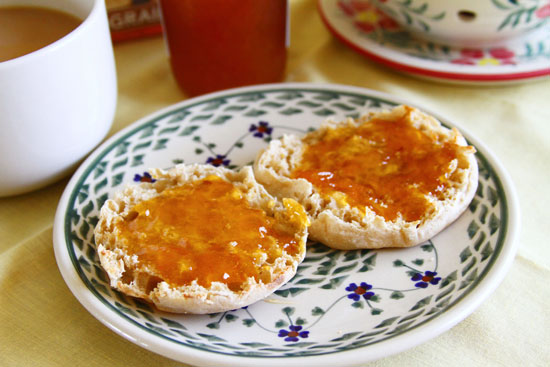 Tracy fell in love with locavorism, and built a business out of Canning & Preserving. She shares all sorts of recipes on Sugarcrafter, and her passion for canning on Food Fanatic, but we love her rhubarb jam most of all.
As summer winds down and a slight chill creeps into the air to mark the beginning of autumn, you can usually find me hovering over the stove in the kitchen, working to preserve the last of summer's bounty.
Throughout August my focus is usually on preserving pickles, blackberries and sometimes even early apples -- but stone fruits such as peaches, plums, and apricots are abundant as well. This simple apricot jam is one of my favorites, because I love to use it as a glaze for fruit tarts and other desserts throughout the winter and the holiday season.
It is equally delicious on its own simply spread on toast or a biscuit -- or, to jazz it up a bit, add about a third a cup of Amaretto to the pot with the apricots and lemon juice.
In fact, if you love the idea of boozy jam, please don't miss my Cherries Jubilee jam made with Kirsch brandy!
5 cups apricots, pitted and finely chopped
4 tablespoons lemon juice
1 3/4 ounces powdered pectin, (one package)
6 cups granulated sugar
In a large sauce pan, combine the apricots and lemon juice. Bring the mixture to a boil.
Prepare your canning supplies. Bring the temperature of the glass jars up by processing them in hot water for several minutes, and heat a few cups of water in a small saucepan for the lids. Stir in the pectin until dissolved. Bring back to a boil, and then add in the sugar all at once. Boil hard for a minute longer.
Skim off any foam and ladle the hot jam into the hot jars, leaving 1/4″ headspace.
Place the lids and bands on top, screwing on the bands just until fingertip-tight. Place the full jars back into the boiling water and process 10 minutes. Remove from the water and place the jars on a towel. Let the jars cool. The seals should suck down (you'll hear a popping noise as they do).