The kitchen is full of surprises.
I have been eating ribs as long as I can remember. I love barbecue. Smoked and succulent, swimming in sauce, tangy-sweet. I can't get enough. I can usually eat a man under the table, proving the old adage that Adam's last rib ended up in Eve.
But I always thought of ribs as a summer food, best eaten outside, by a smoke-belching barbecue. Americana on a paper plate. But this week is anything but a grassy picnic table, red-checkered tablecloth, and ants attacking a watermelon. New York is gray streets and gray skies, turning cold, and raining. Not exactly ribs weather.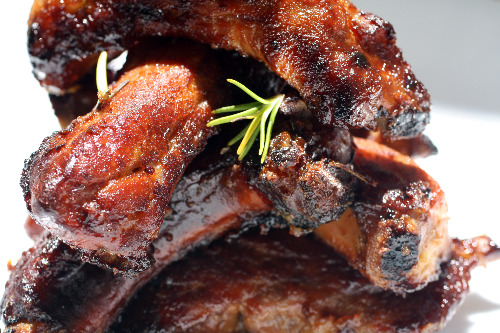 Except, that it is. Today is exactly the kind of day when you need stick-to-your-ribs fare, and what sticks to your ribs more than ribs? And I love foods with bones and shells. Maybe I'm secretly a caveman, but I find that, like the clams from a few weeks ago, foods you have to eat with your hands and crack and gnaw and throw into a bucket are so much more social and prone to laughter and food fights and fun. French food can be as casual as that; especially French-American franglais food.
These ribs are not your typical ribs. First, they are not smoked or grilled, but roasted and charred in the oven, low and slow. Small and dainty baby back ribs are marinated individually in a sauce made from tangy vinegar, fruity olive oil, garlic, rosemary, and apricot preserves. Apricot and rosemary are one of those fruit-herb combinations the French do so well, and a combination that is so common in Provence, which also lends the flavors of garlic and olive oil to this dish. The ribs are still tangy-sweet from the vinegar and fruit, but subtler, and dryer, and a little more glitzy gourmet.
Which just goes to show you, you can teach an old dog--or pig--new tricks.
Apricot and Rosemary Oven Ribs
INGREDIENTS
3 pounds baby back ribs, cut into individual ribs
1/2 cup good apricot preserves
3 tablespoons white wine vinegar
3 tablespoons olive oil
4 cloves garlic, smashed or split
4 stems rosemary, bruised (see Note #1)
Sea salt and freshly cracked black pepper
PROCEDURE
1. Preheat the oven to 300 degrees F.
2. If you didn't have the butcher do it for you, cut the rack of ribs into individual ribs.
3. In a mini food processor, blend together the apricot preserves, vinegar, and oil until all the apricot chunks are smooth.
4. Place the blended marinade in a large zipperlock bag, and add the smashed whole garlic cloves, and the rosemary. Finally, add the ribs and squeeze the air out of the bag, and seal it. Massage the marinade into the ribs, turning them over to equally coat. Place in the refrigerator for an hour. Take them out of the fridge 15 minutes before you plan to use them, so they can come to room temperature.
5. Line a large rimmed baking sheet very well with aluminum foil, and spray the foil with nonstick cooking spray to be sure the ribs don't stick. Place the ribs in a single layer on the baking sheet. Season with salt and pepper.
6. Pour the marinade into a small saucepot, and bring to a boil. Then, pour the hot marinade over the ribs, and turn to coat.
7. Bake uncovered for 2.5 to 3 hours, turning every 30 to 60 minutes. Serve immediately. (see Note #2)
NOTES
1. To release the rosemary's flavor, you want to abuse it a little. Snap the twig in half, and rub the leaves a bit between your fingers to bruise them in order to release the oils of the herb, that will then infuse the marinade.
2. Optional, puree some more apricot preserves, and melt them in a small saucepan on medium heat on the stove. Use a pastry brush to paint the extra preserves onto the finished ribs to make them extra sticky and shiny.
Calling all HuffPost superfans!
Sign up for membership to become a founding member and help shape HuffPost's next chapter