This April 26, we commemorate not a birth but a conception. 74 years ago, the air forces of Nazi Germany and Fascist Italy conducted a raid against civilians in the Spanish Basque town of Guernica, and set in motion the creative process of one of the most famous paintings of the 20th century.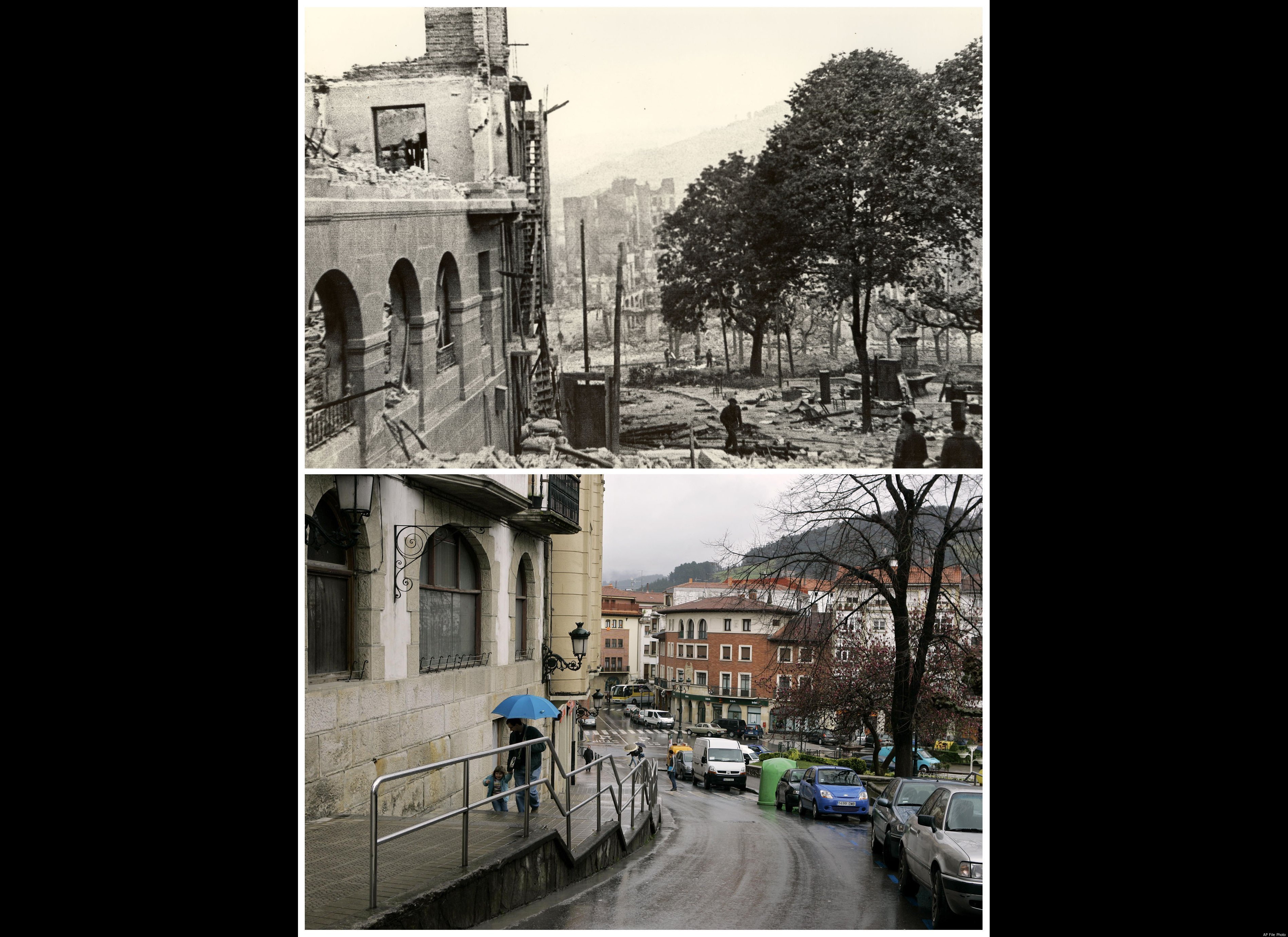 The town of Guernica, immediately after the attacks and today.
Pablo Picasso's "Guernica," a seminal statement against authoritarianism and the destruction it inevitably brings, depicts a closely-packed room full of the dead and dying, the mourning and witnessing, all in desolate black, white and grey. The frame is dominated by the bulk of a glassy-eyed bull and a shrieking horse, archetypal figures from traditional Spanish culture who rise up out of the human carnage and whose faces have become iconic images of suffering.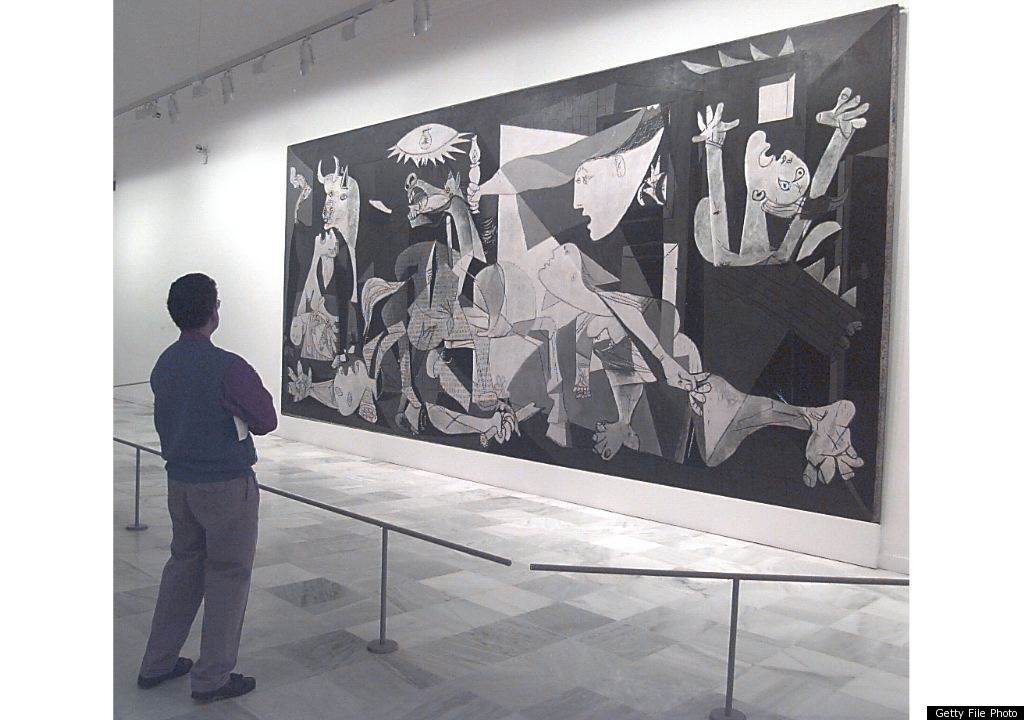 The painting as it appears today. It was vandalized with the words "KILL LIES ALL" by a Vietnam War protester in 1974, but the marks were easily cleaned off the varnished painting.
The painting was commissioned for the 1937 World's Fair in Paris, and quickly rose to fame in an international tour that included stints at the San Francisco Museum of Art (now SFMoMA) and Museum of Modern Art in New York, bringing the Spanish Civil War to greater attention in the United States. In the decades after World War II, the work remained associated with war's effects on civilians; it survived an attempted vandalism in 1974, following the release of an officer involved in the Vietnam War's My Lai massacre. It came to international attention again in 2003, when a tapestry version of the painting in New York City's United Nations building was covered up for a press conference given by then-Secretary of State Colin Powell. Powell's speech, which advocated the imminent invasion of Iraq, became a landmark both of the Iraq War and of a new era in art censorship that continues to this day.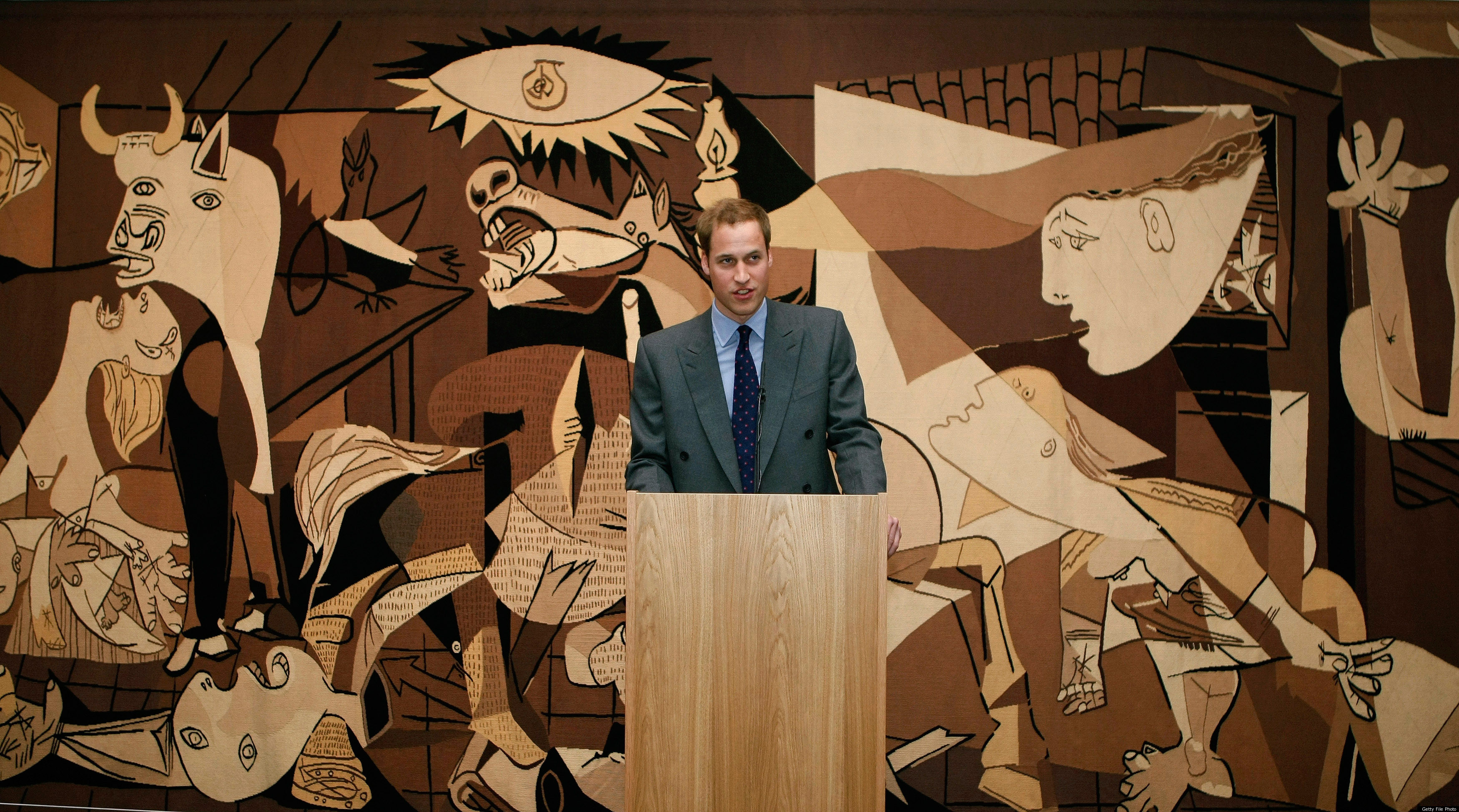 Prince William speaks in front of a tapestry of the piece, which hung at Whitechapel Gallery in London during renovations at the UN.
The painting remains a definitive argument against wars of repression, and it has ingrained itself so much in the history of art and the history of the 20th century that any future dictators will have to come to terms with its power.
REAL LIFE. REAL NEWS. REAL VOICES.
Help us tell more of the stories that matter from voices that too often remain unheard.