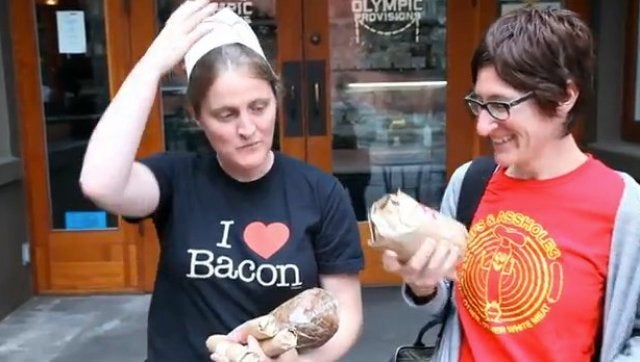 We have such a tasty treat of a video for you guys today! In case you did not know, Chef April Bloomfield (of The Spotted Pig, The Breslin and The John Dory) has just finished galavanting around the U.S. on a book tour, for her recently released book of stories and recipes, "A Girl and Her Pig."
For this installment, Bloomfield joins Lincoln Restaurant chef Jenn Louis in Portland. Chef Bloomfield and company have done us all the rather generous service of bringing a camera along with them, so that we can see all the eating, drinking, chatting and trouble-making.
A few of our favorite take-aways from this video:
There is so much beer in Portland! Doesn't it look cozy?
April Bloomfield and Jenn Louis are really good at catching salamis tossed to them from off-camera.
We always forget that salami starts out as regular sausage! Wasn't that fun to watch?
BRB, HAVE TO GO EAT DINNER AT THE LINCOLN NOW. That made us so hungry!
Related