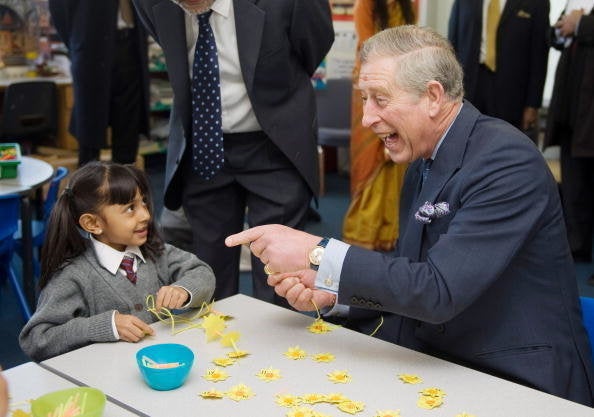 -- Car and Driver is reporting that President Obama has ordered all Chevrolets and Dodges out of NASCAR. "A complete withdrawal from America's premier racing series is expected to save more than $250 million between GM and Chrysler, a substantial amount considering the drastic measures being implemented elsewhere." (Thanks, Eamon1916!)
-- The UK Guardian published a story in its media section declaring that the paper was closing down and moving entirely to Twitter. "Experts say any story can be told in 140 characters," read the story, headlined, "Twitter switch for Guardian, after 188 years of ink."
-- Google, which has a long history of April Fools trickery, has a link on its home page today that reads, "Introducing CADIE: a singular upgrade to your online life" that stands for Cognitive Autoheuristic Distributed-Intelligence Entity. It links here, to an announcement of the "world's first 'artificial intelligence' tasked-array system." CADIE has her own YouTube channel and blog.
GMail also announced its "autopilot" function as part of the CADIE initiative. It will help you participate in many more Nigerian bank schemes and ruin all your personal relationships!
-- Qualcomm has gone one step further in the world of convergence. "In order to provide the most expansive coverage possible, the convergence program has implanted tiny base stations into thousands of pigeons," the site says. But it doesn't stop there: The company has spliced together wolf and pigeon DNA. "The wolfpigeons inherit the survival skills and tenacity of wolves. Together they form a creature of preternatural swiftness. We simply cannot allow our network transmitters to be killed off by feral cats or cold weather." Good point.
-- Air America Radio has a report that Fox News adopted a child from Malawi in an attempt to be as "cool" as Madonna. (Thanks, FastMovingCloud!)
-- YouTube's new viewing experience is an interesting move in the world of online video. Everything will be upside down. According to Google's research "modern computer monitors give a higher quality picture when flipped upside down-kind of like how it's best to rotate your mattress every six months. You might find that YouTube videos look better this way."
-- Microsoft unveiled a new yodeling game, Alpine Legend, that lets you "jam with alpine legends like Franz "The Manz" Lang and Johann Hornbostel." Add-ons include a tri-horne and a goat.
--
. According to
Ecorazzi
, the fight to save the world begins at the dinner table. And the former VP totally gets it.
(Side note: If these were real we would buy them)
--
Funny or Die
has gone
today to celebrate. The homepage offers a Reba splash, a "Reba or Die" logo, and more videos of Reba than we knew existed.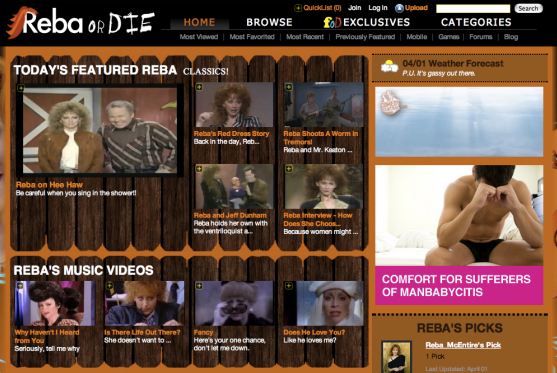 -- The Washington City Paper has gone all HuffPost today, taking our signature look and colors to gently rib us in the best way possible: Driving their Web developers crazy.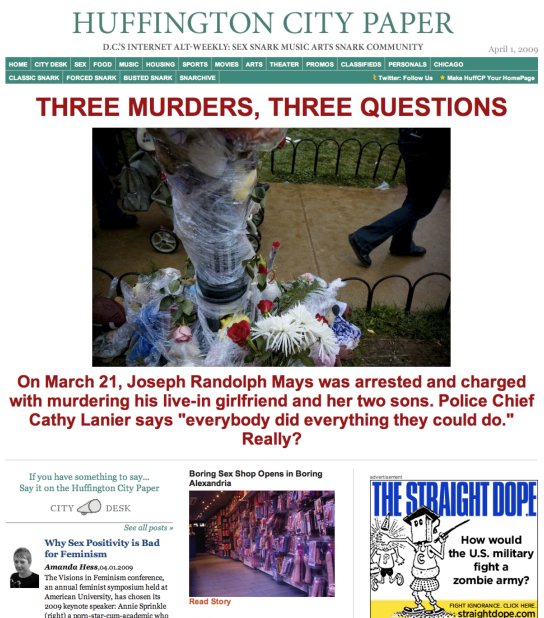 --The Daily Express published a piece today about an invisible car designed to evade traffic cameras. The developer is having some issues though: "My main problem at the moment is covering the wheels and developing an invisible suit to wear.
-- Bjork has joined the band Led Zeppelin. She announced on her site that she will be the band's new lead vocalist.
-- Huffington Post's own Andy Borowitz pulled a prank on WNYC pretending to be Davis Logsdon--the chairman of the economics department at the University of Minnesota.
-- The J. Peterman Company is offering some foolish products for today including baseball glove leather pants, a small Western European country, unfiltered bottled water, and Napoleon's lifts. (Thanks, jeburr24!)
-- Facebook had a couple applications posting alerts like "Barack Obama confirmed you as a cousin."
-- Reddit looks like Digg! The social news site took on its big brother today by adopting its style and colors.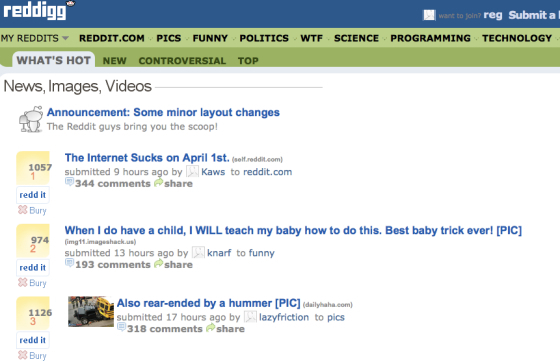 Popular in the Community