April is Autism Awareness Month, but I won't wear blue. Instead, I'll walk in red.
Autism Awareness is only the beginning. I believe that most of society is aware that autism exists and what it may entail for a person. If you don't, please continue to educate yourself. I suggest you visit Thoughts of an Introverted Matriarch. She blogs about living life as an adult with autism and raising her three children, who are also on the spectrum.
It's time to move on. Move on to acceptance. Accept that not all autism looks or sounds the same. Accept that individuals on the spectrum are not valued less than others.
Humans with autism = humans not with autism. Society needs to accept it.
I follow online and converse with adult bloggers who are on the spectrum. To me, the organization Autism Speaks is not all it's cracked up to be. In a nutshell, it promotes "curing" individuals of their autism instead of accepting and providing the support they need to live in our society as children and adults.
Autism Speaks basically took over Autism Awareness Day/Month with their Light It Up Blue campaign. It's not their month. It's our children's month. It's our friends' month. Let us walk in red in acceptance of those on the spectrum; supporting them while they navigate our non-accepting world.
In our home, we accept our kid with autism by:
Listening to his extremely, over-the-top-loud vocalizations that he uses to cope with anxiety: Sentences, lyrics, noises, usually while he's watching TV or playing.
Making a different meal because he has a limited diet due to sensory issues of texture and taste.
Preparing him ahead of time due to his inability to cope with a change in the routine or plans.
Hosting his neighborhood friends for after school and summer play.
Maintaining his morning school routine year-round for back-to-school success.
Providing resources to meet his obsessions with Wimpy Kid books, Lego's, Minecraft and telling corny jokes.
Waiting patiently for cheek-smooches and side hugs that I relish when they come.
Allowing him to sleep on our floor for the last year because he was afraid that we would vanish overnight.
Seeking the professional supports we need to improve his behavior, decrease his anxieties and increase his communication skills.
So this year, I will #WalkInRed to promote Autism Acceptance. Won't you join me?
To learn more about #WalkInRed please visit: #WalkInRed2015 Facebook Event
Take care of yourself and each other,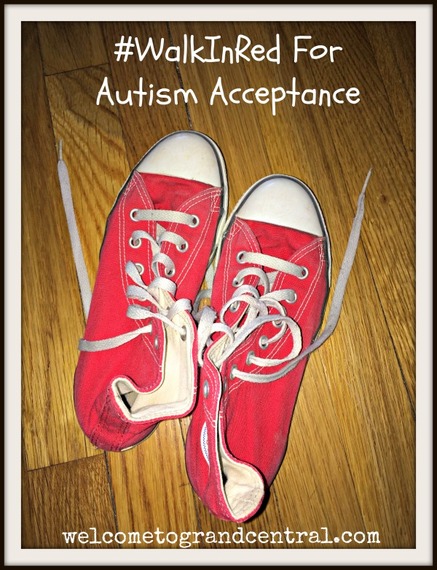 Laura Jo blogs about living with a mental illness and parenting a kid on the spectrum, while trying to keep her Golden Retriever out of her snacks. You can find her at Welcome To Grand Central.