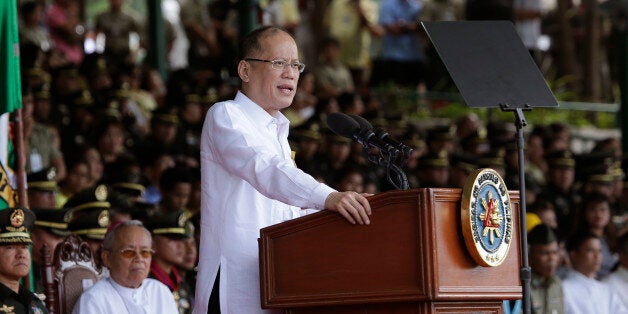 Many may not realize it, but Bloomberg predicts that the Philippines will be the second fastest growing economy in the world in 2015 -- a stunning achievement for a country that has for many years been considered an under performer. Since 2010, GDP growth under President Benigno S. Aquino III was an average of 6.2 percent -- the highest in four decades, and coinciding with the Great Recession. GDP is projected to increase more than six percent this year and next. By contrast, average GDP growth in the country was 4.4 percent between 1999 and 2009. Clearly, Aquino's 'medicine' for the Philippines has worked very well.
In his fifth and last State of the Nation Address, which the President delivered before Congress last week, Aquino underscored that if economic gains under his administration can be sustained, and if a target of 6.8 percent is achieved for 2015, then the Philippine economy will be posting "the fastest 6-year average growth period in six decades." With economic growth apparently sustainable in the long term, more nuanced debates now focus on whether the overall benefits to the macro economy will genuinely trickle down and bring about meaningful reductions in poverty and unemployment.
Has the Aquino administration succeeded in shedding the long-held stigma of being the 'Sick Man of Asia' and of catapulting the Philippines into the Asian Tigers club? Adherents to income growth and classical liberal economics seem convinced that the Philippines has already escaped the lower-middle income trap. The current debate should focus on whether the Philippines can break out into a high performance economy, achieve a better performance ranking under the Global Competitive Index, and transition from being a factor-based economy to one that is efficiency-driven.
According to the World Economic Forum (WEF), the competitiveness ranking of the Philippines jumped by 7 slots, from 52 in 2013-2014 to 59 in 2014-2015. "The country's gain of 33 places since 2010 is the largest over that period among all countries studied", the latest WEF report stated. That said, the Philippines has done rather poorly in the World Bank's (WB) Doing Business rankings, which judges the desirability of doing business in a country based on 10 key indicators. According to the rankings, the Philippines slipped 9 places (out of 189 countries) from 86th in 2014 to 95th in 2015 (the lower the score being better). The Philippines actually declined in 8 of the 10 indicators, and remained unchanged in the other two. So while, according to the WEF, it is becoming more competitive, according to the WB it is becoming less desirable as a place to do business - a rather strange dichotomy.
The incidence of poverty remains virtually unchanged -- at 25 percent since 2009 - as has the unemployment rate, which has remained in the 6-7 percent range. Proponents of 'inclusive growth' accuse the Aquino administration of growing the economy without raising the percentage of workers who benefit in the process. Likewise, the Gini Index, which measures income inequality, has remained unchanged, at .46 (out of 1.0, a lower score again being better) since Aquino took office. So while Aquino has been successful in moving the economy forward, his administration has not been a success at tackling the most pervasive and structural problems facing the Philippine economy -- unemployment and income inequality. In the latter, he is not alone, as income inequality is rising around the world, and is proving to be the most pressing and intransigent economic challenge of our time.
Since inclusive growth and jobless growth will become the two key economic issues for Aquino's successor, the President has encouraged that person to continue the 'daang matuwid' (or the 'straight path') reform platform of his administration. After garnering at least eight sovereign credit rating upgrades by Moody's and other rating agencies since Aquino took office in 2010, and with the Philippines having attained 'investment grade' status with a positive outlook, Aquino's successor must be able to translate the gains in the macro economy into tangible gains in human development. It will no doubt also prove to be as difficult to achieve going forward.
In fairness to President Aquino, his reforms were only generated in late 2010 and early 2011, so they have only been in effect for four years. The Supreme Court's declaration in 2014 that both the Priority Development Assistance Fund (PDAF) as well as the Disbursement Acceleration Program (DAP) - two of Aquino's key programs designed to speed up public spending -- were void and unconstitutional, had a chilling effect on the Congress and all line agencies under the executive, and made legislators more risk averse to anything related to budget-driven public spending.
As the second most disaster prone country in the world (up from number three in 2013 under the World Risk Index), the Philippines had to contend with mega-disasters such as Super Typhoon Haiyan and a 7.2-magntitude earthquake just a month before Haiyan. According to the National Economic Development Authority, these mega disasters caused a revision to quarterly growth from 7 percent in the quarter immediately prior to the events, to about 4 percent.
Critics of Aquino have been encouraged to be more reasonable in their assessment of his performance under a constitutionally mandated 6-year term. There is no question that in just 5 years, Aquino's accomplishments have exceeded many expectations and have outperformed all previous administrations. In nominal terms, the Philippines is already growing at least 10 percent year-on-year. Inflation has remained steady and real GDP per capita grew nearly 18 percent between 2010 and 2014.
Aside from the burden of transposing the gains in the economy into tangible gains in poverty alleviation and inequality, Aquino's successor must be able to translate economic leadership into a more meaningful role in regional politics. The country's largest trading partner is also its most contentious, in terms of conflicting claims to the islands of the South China Sea. The Philippines' biggest import partner in 2015 (China) accounts for 13 percent of all Philippine imports and 12 percent of all Philippine exports. China's brazen de facto expropriation of a number of islands in the South China Sea has raised alarm bells throughout the region.
While the Aquino Administration has aggressively challenged China in the Permanent Court of Arbitration at The Hague, he and his successor need to do more to strengthen the country's military alliances to be able to more assertively protect its interests in its territorial waters and Exclusive Economic Zone. Since re-establishing permanent U.S. bases in the country is not an option under the 1987 Constitution, Aquino and his successor must maintain various status of forces agreements (SOFAs) and conduct ad hoc joint military exercises with the U.S. (and lately, Japan) to enhance its military presence near the disputed islands. Despite some reform and modernization over the armed forces, the Philippines will not achieve a minimum credible defense posture in the remainder of Aquino's term.
Because Aquino's anointed successor, Interior Secretary Mar Roxas, has fared poorly in surveys leading up to the synchronized national and local elections slated for May 2016, Aquino and the ruling Liberal Party are worried about continuity, and need to play upon their considerable successes. Aquino's anti-corruption efforts have been resounding. This includes a string of high level corruption cases which have led to three senators jailed, a former president under hospital arrest, a chief justice impeached and convicted by the Senate, and an Ombudsman having resigned to avoid impeachment. In his final State of the Nation Address, Aquino urged his successors -- including members of the opposition -- not to lapse into reactionary politics or reverse government programs simply to engage in contrarian politics.
While Aquino's and Roxas's daang matuwid has brought about the kind of change the country really needs through its strong anti-corruption campaign, Liberal Party stalwarts expect that the new administration will end up using it against them, the Philippine political process not having changed its stripes since 2010. Jejomar Binay, the incumbent Vice President and now a leader of the opposition, recently quit his cabinet post and accused Aquino and his party of 'selective justice' and of using the state apparatus only for political aims. This is a big part of the problem. Rather than focusing on the substance of an issue, Philippine politicians (like those around the world) tend to cherry pick their concerns, engage in demagoguery, and appeal to the lowest common denominator among the electorate.
In a bid to secure the gains of his administration beyond 2016, President Aquino has turned to Senator Grace Poe, a young senator who has consistently topped all surveys for both the presidency and vice presidency. Since Aquino had already endorsed Roxas for the presidency, Aquino's gesture was largely seen as courting Poe to run as Roxas's vice president. While an independent, Senator Poe ran under Aquino's coalition in 2013 and won a landslide victory. Today, Aquino's successors include only three potential contenders: an experienced and telegenic but dismally ranked Roxas, a popular but allegedly corrupt Binay who belongs to the old political guard, and a young, popular, but inexperienced Poe.
Any of the three, if elected as president, stand a good chance of sustaining the many achievements of the Aquino Administration. It is now a question of whether Filipino voters can break their own well-worn path of choosing a member of the country's famous dynastic political clans, or business tycoons, or celebrities to lead their country, or will deliberately choose a new brand of politicians. The Philippines has made some important changes to the way it does business, but there is much more work to be done. It is our hope that Philippine voters will choose to build on that change, rather than settle for 'business as usual' traditional politics. The country's recent achievements could easily be undone by reverting to the tainted political model of the past. The Philippines and its people deserve better.
*Edsel Tupaz is a public interest attorney and legal academic. He is a graduate of Harvard Law School and Ateneo de Manila. Follow Edsel Tupaz on Twitter: www.twitter.com/edseltupaz
*Daniel Wagner is CEO of Country Risk Solutions and author of the book "Managing Country Risk". Follow Daniel Wagner on Twitter: www.twitter.com/countryriskmgmt
Calling all HuffPost superfans!
Sign up for membership to become a founding member and help shape HuffPost's next chapter