Participants at an Arab media confab this week ripped through a proposed broadcast charter seen as a precursor to stricter laws and a crackdown on maverick news channels challenging repressive regimes.
"The charter's key aim is to gag the media," said Ahmad El Sheikh, Al Jazeera channel's chief news editor at a two-day forum in Abu Dhabi. "It's really very strange."
Al Jazeera has long alienated Arab regimes with its special brand of provocative news reporting and challenging talk shows. Its motto is "the opinion and opposite opinion."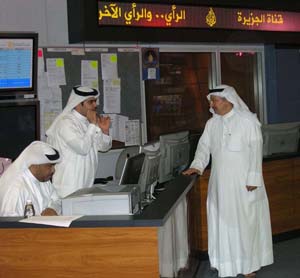 Al Jazeera Newsroom (Abu-Fadil)
"Why did the information ministers (who endorsed the charter) introduce clauses that could be mistinerpreted?" El Sheikh asked rhetorically of the non-binding 13-page charter entitled "Principles for Organizing Satellite Radio and TV Broadcasting in the Arab Region" that was eleased in Cairo February 12.
The charter is the brainchild of Egypt and Saudi Arabia. Only Lebanon and Qatar have expressed reservations about it and Lebanese Information Minister Ghazi Aridi was adamant in saying his country would not sign on the dotted line.
Egypt is particularly interested in stifling media critical of octogenarian President Hosni Mubarak - in power since 1981 - and his regime, including his expected successor, son Gamal.
Egyptian legal expert Hassan Gamai argued via satellite hookup that anything original is usually attacked and that all societies needed guidelines and laws by which to live.
Gemai was aided in drafting the charter by American University in Cairo media Professor Hussein Amin who sits on the Egyptian satellite TV's government-run regulatory board.
Saudi Arabia, for its part, is seen by critics as another spoiler wishing to undermine traditional regional challenger Qatar, whose government heavily subsidizes Al Jazeera and has been known to criticize the Saudi regime.
El Sheikh's comments were echoed by other participants at the Arab Broadcast Forum's first panel grouping journalists, academics, students, government officials, and media and legal experts from across the region and beyond.
"What's the emergency? It's not a topic that calls for an emergency meeting of information ministers," said CNN's senior editor for Arab affairs Octavia Nasr, adding that new media had surpassed antiquated state-run institutions.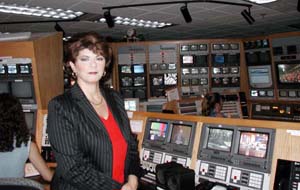 CNN's Octavia Nasr (Abu-Fadil)
The charter's proponents argue it's meant to restrict inflammatory hate speech by extremists. Opponents view it as an anachronism in a globalized 21st Century.

"The profession's values and ethics come out in its practices," said Kuwait University professor Saad Al Ajmi, who tarred the charter's architects as "retarded" and the document as archaic.
He said the United States did not rely on media laws but resorted to the rule of law and that the Federal Communications Commission was an appropriate body to regulate the airwaves.
Sunday's session, aired on LBC Sat TV's popular night talk show "Anta wal Hadath" (You and the Event) that is seen across the Arab world. It included a recorded segment by Arab League Secretary General Amr Musa who tried to placate critics of the document that is supported by the League.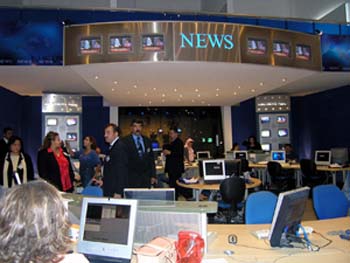 LBC TV newsroom (Abu-Fadil)
"We'll hold hearings about the charter to come up with a common vision for an implementation mechanism," he said, inviting Arab satellite channels to present their recommendations.
But analysts said Musa had put the cart before the horse and that his suggestion for "empowering Arab media" was an afterthought brought on by the furor the restrictive clauses had triggered.
LBC Sat aired man/woman-on-the-street interviews providing a mixed bag of reactions to whether the broadcast charter had any merits.
Salah Negm, the BBC's Arabic service news editor, said he feared the charter's potential censorship measures and that its recommended punitive measures of confiscating TV stations' equipment and closing down facilities were a bad omen.
"All news organizations have their editorial principles," he said.
Negm added that if the Egyptian-controlled birds that carry countless Arab stations decided to disconnect channels deemed offensive, the stations could probably turn to European satellites whose footprints cover the Arab world.
"Why don't media adopt codes of ethics?" asked Al Jazeera's Ahmad El Sheikh. "We don't need the Arab League to impose laws. We came up with our own 'Ten Commandments' as guidelines for professional practice"
Al Jazeera's late presenter and foreign relations director Maher Abdallah was instrumental in forging the channels' code of ethics. He also participated in various conferences promoting media ethics in the Arab world.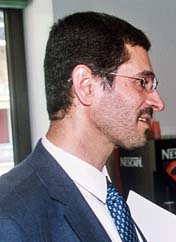 Al Jazeera's Maher Abdallah ((LAU)
But El Sheikh was rebuffed by Egypt's Gamei who feared self-regulating media may harm viewers since many channels aired offensive programs.
"There should be legislation through (Arab) countries' parliaments," he insisted.
CNN's Nasr said there was a misunderstanding of the FCC's role and that Arab officials often select what suits them to criticize about the U.S. and praise only what matches their agendas.
"How can the Arab League possibly impose and apply the charter on 22 (member) states? Who agreed to it? The ministers, not the people," she said.
CNN, like other major international media organizations, has its "standards and practices" guidelines that cover every aspect of the news business.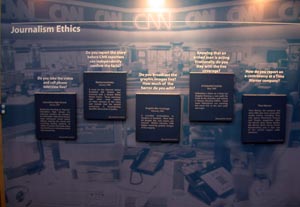 CNN ethics guidelines (Abu-Fadil)
"There's a fine line between guidelines and repression," argued Kuwaiti professor Al Ajmi. "I'd be surprised if the Arabs agreed on the national and religious symbols they shouldn't insult as dictated by the charter."
The panel and audience roared with laughter at the candid review of some of the Arab world's shortcomings.
"Let's consider this (charter) as general principles," suggested El Sheikh. "Each Arab country has its laws, and if the media break any of them, they should be prosecuted by each country's rules."
He said implementation of the Arab League charter would be the toughest task and that punitive measures were a moot point given existing clampdowns, censorship and severe measures undertaken by Arab governments.
El Sheikh also said the charter should be put forth to civil society organizations for general discussion.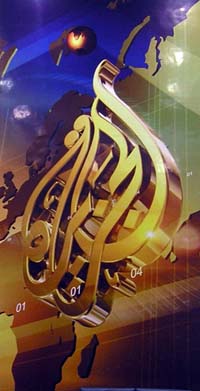 Al Jazeera logo (Abu-Fadil)
Lebanon has not signed the Arab broadcast charter, its Information Minister Ghazi Aridi said in an exclusive interview .
He insisted Lebanon had not gone along with the maligned document and that it contradicted the spirit of more media freedom he continues to seek for his country.
"The charter is a reflection of the 'control mentality' prevailing in the Arab world," said Al Ajmi, adding that it dated back to 1950s communist thinking.
Nasr, a native of Lebanon, said she hoped Arab media would never be restrained.
"When will the Arabs get on the bandwagon to the future?" she asked. "Egypt and Saudi Arabia have jailed bloggers and that's very dangerous and cause for Arab journalists to fear this broadcast charter."
REAL LIFE. REAL NEWS. REAL VOICES.
Help us tell more of the stories that matter from voices that too often remain unheard.