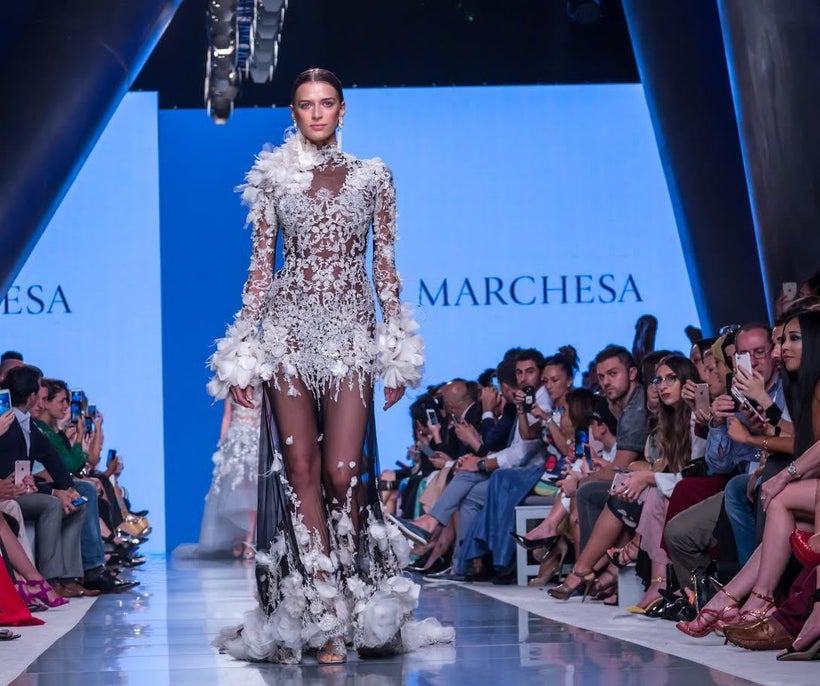 New York is notoriously known for presenting laid back cool, Paris does conceptual high fashion and Milan produces vibrant sensuality. Every city's Fashion Week has a ubiquitously signature sense of style that slowly emerges to compliment its home. Dubai's Arab Fashion Week was centered on ready-to-wear couture and will therefore be known for obtainable luxury. Somewhat paradoxical, RTW couture symbolizes what many women already love, well made evening-wear. Couture is the exclusivity, craftsmanship, time while RTW is meant to simplify the design process. However, this juxtaposition of fashion's differing sides was exemplified beautifully by over 20 designers. Some in particular were exceptionally eye-catching.
The week hosted by the Arab Fashion Council started off with Rad Hourani whose unisex garments showcased a different side of the Middle Eastern fashion scene. The Jordanian-Canadian designer known for his minimalist perspective that's paving a path in fashion catering to the non-conforming millennial generation. Hourani's taste level has gained him worldwide attention and this collection did not dissapoint. Incorporating classic menswear pieces like overcoats, button downs and shorts, the designer wrapped striped skirts with pants and layered shirts with oversized coats. Elevating his genderless aesthetic with layers and a focus on construction, Hourani's garments were the most contemporary to show. However, this doesn't mean they're by any means average.
One of the more surprising designers to show was American LaQuan Smith whose body hugging, sheer bodysuits and high slit cuts have become notorious. The collection was filled to the brim with latex, daring cutouts and sensual silhouettes exemplifying the other side of RTW Couture, the one for the bad girls of fashion who love a risque ensemble (Beyonce and Rihanna are fans). Velour dresses, open shoulder sweaters, and a pair of thigh high puffer boots completed the fast-paced collection leaving a clear vision of the Smith woman. Though he offered plenty of sex appeal, Smith doesn't rely on just that to get him by. When it comes to construction, design, and styling, Smith doesn't leave things up to chance and his AFW debut proved there's always room for a little latex.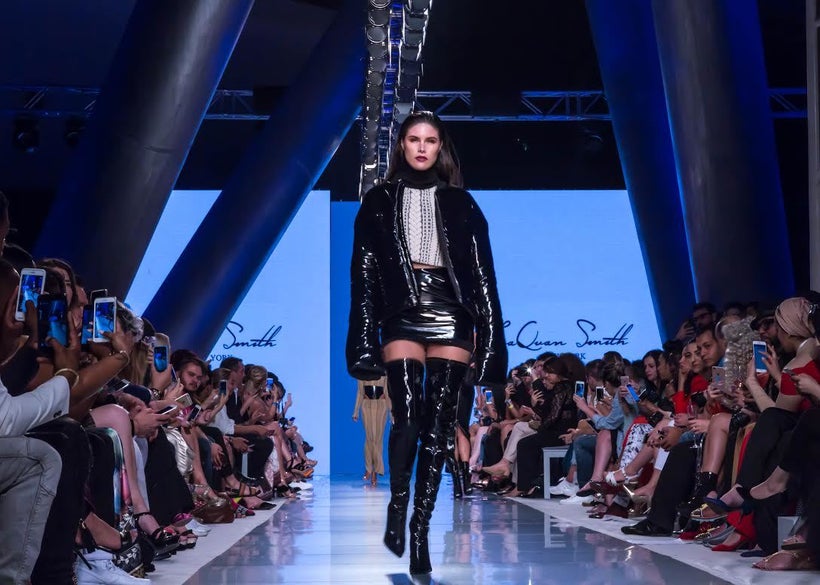 For her Crystalithe collection, designer Ilse Jara referenced the mysteries and allure of nature, gemstones and crystals in particular. A familiar source of inspiration for many before her, the captivating textures found in the "healing tools" are re-imagined through fabric. Earthy tones, curvatures of layered silks and incandescent prints were aplenty. Crystals represented through form-fitting bodices, sculptural silhouettes as well as rigid beading proved Jara a master of her craft. It was also the hints of magenta's, violets and emeralds in beaded garments and luxe fabrics that were particularly astounding.
If there's one thing that can be expected from Marchesa, it's well tailored femininity. Showing two separate collections throughout the week (one RTW and one Bridal), Marchesa gave their viewers a double dosage of glamour. Beading, appliqués, silk fringe, romantic pastel hues and intricate embroidery effortlessly fit designer duo Georgina Chapman and Keren Craigs modus operandi. Voluminous gowns, chartreuse satin in various shades of rose and floral motifs filled the runway but the pièce de résistance was the finale showstopper. The closing look, a millennial pink princess gown with layered tulle and a pastel rainbow color scheme played up to the society's current obsession with all things unicorn. An instant hit with the viewers, the multicolored, draped bow creation left many feeling over the rainbow.
Finishing off the week was Antonio Marras with a tremendous Gone With the Wind inspired runway. Marras translated the Southern Belle's feminine charm into a contemporary Resort collection full of rich brocades, asymmetric skirts and military nuances. What Marras does best is demonstrate his strong hand at mixing prints and textiles. Belted coats, floral headscarves and hemlines accentuated with lace and embroidery were layered in true Marras fashion. One of the few designers to show women and menswear, Marras was not afraid of color for a runway that was bursting with flirty pinks, vivid yellows and periwinkle blues. Without being too literal, he transformed Scarlett O'Hara and Rhett Butler into the modern day man and woman, an homage that doesn't cross into dreaded costume territory.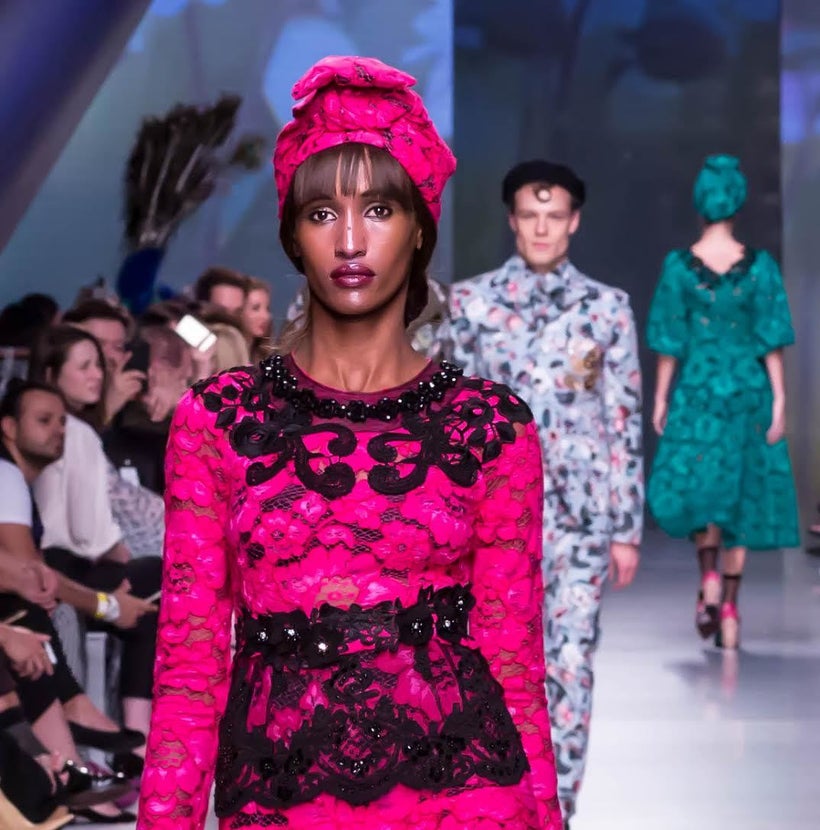 The Middle East, a primarily Muslim market is burgeoning as the wealth and talent blossoms. According to Thomson Reuters State of the Global Islamic Economy Report from 2016-17, Muslim spending on fashion will reach $368 billion by 2021. In recent years, more attention has been paid to the area as designers and fashion houses flock to the region. While the US is experiencing a large number of mall closings, grandiose malls are opening up across the GCC. Just in Qatar, construction of a $1.25 Billion mall and hotel development by Place Vendôme is underway for a projected opening in 2018 in time for the 2022 World Cup. Mall expansion and events like AFW are a prime example of the regions deep love for fashion and ability to compete on the world stage.
Along with the talent exemplified by the designers, the lavish venue provided a fitting home for such an occasion. Designer showcases, boutiques and fashion inspired artwork were on display throughout the glamorous Meydan Hotel Sky Bubble. Though AFW brought out the best of RTW Couture for Dubai's fashionistas to see, respectively there was a lot of room for improvement with the facilitation of events. From unassigned (or lackluster) seating to a schedule that consistently ran an hour late and coffee cups left in the seats, the organization left many frazzled. A 5-star city known for its high level of hospitality and grandeur experiences, was not represented as exceptionally through the service as it was with the style. Despite the minor setbacks, AFW will continue leading the way in Middle Eastern and global fashion as the market and talent grows.
Calling all HuffPost superfans!
Sign up for membership to become a founding member and help shape HuffPost's next chapter
This post was published on the now-closed HuffPost Contributor platform. Contributors control their own work and posted freely to our site. If you need to flag this entry as abusive,
send us an email
.