The greatest side effect of the movements of the Arab Spring has been all the interest the headlines have generated in stories from and about the Arab world. While two years ago talking about films like Cairo Exit and City of Life drew blank stares in NYC conversations, these days it's becoming increasingly challenging to secure tickets for any film from MENA screening in the Big Apple. One such sure-to-sell-out event is the upcoming "Orientation: A New Arab Cinema" series at the Film Society of Lincoln Center, running from August 24th through the 29th.
The Film Society of Lincoln Center has been a pioneering organization when it comes to cinema from the Middle East/North Africa. That's probably because program director Richard Peña admits to having had "a long interest in presenting films from Arab culture, from the Middle East" in his 25 years at the helm. While this year marks the 50th edition of the prestigious New York Film Festival, it is also Peña's last. He has decided to step down because in his "remaining years as a working adult, I would like to leave myself open for other possibilities, including hopefully spending some time abroad." When asked if it's a bittersweet time for him, he protests "not bittersweet at all, a happy year!" but chuckles when, after he offers a particularly insightful explanation of young Arab identity, I suggest he should give running for president of the United States a try.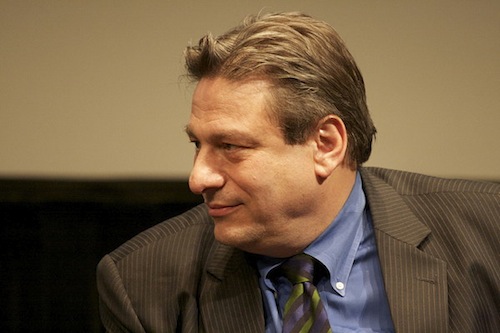 Stepping into Peña's Lincoln Center office one feels overwhelmed. At first by the creatively piled paperwork, stacks upon stacks which somehow persuade the visitor that tidiness is highly overrated. But then you are left in awe of Peña's own knowledge of not just cinema and filmmakers, but sensitive balances that are at the core of our human experience.
"The constant battle against stereotypes" -- Watching Caramel in Middle America
In addition to his FSLC role, Peña has been teaching at Columbia University since 1989, and in that role has had the chance to truly explore the enlightening power of cinema: "Unfortunately America is not a country that is, how could I say it, very open, informed about much of the rest of the world." He continues, "If you live in New York, you can fool yourself you're living somewhere else but once you get outside of these five boroughs and cross the Hudson, it's a very different world out there." So he shares that film can be a great way to break down stereotypes "not only the traditional ones of the Arab terrorist or whatever but just to show that there is within that region an enormous diversity of style, of lifestyles, of the way people act and talk and think." When Nadine Labaki's Caramel came out a few years ago, because of his friendship with the filmmaker, Peña was asked to travel around the U.S. to introduce the film. "So I traveled a little bit and again I was just absolutely shocked at the level of people's ignorance. They were floored that they had beauty salons in the Arab world!" He reinforces his point, "What did they think, people lived in huts and rode camels all day?! But you can't blame people, they are not taught in schools, the media doesn't help, so they settle for the easiest stereotype, it's to be expected."
"We're going to bomb Kiarostami?" -- Familiarity breeds connections, not contempt
The great thing about sitting across from someone like Peña is that he keeps the stories flowing. When I mention that I'm so glad to finally have the opportunity to meet him, his comeback is a seamless. "You could have come over sooner, I've been here all along!" he said. When asked about this "Us Against Them" mentality that is encouraged in the media, it's clear that Peña has given the idea much thought. He tells the story of a conversation with a student at Columbia, during a particularly tense standoff between Washington and Tehran. The student was upset that the U.S. might be bombing Iran, because he kept thinking "does this mean we are going to bomb [Abbas] Kiarostami?" A funny line to some, but to Peña proof of how film works. "Now, for this young American, to bomb Iran is not just to bomb some anonymous country, it's to bomb a place where a filmmaker whose work he admires very much lives. Suddenly, it becomes not as easy." Peña then offers another insight about the art of war. "I always maintain that part of the reason we never bombed Nicaragua or El Salvador was the fact that there were too many people who had last names like Peña here. Suddenly they weren't them enough."
"Every filmmaker is his or her own country" -- New Arab voices
When asked about the many women-centric films included in the upcoming new Arab cinema series, Peña explains that he simply went for what he thought were "the best, most interesting and most representative films." He admits that if he chose with any preconception at all it was to showcase a broad variety of films from "as many places as I could." As it has happened the world over for as long as history has existed "there are some times when certain nations and certain places are having a great deal of creativity" and Peña is quick to point to Lebanon and Palestine as the influencers in today's Arab cinema. In his brilliantly unassuming way, Peña spells out the history of Arab cinema, in three quick sentences. "I always use a little far too generalized outline for the history of Arab cinema where I say that at first it was essentially Egyptian cinema, which made a kind of one-size-fits-all cinema, one cinema for the entire Arab world. The next phase was a national phase where you began to have Syrian cinema or Algerian cinema or Lebanese cinema. Now it's like every filmmaker is his or her own country," he said. Ever insightful, he continues, "because in fact Arabs have such complex identities that I think younger filmmakers are less willing to be the standard-bearers of their nation. Especially if you are from a nation like Syria or Lebanon, where issues of identity are so complex, where national identity is just one factor. Let alone our modern identities of gender and sexual orientation and so many other things that enter into the frame."
"Orientation" -- Repossessing a term can be powerful
When I ask Peña whether he meant for the word he has chosen to introduce the series to be provocative, he again doesn't miss a beat and explains, "you always try to come up with a clever title, but I also think when there's a term that has oppressed people one of the great things to do is often to repossess it and use for yourself, in the way that African-Americans have repossessed "nigger." As far as "orient" and "orientalism" there are some things that separate us and I think that's not a bad thing necessarily to ponder what those things are. And difference doesn't have to be a problem. Difference can be something glorious."
"Building an audience" -- Arab cinema's next challenge
Peña points out the great impact of what he calls "these new Gulf funding organizations" like the Doha Film Institute, the Abu Dhabi Film Festival and the Dubai International Film Festival. DIFF supported the films included in the "Orientation" series and it was what Peña calls "a very nice sort of profile towards funding younger filmmakers, newer filmmakers, to my mind in some cases riskier projects" that helped create the liaison between the two cinematic organizations, along with "an old friend who works for DIFF and introduced me to the right people, as they say." But he acknowledges the challenges ahead for Arab filmmakers and among them "the next thing that has to be built are audiences. This young generation of Arab filmmakers really has to find better and more effective ways of getting their work seen, in the Arab world. And we know what the problems are, everything from poverty, to lack of structure, to lack of movie theaters, or the movie theaters are controlled by outsiders who show their own films -- all those issues. We've got to reach a day when it's not going to be easier to see Arab cinema in NYC than in most Arab capitals." On the crest of the wave, Peña offers his own direction "now this is happening at a moment when obviously exhibition strategies and structures themselves are changing, Maybe the theatrical model is no longer the most effective. Maybe one has to think much more in terms of television, which is enormous throughout the Arab world and people get 8,000 channels at home. Or maybe it's their iPads..."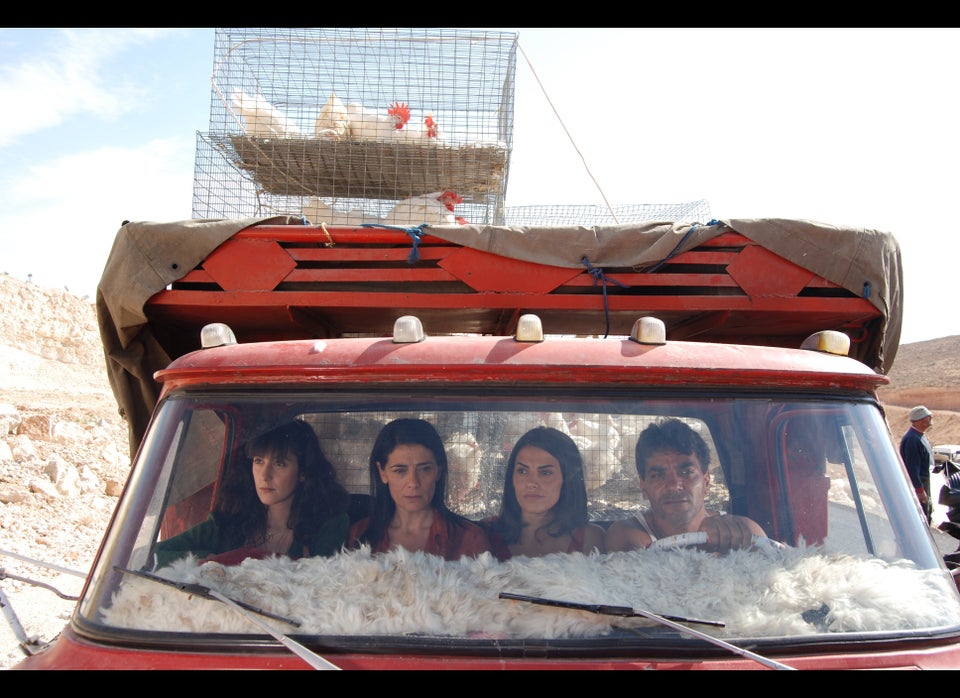 Orientation: A New Arab Cinema
All images courtesy of the Film Society of Lincoln Center, used with permission
Related
Popular in the Community