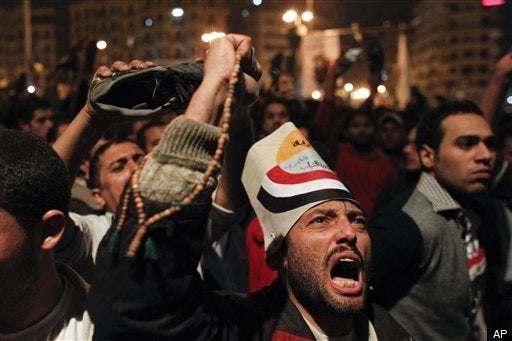 It was a shocking admission that caught those who heard it by surprise.
Taleb Kanaan, the host of a show on the pan-Arab satellite channel Al Arabiya, who chaired a session of panelists and participants live tweeting at a major media event, said he didn't have a Twitter account.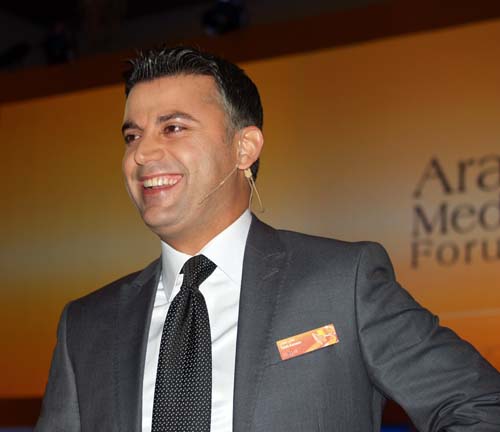 Al Arabiya's Taleb Kanaan chairs debate on Arab media (Abu-Fadil)
It featured Al Arabiya's editor-in-chief Nabil Al Khatib who argued that traditional media like TV still enjoyed 5-6 hours of Arab viewers' attention per day.
"Social media still attract less attention, although their impact is now bigger," Al Khatib said, adding that traditional media were paying more attention to Twitter, Facebook and YouTube and that TV channels had recently picked up on the trend to secure a platform for their message.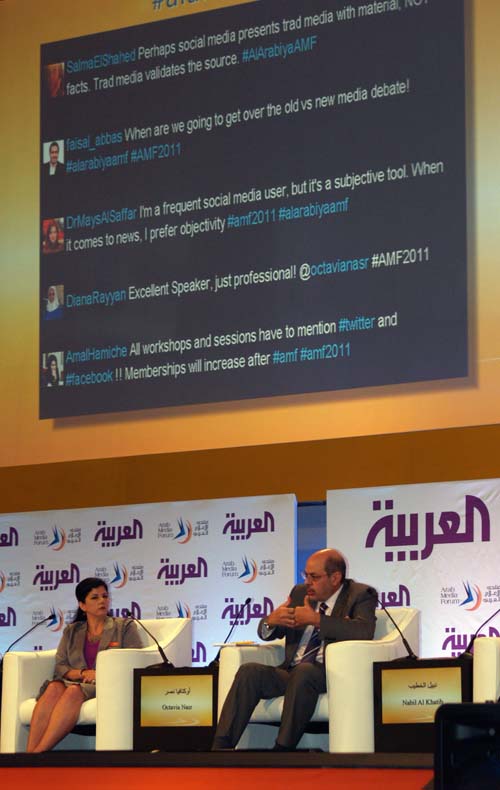 Octavia Nasr tweets event as Nabil Al Khatib defends traditional media (Abu-Fadil)
"It's not 'new' media. It has been around for longer than four months. You just discovered it," she insisted. "Why haven't all the bloggers who were jailed in Egypt over the years or elsewhere been recognized?"
The lively discussion turned to media freedoms in the Arab world and whether channels like Al Arabiya and Aljazeera were allowed to report on sensitive issues in their home countries.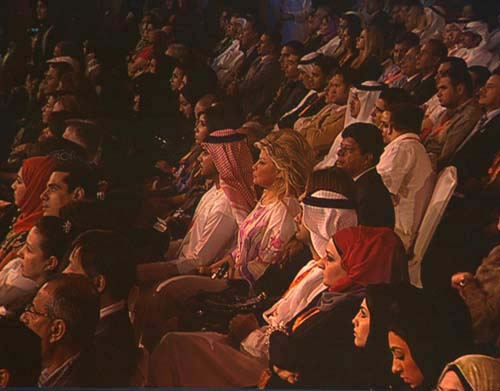 Arab Media Forum draws a record 2,400 participants (Abu-Fadil)
Dubai-based Al Arabiya is Saudi-owned while Aljazeera is based in Doha and funded by the Qatari government.
"We can cover Saudi Arabia, up to a point," Al Khatib said, noting that media worldwide must operate within certain parameters. "There's a romantic view that media aren't courageous enough."
He also said owners had interests and could take certain risks but that going too far meant jeopardizing advertising revenue and the possible loss of viewers, not to mention journalists losing their jobs if they ruffled the wrong feathers.
Since the first spark of revolts began in Tunisia in December, followed by uprisings in Egypt, Libya, Bahrain and Syria, Arab and Western media have had to rely on citizen journalists and activists to disseminate news from countries that barred or harassed them.
In some cases journalists have been jailed, or worse.
But videos uploaded by rebels or unidentified sources onto YouTube and used by traditional media haven't always been accurate, participants said, adding that traditional media had sometimes mistakenly aired misleading footage they'd acquired that they'd had to retract and for which they'd apologized.
Another prickly issue was a session on the media's use of Wikileaks cables and whether they translated into open source information or misleading data, and, the price paid for such public disclosures.
"It's very valuable historical information," said Sylvie Kauffmann, editor-in-chief of the French daily Le Monde about her paper's decision to publish cables about U.S. troops in Iraq, the U.S. State Department, and Guantanamo.
To ensure the information's accuracy, she said the editors checked and cross checked it, and put it in the proper context.

Le Monde's Sylvie Kauffmann published Wikileaks cables (Abu-Fadil)
Omar Nashabe, a columnist and editor of the justice page at the Lebanese daily Al Akhbar, said he also used Wikileaks as a source of information.
But, he asked: "Why do people speak so frankly with the U.S. ambassador? Why such frankness with American diplomats?"
Palestinian journalist Walid Batrawi concurred on the importance of the documents but went further.
"Is this information what Arab citizens need? Where's the role of investigative journalism? Why were Le Monde and others used for publishing Wikileaks? What are the ethics of using the documents and/or halting their use?"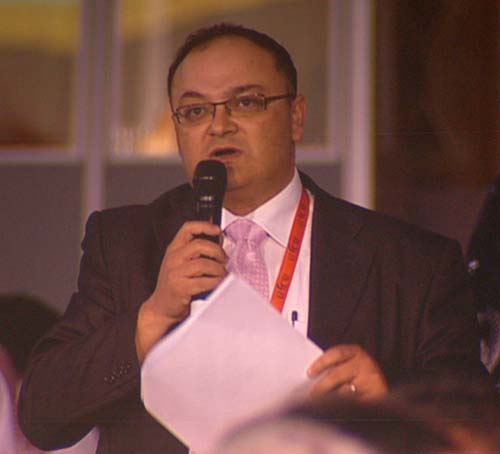 Walid Batrawi: Whither investigative journalism? (Abu-Fadil)
In a workshop preceding the AMF's official opening, Rawan Damen, a producer and program director at Aljazeera, said the Arab world still didn't have hyperlocal media. "We're not there yet."
The workshop focused on customized media, localized programs and televised content for the Internet and social media.
The two-day forum also featured a session on advice doled out via TV medical clinics, which have become the rage in the Arab region. Some of the shows have been criticized for being hosted by quacks who endangered people's lives.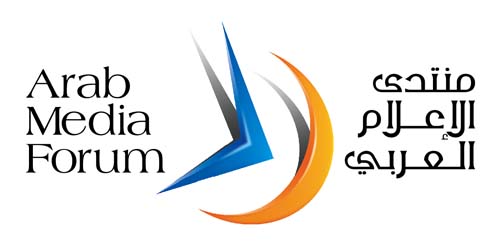 Arab Media Forum logo (Courtesy DPC)
A session on the Arabs' image following the recent uprisings included a survey of Western opinion leaders by PR firm APCO Worldwide that found Arab media had made significant inroads.
Arab media were "helping to define the issue for Westerners" and were expected to be more open and free, the study concluded, adding that the opinion leaders viewed Arabs more favorably following the revolts.
"It shows the enormous shift away from the Hollywood view," said independent American journalist Joe Lauria.
But Jacques Charmelot, a veteran foreign correspondent and editor with Agence France-Presse, said he had trouble with statistics that generalized information.
"I prefer to explain the complexity to the West and that Arabs are not monolithic," he said. "We just don't know how the situation will evolve. At the end of the day, the narrative isn't enough. The average Egyptians care more about food on their plates and education for their children (than other issues)."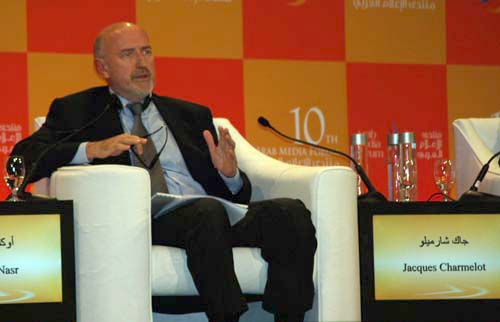 Jacques Charmelot questions generalized statistics (Abu-Fadil)
The forum, whose theme was "Arab Media: Riding Out the Storms of Change," ended with a ceremony honoring winners of the Arab Journalism Awards and journalists who'd fallen while on assignment.
It was organized by the Dubai Press Club, under the patronage of Sheikh Mohammad Bin Rashed Al Maktoum, the emirate's ruler.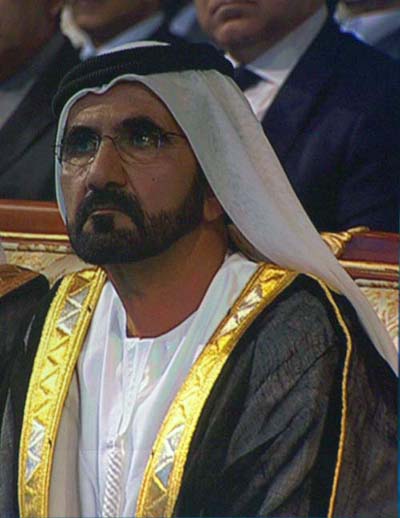 Dubai ruler Sheikh Mohammad Bin Rashed Al Maktoum (Abu-Fadil)

REAL LIFE. REAL NEWS. REAL VOICES.
Help us tell more of the stories that matter from voices that too often remain unheard.