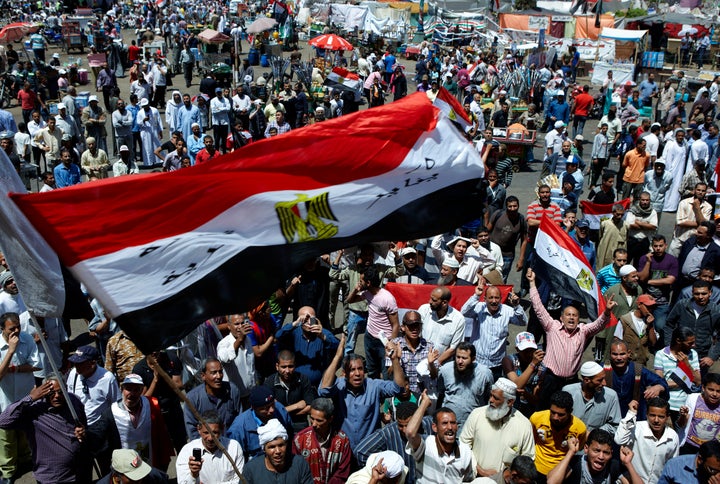 Arab media are finally establishing stronger footholds in their backyards following recent revolts and demands by a growing youth population eager to have an impact on the course of events.
"It's a natural outcome to ongoing changes in the Arab world in one of the key rebounds of the Arab Spring -- the return of viewers to their national and local channels," wrote Saudi journalist Jamal Khashoggi this week after an historic pre-presidential election debate in Egypt that would have been unthinkable two years ago and that was aired live on two local channels.
Khashoggi was referring to Arab audiences that had shunned their mostly state-run local media for years to watch news on Qatar-based Aljazeera and Saudi-owned/Dubai-based Al Arabiya when national stations dropped the ball on credibility and professionalism.
But these viewers were being drawn back to their local media.
Khashoggi admitted he faced serious challenges since being hired to run the Bahrain-based Al Arab news channel owned by Saudi billionaire Prince Alwaleed bin Talal to not only compete with two earlier pan-Arab powerhouses, but hundreds of other Arab satellite stations, to say nothing of all the foreign offerings.
It's a debate that took center stage alongside other stimulating issues at the 11th Arab Media Forum (AMF2012) this month in Dubai where a record-breaking 3,800 participants discussed how the transition was redrawing the media map for all involved.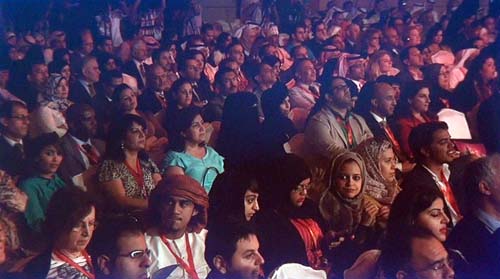 Record-breaking attendance at AMF2012 (Abu-Fadil)
"I believe my generation and the generation that immediately followed us were really responsible for the mess that the Arab world is in," admitted keynote speaker and world-renowned, Egyptian-born scientist Farouk El-Baz.
To El-Baz, his generation had failed completely to satisfy any of the hopes of the Arab people, but he took solace in today's youth who were making great strides to achieve their aspirations.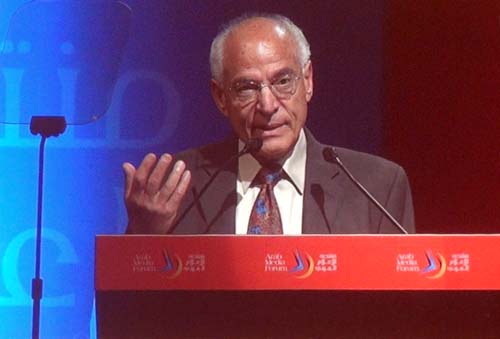 Keynoter Farouk El-Baz (Abu-Fadil)
In a session on "News Channels and Arab Revolts: Questions of Coverage and Performance," panelists touched on whether satellite stations were credible, objective, over-eager, or too slow, in disseminating information about uprisings gripping Middle Eastern and North African countries.
Al Arabiya's news director Nakhle El Hage said the Arab revolts proved an opportunity to produce news, but also created massive challenges for those covering the events.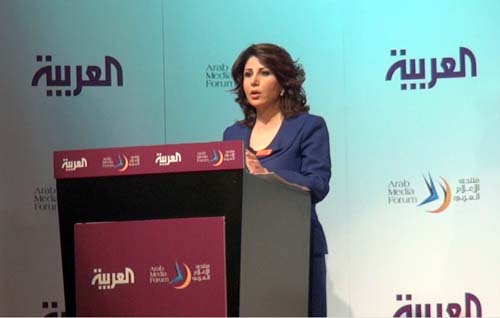 Al Arabiya presenter Muntaha Al Ramahi (Abu-Fadil)

"At first we relied on unconventional sources given the great difficulties we faced, plus Arab channels were inadequately equipped to handle huge events at such breaking speed," he said.
But, El Hage noted, many news channels found the proper balance and earned their stripes, as reflected in the numbers of viewers they secured.
Not to be overlooked is the role of religion in the media, given the victory of Islamist parties in post-revolution legislative elections in Tunisia and Egypt, and fears of religious/sectarian conflicts in various regional hotspots.
In a session dedicated to the role of Arab media's religious speech, participants learned there were 51 religious channels operating in the Arab world in 2011.
Religious experts on the panel, who included Greek Orthodox Archbishop Theodossius Atallah Hanna of Palestine, focused on the need to curb sectarian and ethnic strife in print, broadcast and online outlets.
"Ties between Muslims and Christians in the Arab world are not just dialogue and meetings but a unified Arab nationality and culture, and extremist religious speech that doesn't accept or respect the other only serves the old and new colonialists, particularly in Palestine," he said.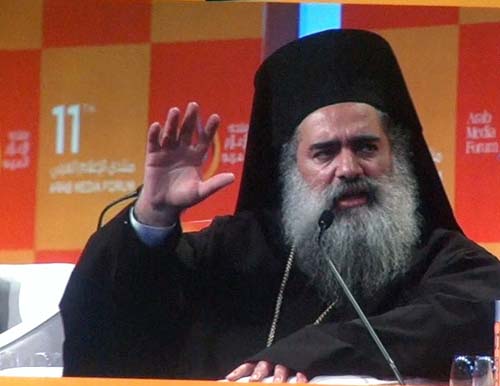 Greek Orthodox Archbishop Theodossius Atallah Hanna of Palestine (Abu-Fadil)
The forum's debates were particularly animated during three workshops preceding the official opening.
They focused on social media, youth creating their own platforms, and, whether instinctively, online media users were becoming journalists.
"There are no journalists by instinct. Journalism is a profession and practice," argued Tunisian media professor Alsadeq Alhamami, adding that requisite skills can only be acquired through academia or experience and that one shouldn't confuse news with information.
Jordanian activist Lahib Bani Sakher was quick to distinguish between traditional and online journalism, and, bloggers. She said that legacy news organizations focused on scoops, whereas social media were more geared to views.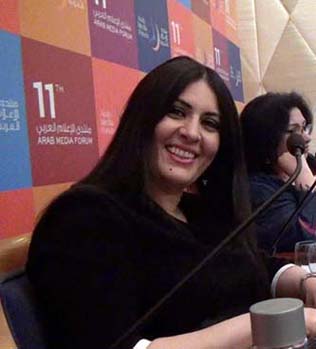 Jordanian activist Lahib Bani Sakher (Abu-Fadil)
"Maybe online media's success is due to the inability of traditional media to handle the huge amount of flowing news, leading to the phenomenon of crowdsourcing, and the undoing of the (administrative/editorial) pyramid structure as we know it," she opined.
As a panelist, I enjoyed the verbal duel during that workshop, and piqued traditionalists who felt social media were a secondary appendage to "real journalism."
Tragically, many Arab journalism schools lack resources and because of their curricula are turning out functional illiterates by not providing students with the knowledge base and skills for today's exploding media market.
Additionally, faculty members are often below par and incapable of keeping up with the times, hence their aversion to digital advances, social media, and inability to incorporate them in their programs, I argued, challenging the audience to tell me how many media professors they knew who blogged, tweeted, or felt comfortable functioning online.
Retired veteran Egyptian TV host Laila Rostom, in a panel on modern Arab talk shows that had become verbal (and sometimes physical) battlefields, admitted to a journalist she had no email address, didn't use social media, and left such matters to her daughter. She received a lifetime achievement award.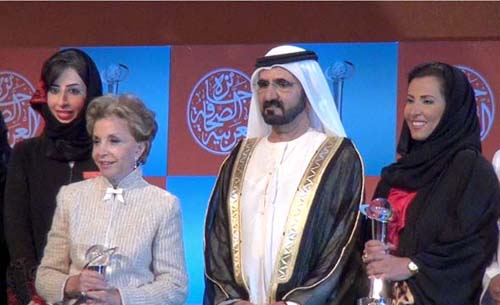 DPC Executive Director Maryam Bin Fahad, Laila Rostom, Dubai ruler
Sheikh Mohammad Bin Rashed Al Maktoum and Best Column prizewinner
Badria Albishr (Abu-Fadil)
Other sessions included the role of official foreign spokespersons, how YouTube channels were being used as individual platforms to compete with satellite stations, and the need for more innovation in Arab TV production.
Related
Popular in the Community