Contrary to the saying that truth is the first casualty of war, the Arab Spring has overwhelmingly broken a barrier of fear that has presided over the Middle East for decades. Most people in the region are demanding nothing but the truth; they also participate by disseminating the news. Some reporters are investigating the truth.
For the past few years, I've looked forward to a few days where inspiration and truth collide at the Arab Reporters for Investigative Journalists Conference. Nearly 300 investigative journalists from across the Arab world have been meeting to share tools, present work methodologies, network and listen to keynote speakers.
Like the Middle East region itself, the theme at this year's conference -- held last week -- dealt mainly with the rapidly changing political landscape and its effect on the media.
Libyans didn't only voice their opinion but also discussed the proliferation of over 120 television stations, newspapers, radio stations and news websites in their country since former president Muammar Gaddafi's ouster.
Journalists from countries that witnessed revolutions -- Egypt, Tunisia, Libya, Yemen -- expressed more optimism in their capacity to investigate what was once forbidden, but also voiced a sense of uncertainty about the outcome of the political process itself, and its impact on press freedom and development in the near future.
Promoting accountability, investigating corruption and uncovering money laundering was a prevalent topic covered by trainers and journalists at the three-day conference.
Egyptian journalists revealed results of the first Arab Reporters for Investigative Journalists cross-border investigation that tracked the wealth of Egyptian oil and gas tycoon Hussein Salem, the right hand of former president Hosni Mubarak.
Ali Ibrahim from Tunisia spoke about his investigative report on a local cement factory that was granted exclusive licenses under the previous regime of Zine El Abidine Ben Ali.
"Each country in the region faces different political challenges," said Rana Sabbagh, executive director of Arab Reporters for Investigative Journalism (ARIJ), a nonprofit organization in Jordan.
"But the one million dollar question is how will government-owned media outlets or ones that were run by ruling political parties for so long, develop with the new changes engulfing the region?" she asked."How will the media sector deal with these revolutions when so many of its employees have been practicing self-censorship, in particular editors-in chief and journalists?"
Indeed, for some countries like Jordan, Syria and Morocco, the atmosphere for the press has become more tense since the Arab Spring began.
"Morocco's press freedom is regressing, and is in a sad state today despite the Arab Spring," said keynote speaker Ahmed Benchemsi, publisher, founder and editor of Morocco's weekly TelQuel (French) and Nishan (Arabic).
The weekly was shut down in 2010 when it was forced to file for bankruptcy due to government pressure and mounting debt as a result of an advertising boycott by the largest corporation in Morocco.
"We will continue to train and provide tools for journalists, but we also need to work on changing the mentalities within media institutions to support investigative reporting so they realize it's in their best interest," said Daoud Kuttab, chairman of ARIJ.
During the closing ceremony both Ms. Sabbagh and Mr. Kuttab said necessary legal changes in the region should be made to protect the right to access information, and amend laws that hinder press freedom.
In an exchange between journalists, Ms. Sabbagh explained the non-profit will work on improving the quality of investigative reporting by training, enhancing networks and supporting journalists during their investigations.
In countries like Jordan, attacks by citizens and riot police on journalists increased since the Arab Spring, despite a slight decline in self-censorship, according to a study by the Center for Defending Freedom for Journalists, a non-profit organization based in Jordan.
In 2010, 94 percent of Jordanian journalists surveyed said they self-censor themselves. In 2011, self-censorship among journalists declined to 86 per cent driven by the Arab Spring, according to a recent study on the status of press freedom by Al Quds Centre for Political Studies, an independent research center.
"It is impossible to speak about the path to democracy without a free and fair press and one that can flourish in an enabling political environment," wrote Sabbagh in her weekly column in Al Arab Al Yawm, a daily newspaper. "Will the Arab press be the force of change and help in establishing a new institution that is based on justice, democracy and good governance? Will it support unity and increase awareness or will it instead incite ethnic and religious divisions?"
Investigations affecting society and the environment were also revealed at the conference, drawing questions and interactions from the audience.
Zahraa Habib explained how women were facing severe challenges at Sharia courts in Bahrain, while Hanan Khandagky spoke about her undercover investigation at private centers for the handicapped in Jordan where severe mental and physical abuses were taking place.
"It was a difficult process for me to watch the children being burned and abused at these centers," said Khandagky, who won first prize in the radio broadcast category. "At the same time I knew I had a responsibility to reveal the truth and hopefully once the report is published it will change the situation in these centers."
Last year the investigative award was named in honor of the American Pulitzer prize-winning investigative journalist, Seymour Hersh. This year it was labeled as the "Arab Spring Awards."
Ammar Saleh who attended the conference from Baghdad presented his investigation on health and environmental dangers -- including an increase in the number of cancer cases -- due to depleted uranium weapons, he said.
"It took me a long time to collect the data and do some comparisons from the first Gulf War, talk to experts, interview people who live in exposed areas, especially in the city of Basra," said Mr. Saleh. "This is something that is impacting the Iraqi people directly and our environment as well."
The regional investigations supported by ARIJ also discussed the outcome once the reports are published or broadcast.
A special prize went to Hisham Allam and Ahmad Ragab for their investigation into an Egyptian prison break on Jan. 30. At the time it was widely believed the 504 prisoners who escaped from Marg prison, were released to wreak havoc and chaos, so Egyptians would favor the return of law and order under the former regime. Mubarak resigned anyway -- several days later on Feb. 11.
According to the findings of a six-week investigation by both reporters, who write for Al Masry Al Yawm, an independent newspaper in Egypt, the escape from the prison was performed by Bedouin groups working under the command of Hezbollah, the single most powerful group in Lebanon, the Palestinian Islamic group Hamas and families of individual prisoners.
"The former government always said they did not free the prisoners on purpose," said Mr. Allam during an interview. "The former interior minister said our investigation proves the innocence of the police," he added. "As reporters, all we wanted to find out was the truth, and as a result, members of the groups that opened the prison doors and some who fled were later captured." He said, "We also received revengeful threats."
The fifth annual conference will be held in Tunisia next year -- the first country in the region to witness a revolt this year.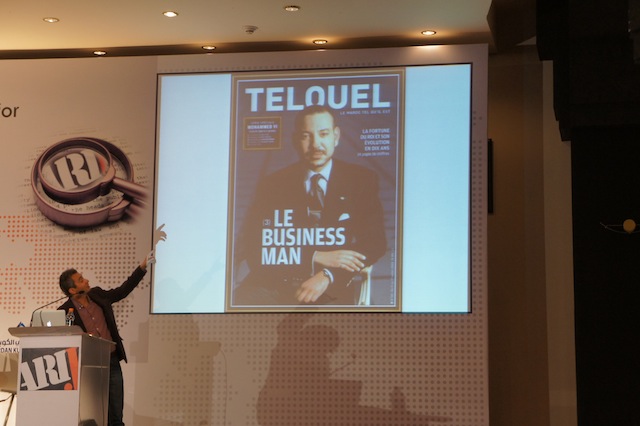 Keynote speaker Ahmed Benchemsi, publisher, founder and editor of Morocco's weekly TelQuel (French) and Nishan (Arabic). Photo: Rana F. Sweis.
Popular in the Community