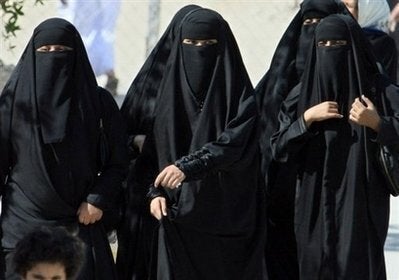 Just last month and for the first time in history, a Saudi king appointed a woman to his council of ministers. Noor Al-Fayez is the new deputy minister for women's education in Saudi Arabia, a country where women are still not allowed to drive a car. The astonishing appointment of Al-Fayez, a middle-class woman with no ties to the royal family, startled millions of people.
It also made me wonder what it is like to be such an accomplished woman in the ultimate man's world -- the Arabian Peninsula. For insight I spoke with Hoda Kanoo, founder of the world-class Abu Dhabi Music & Arts Festival that begins its sixth season this Saturday, and Anita Mehra, marketing and communications vice president for Dubai International Airport, one of the fastest growing air hubs on the planet.
Both women surprised me with their observations about working women in the United Arab Emirates, where a surprisingly high number (30 percent) of public-sector management positions are held by women.
The following is an interview with Hoda Kanoo and Anita Mehra:When your neighbor, Saudi Arabia, put a woman on its council of ministers, what did you think?
Hoda Kanoo: I was delighted. From my point of view, it was inevitable. We have two sexes for a reason. Without both male and female sectors, you don't have a complete nation. Strength comes from educating both...from giving people equal opportunities. The future is men and women working together.
Yes, but the Arabian Peninsula today is still a man's world.
Anita Mehra: Honestly, the first time I felt that way was at my very first job in San Francisco, where I was a research assistant at an investment banking company. All of the top analysts and stockbrokers were men. The women were all support staff, and treated as such with lots of bossing around and expectations that we would get coffee and run errands -- things they would never ask a man to do.
I almost hate to ask...did you get coffee and run errands?
AM: I refused to do those chores. I let my American boss know in a nice, civilized way that in the Middle East women do not run errands or get coffee. I treated him with respect, and made it clear I expected the same from him. This early experience helped me deal with the challenges of working in a man's world.
But there must have been difficulties in the UAE as well.
AM: After working for three years at Dubai Duty Free as a senior marketing manager, I hired a man to be my deputy. Although he was junior to me, his pay package was larger because he was a man. When I spoke to the managing director of the company about this discrepancy, he told me that the only way I could earn the same benefits package was to accept a second set of job responsibilities on top of those I already had.
He suggested you work two jobs?
AM: And I did this for two years, until I was able to change the system. Now women at that company receive packages that are equivalent to men.
HK: If I may say this, I think women everywhere in the world find it difficult to achieve their goals and prove themselves. But in the UAE, what is special about this country is that the leadership supports us. This does not mean it is easy for women in art, in culture, in business life. We need to prove our competence. But in our country the support of leadership makes a lot of difference. I couldn't produce the festival without the support of the government leaders who help me find funding.
What is the biggest misconception women in the West have about Arab women?
AM: Arab women are no less assertive than their Western counterparts, but it is not in our culture to be confrontational. I believe this attitude engenders an atmosphere of openness that helps in any business situation. I have never encountered anything but the utmost professionalism in my interactions with male business colleagues in Dubai. Gender is not an issue here.
HK: I think stereotypes about women in the UAE are caused by a lack of knowing each other well. With the world becoming so close, it is important for women from both sides to learn more about each other, and to enjoy the process of discovery. Reach out, always reach out.
At the music festival, are people genuinely interested in performers from other corners of the world?
HK: They are passionate about them. There's a wonderful energy. Sometimes we have more than 100 nationalities in the same hall. This season's performers include Romanian soprano Angela Gheorghiu, Italian tenor Andrea Bocelli, the Bolshoi Ballet, Irish flutist Sir James Galway, French pianist Jean-Yves Thibaudet, Tunisian singer Latifa, and many more top international musicians and artists.
Does the program reach out to young people?
HK: Absolutely, and this is closest to my heart. The artists who come from abroad give lectures and master classes for the children of the UAE. Every time this happens I see a different person emerge -- a young person with more confidence, with a greater appreciation for other cultures. It's just amazing. This is something I believe in. I live it every day. I feel it every day.
The sixth annual Abu Dhabi Music & Arts Festival features a varied program of ballet, opera, classical and Arabic music, a visual arts component, and an educational program. The two-week festival runs from March 21 through April 2. For event and ticket information click here.
Related
Popular in the Community