A student was left in critical condition after a shooting at Arapahoe High School in Centennial, Colo. on Friday.
Authorities identified the shooting suspect Friday night as 18-year-old student Karl Pierson.
County Sheriff Grayson Robinson said at an afternoon press conference that the suspect died from a self-inflicted gunshot wound. Authorities "found his body in the internal portion of the school in a classroom." The shooter is believed to have acted alone.
The shooter "targeted a specific teacher that he was interested in confronting," according to Robinson.
The student entered the high school carrying a shotgun Friday afternoon and asked for the teacher by name. When that teacher found out the armed student was asking for him, he left the school immediately. The teacher was not injured.
The sheriff reported in the afternoon that one student was released from the hospital, while the 15-year-old female student remains in critical condition. No students were injured in the evacuation, though three suffered what he would call "anxiety attacks."
Authorities recovered two devices from the scene, one thought to be a Molotov cocktail which had been detonated when recovered. The other device was rendered harmless, the sheriff said. Though it was unconfirmed at the time, the sheriff suggested that the shooting stemmed from a disagreement between the shooter and a teacher.
"It's a very difficult day for Littleton schools and Arapahoe High School," Scott Murphy, district superintendent, told the press.
Arapahoe High School is eight miles from Columbine High School, where two students fatally shot 13 people in 1999 before killing themselves; and 17 miles from Aurora, Colo., where James Holmes allegedly opened fire on a movie theater, killing 12 people and wounding 70.
Robinson said that there is no evidence that the Arapahoe shooting had any connection to the one-year anniversary of the Sandy Hook Elementary School shooting in Newtown, Conn. On December 14, 2012, Adam Lanza killed 27 people, including 20 children, before taking his own life.
Since Columbine, Colorado has endured other mass shootings, including the killing of 12 people in a movie theater in nearby Aurora in 2012. But it was not until after the Newtown massacre that state lawmakers moved to enact stricter gun-control laws. Two Democratic lawmakers were recalled from office earlier this year for backing the laws, and a third recently resigned to avoid a recall election.
The district attorney prosecuting the theater shooting, George Brauchler, lives near the high school. At a news conference, he urged anyone who needed help to call a counseling service and gave out a phone number.
Tracy Monroe, who had step-siblings who attended Columbine, was standing outside Arapahoe High on Friday looking at her phone, reading text messages from her 15-year-old daughter inside.
Monroe said she got the first text from her daughter, sophomore Jade Stanton, at 12:41 p.m. The text read, "There's sirens. It's real. I love you."
A few minutes later, Jade texted "shots were fired in our school." Monroe rushed to the school and was relieved when Jade texted that a police officer entered her classroom and she was safe.
Monroe was family friends with a teacher killed in the Columbine shooting, Dave Sanders.
"We didn't think it could happen in Colorado then, either," Monroe said.
After hearing three shots, freshman Colton Powers said everyone "ran to the corner of the room and turned off the lights and locked the door and just waited, hoped for the best. A lot of people, I couldn't see, but they were crying. I was scared. I didn't know what to do."
His mother, Shelly Powers, said she first got word of the shooting in the middle of a conference call at work.
"I dropped all my devices, got my keys and got in my car," she said. "I was crying all the way here."
More than 2,100 students attend Arapahoe High, where nine out of 10 graduates go on to college, according to the Littleton Public Schools website.
This story has been updated with additional details.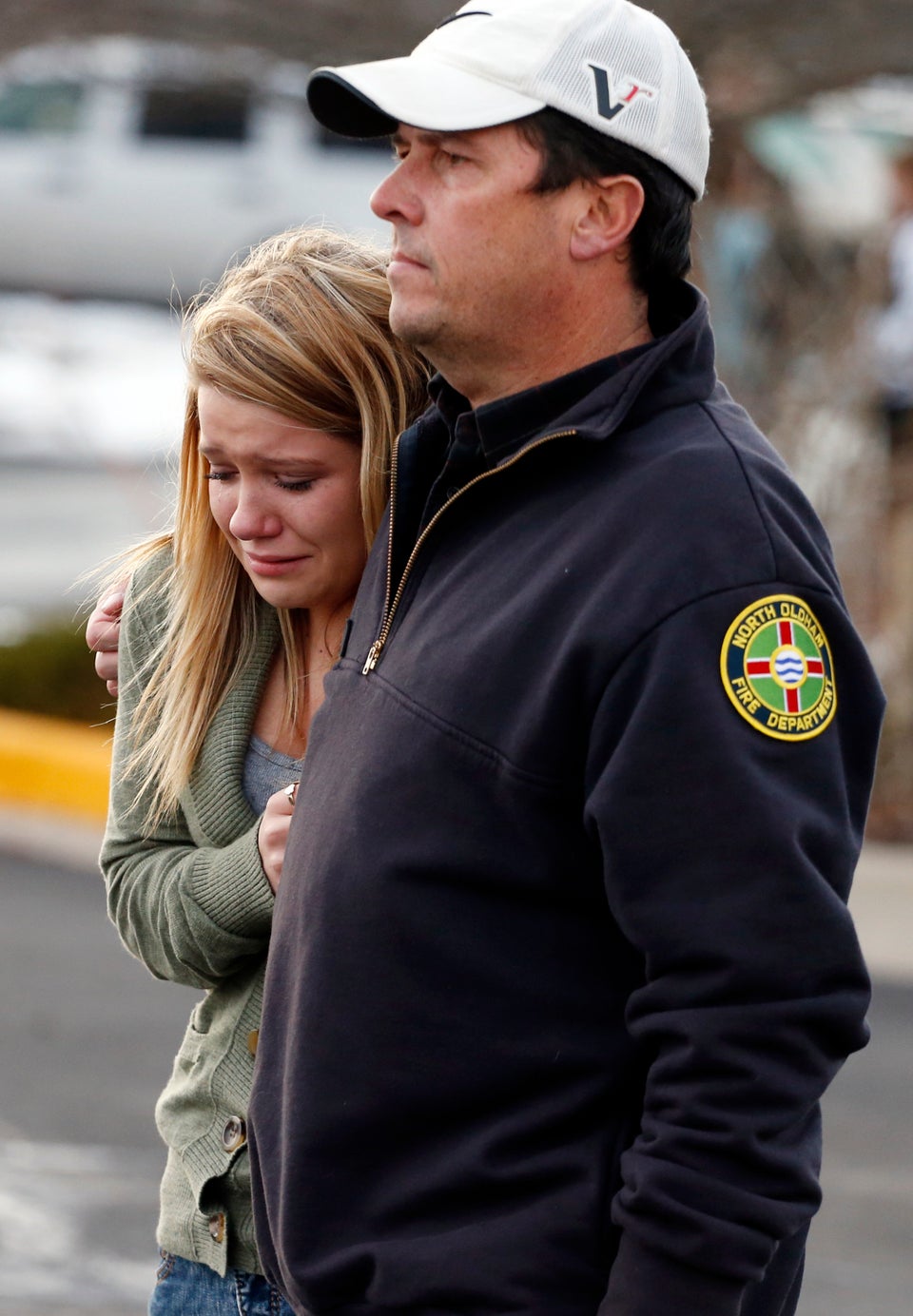 Arapahoe High School Shooting