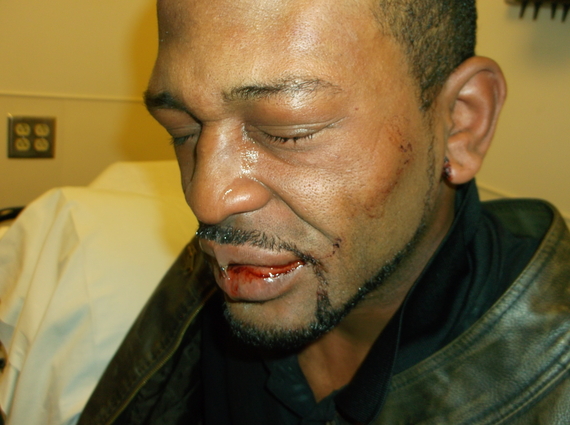 Benjamin Mann sits in a hospital in Champaign after an incident with police in March 2014. Mann filed a lawsuit alleging Officer Matt Rush and other officers used excessive force in the incident. Submitted photo.
Four handwritten words written in printed capital letters tilt to the right near the top of Chief Anthony Cobb's letter of July 23, 2014 that informs Officer Matt Rush he has been fired:
"Rescinded per arbitrator's ruling."
Cobb terminated Rush after three incidents in which he had been found by the department to have, among other actions, sworn at a resident during the course of a confrontation, punched a woman in the process of attempting to control her, and lied about the punch.
Rush exercised his right to arbitration.
In April 2015, Milwaukee-based arbitrator Fredric Dichter reduced Rush's punishment to suspensions of 30, 1 and 3 days. He wrote that Rush swore and punched, but did not exhibit dishonesty during the third incident.
The lack of police accountability has been thoroughly discussed and hotly contested since the killing of Mike Brown in Ferguson by Police Officer Darren Wilson in August 2014. Responses to Dichter's ruling illustrate a stark divide on a significant but little-examined topic: the impact of the arbitration process on the efforts of chiefs like Cobb to hold officers accountable.
David Wickster, president of The Illinois Fraternal Order of Police Labor Council, said the arbitrator's ruling represented a triumph of the due process to which Rush was entitled. "Officer Rush served his suspension and has not had a complaint against him since returning to work in the spring," he wrote in a statement. "We should all move forward and allow Officer Rush to continue serving the public in a job that he loves."
But Sundiata Cha-Jua, an associate professor of African-American Studies and History at the University of Illinois, Urbana-Champaign, disagreed. "The consequences demonstrate that there is no accountability," Cha-Jua said. "In this case, we have a chief who took action, city council supported the chief in taking the action, and the guy comes back on the force."
The situation Champaign encountered with Rush is part of a national pattern.
Across the country arbitration leads to more than 60 percent of police firings being reversed or reduced, according to Will Aitchison, an attorney who represents police labor unions and the director of Labor Relations Information System, a Portland-based organization that compiles information for police and fire unions.
Aitchison said that he's looked into more than 10,000 police disciplinary cases throughout the nation during the past 30 years. He attributed the percentage of reversals to police departments' taking on comparatively few cases due to a calculus of their high costs and what he said are officers' tendency to be more critical of their colleagues than the general public.
"Unions will take into account the merits of the case, the costs of litigating the case," Aitchison said. He added that he has found in his 35-year career that "the toughest people on police officers are other police officers."
But Patricia Avery, president of the NAACP Champaign County, said reversals like that of Rush's termination demonstrate a flawed system.
"If the likelihood of being held accountable is very low, it makes it so easy to abuse the system," she said.
Feinen said Rush's actions have had a financial cost for the city and have made effective policing more difficult for other officers who have not been sanctioned for the kind of behavior Cobb cited in firing him.
"We're paying off lawsuits for an officer who should have been terminated," she said. "It's not just about the money, it's about him being back on the street and all of the other things that surround [that]. The good officers who are working hard, it impacts their ability to do their job."
Avery and Cha-Jua said that the arbitrator's decision to reinstate Rush highlights the importance of accountability through the criminal court system.
State's Attorney Julia Rietz did not respond to repeated requests for comment about whether she plans to file criminal charges against Rush.
University of Illinois Urbana-Champaign Emeritus Professor Belden Fields called for an alternative to the current arbitration system.
"When arbitration simply gives a way out for police officers who are abusive, that has to stop," he said. "There has to be some other process where police chiefs can do it."
But Cha-Jua said overhauling police personnel, changing the police contract to include a residency requirement and removing rights that police have under the Uniform Peace Officers' Disciplinary Act are critical elements in achieving a positive relationship between the community and the police.
"We have to dismantle the extra powers that police have," he said. "Until you do that, you're never going to have good police-community relations."