Arby's apologized Thursday after a Florida employee refused to serve a police officer -- though the employee is keeping his job.
Pembroke Pines Police Sgt. Jennifer Martin wrote in an incident report that she went to Arby's on Tuesday night and ordered at the drive-thru. Clerk Kenneth Davenport, 19, took her credit card, but it was restaurant manager Angel Mirabal who returned, saying, "[Davenport] doesn't want to serve you because you are a police officer," Local 10 reports.
Martin said she was uncomfortable, but went inside to get a refund and asked for the employees' contact information. Mirabal, 22, reportedly laughed, and said Davenport was allowed to refuse her service. He gave her back her money and his contact info, but Davenport refused to give his name.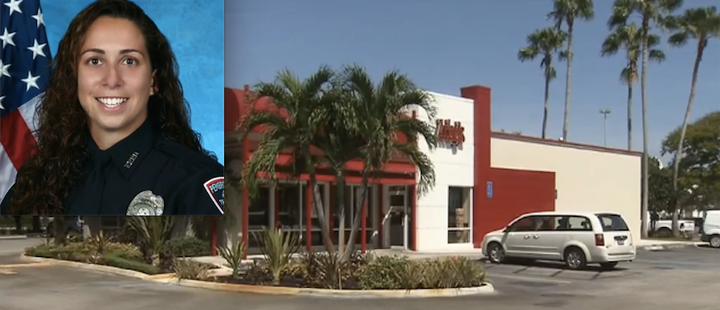 Arby's CEO Paul Brown apologized in a statement penned to area police departments, saying that any officer in the Miami area can get a free combo meal on Friday:
Please accept our sincerest apology for the recent incident that occurred at our Arby's® restaurant in Pembroke Pines, FL. This isolated incident does not represent Arby's Restaurant Group (ARG) views and Arby's values. We appreciate all that you do, as well as the hard work and sacrifices of your fellow law enforcement officials in communities across America.
In a statement to The Huffington Post, an Arby's spokesman said the manager, Mirabal, was fired. Davenport was put on temporary paid leave.
"This was a complex and difficult decision, but as a company that highly values trust and fairness, we ultimately found that the crew member was not involved other than to attempt to remedy the situation," the statement said.
Davenport's grandfather told Local 10 that the whole thing was a joke and that the teen's words were "taken out of context and blown into something much bigger than what it should be."
The Arby's spokesman said that Pembroke police consider the case closed and that Brown will travel to the area today to visit restaurants and hand out free meals to officers.
Related
Popular in the Community