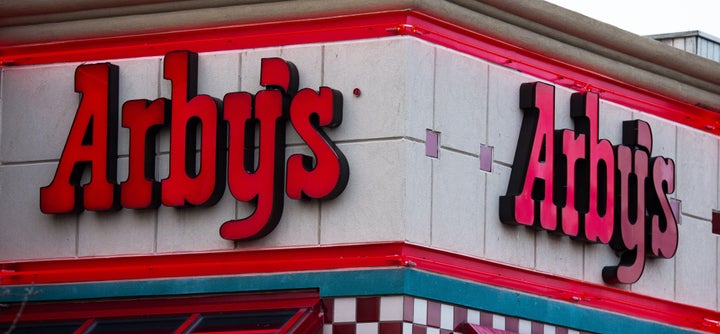 On June 28, Arby's restaurants across the country began selling three sandwiches featuring bacon baked with brown sugar.
The brown sugar bacon will only be available until the end of July, but in the months leading up to its launch, Arby's executives became concerned about its potential effect on one segment of the population: vegetarians. The worry stemmed from a conversation at the company's Atlanta headquarters about six months ago, in which Arby's employee Ellen Rose, who works on the company's field marketing team and is a vegetarian, joked that the bacon looked so good that it might tempt her away from her meatless diet.
"For the people who love Arby's and the people who love meat, this is going to be a really good month, and for the people who don't, it's going to be a trying month," Rob Lynch, the company's chief marketing officer, told The Huffington Post.
Lynch said that the marketing team felt that it was their "corporate responsibility" to prevent vegetarians from abandoning their beliefs. So they came up with the idea of launching a tongue-in-cheek "support line" for vegetarians tempted by the brown sugar bacon.
The automated hotline went live on Tuesday morning; you can reach it by calling 1-855-MEAT-HLP. When you call in, you're instructed to press one "if you're a vegetarian who's feeling tempted by brown sugar bacon and you can't stop thinking about that sweet meat" or to press two "if you're a vegetarian who's given in and eaten brown sugar bacon." You then hear a supportive message that corresponds to your situation. (Though the message for vegetarians who have not yet "given in" does end with an instruction to "go make a salad" in a decidedly unsupportive tone.)
Lynch said that since the hotline launched, so many people have called in that the company found it impossible to keep count. There's a good chance, though, that many of the callers were not, in fact, vegetarians -- because this hotline represents one of the few offerings Arby's has made to that constituency. The only foods on the chain's menu that contain no meat are sides and beverages. When asked to recommend an Arby's order for a vegetarian who refuses to try the brown sugar bacon, Lynch mentioned salads before pausing and suggesting another idea.
"Frankly, the BLT is a vegetarian option if you just take off the B," he said, referring to the bacon. "I just thought of that right now."
Popular in the Community