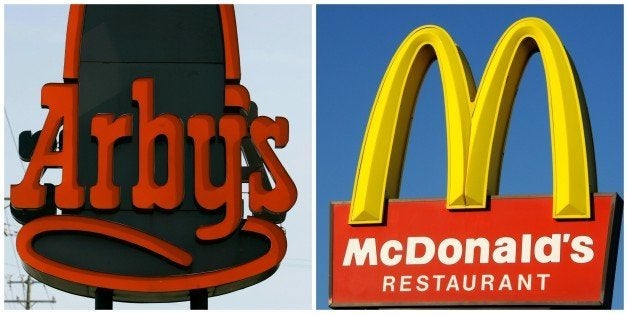 Guys, Arby's and McDonald's are in a huge beef right now and it's basically a beef about beef. As in, McDonald's might've used the exact same here-look-at-meat strategy while a man with a loud voice talks over food in their latest commercial.
You see, Arby's released a particular commercial on July 30, 2014 as part of their new "We Have The Meats" campaign designed to attract millennials. Here it is:

The 17-second spot we're zeroing in on in particular is one of a few "meat" commercials in the campaign, all of which look and sound the same. You can view them here.
On January 2, 2015, McDonald's released a commercial called "Unapologetic Big Mac," which also appears to be geared toward millennials. Same Ron Swanson-esque voiceover, same short length, same zooming in on the "meats":
Though both commercials pretty much imply that millennials can't/won't read fully formulated sentences or thoughts, but we can't help but notice how similar they are to each other.
The Huffington Post reached out to Arby's for a quote and Rob Lynch, Brand President/CMO of Arby's said, "Food focused. Arresting voice. Unapologetic. It's a great Creative formula, which is why we decided to go with it six months ago."
When HuffPost asked Arby's if there was any plan to take legal action, an Arby's spokesperson said that there's "No plan for legal action," and that "they're having fun with it." So, no beef? The Huffington Post also reached out to McDonald's for a comment and will update this post if and when when we receive one.
Take a look at what Twitter has to say about the matter and let us know your thoughts below:
The guy who does the Arby's and McDonald's commercials be having me rolling w/ his dry sarcasm

— Evolved (@gamingvixn) January 5, 2015
Popular in the Community