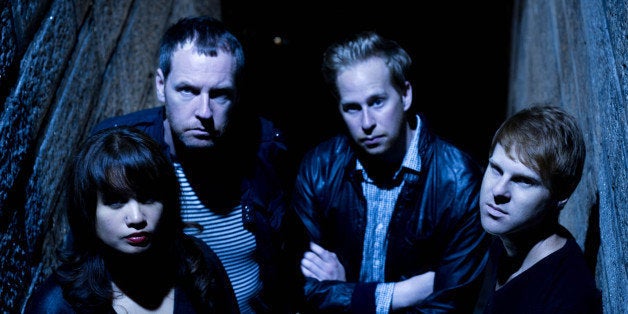 Before The Beat Drops is an artist introduction series dedicated to bringing you the rising acts before they make their break. Our unlimited access to music of all kinds is both amazing and overwhelming. Keeping your playlists fresh, we'll be doing the leg work to help you discover your next favorite artist.

Defining yourself as a Brooklyn band can sometimes be detrimental to first impressions. Much of the music coming out of the New York City borough lately has the unfortunate tendency to sound homogeneous. Yet it's the distinguishing qualities that separate one group from a swarm of hipster clones.
Arc Waves is a Brooklyn band, but one that offers something refreshing to the music scene. It's their combination of a British-punk influence and the classically-trained airy vocals of lead singer Elaine Lachica. Both drummer Mike Hodges and Lachica come from a professional music background, while guitarist Brandon Jaffe and bassist William McCormack bring the '80s British vibe to the band's music.
"With a lot of the Brooklyn bands, they're using a lot of the same stuff," Lachica said in an interview at Brooklyn bar Crown Victoria. "The great thing about this band is that it's not just the parts, it's what's underneath." Lachica described the band's writing process as stripping everything down to the bare essentials. Then the rest of the members begin layering the songs with their own unique musical styles. "We wanna do something that really explores the different things we've done," Jaffe explained. While Jaffe and McCormack are big lovers of British pop and punk, Hodges brings his combo of electric and analogue drums to the band's sound, which overall is inspired by the music of Joy Division and Cocteau Twins.
It wasn't easy forming Arc Waves though, as the band sorted through a slew of musicians to find the perfect fit. While some bands come together by chance, Arc Waves benefited from the convenience of technology. "Honestly, we met through Craigslist," Jaffe admitted before McCormack revealed, to Lachica's surprise, that he actually found the band while Googling Cocteau Twins (Lachica's vocals have been compared to the Scottish band's lead singer). Lachica jumped in to clarify her hesitancy to share their origin story. "Craigslist is a little creepy," she said.
Although McCormick said he'd met a number of his closest friends over the classifieds site, the band encountered many crazy people during auditions. Jaffe described one drummer as "a fucking weirdo," and Lachica mentioned one guitarist who brought his little brother to the audition. "Honestly we felt like he was gonna kill us. It didn't work out," she said, laughing. But once all four of them finally met, everything slotted into place. "Everyone just fits together really well," Lachica said.
Arc Waves recently released their first single, "Half Dome," on Jersey City radio station WFMU, where they're performing live on August 28. Their debut EP is scheduled for release this September. The band isn't just putting their music out solo though; they have help from a producer who believes in them so much that he's creating a label around them. The band cut a demo with studio owner Chris Butler who soon after decided to form Ghost Station Records and record all of their music. "It's like a Motown thing. He wants to form something in Brooklyn to capture everything that's going on right now," Jaffe said. "It's the beginning of a Brooklyn collective."
A HuffPost Entertainment editor, who is not the author of this article, has a personal relationship with Brandon Jaffe. The rest of the editors like the band anyway.
Popular in the Community