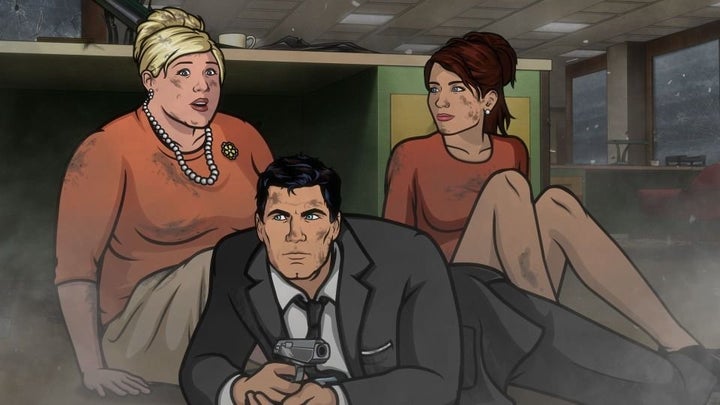 A few years ago, it would have seemed unlikely that an absurdist cartoon featuring a ragtag spy agency named ISIS often shown battling with Russian intelligence while making jokes about dirty sex acts would have a "ripped from the headlines" feel.
In "Archer," inadvertent connections to the real world have been unintentional thus far. With the rise of a terrorist organization that shared the fictional spy agency's name, the show's writers quickly shifted away from that moniker. Now, after lewd stories involving Russian spies have dominated the news, the animated spy serial is shifting away from the usual Russia jokes, too. Its upcoming season is set in the 1940s.
"I was just reading about 'South Park' and [how] their show is so lean and it's such a crazy schedule that they work on because they have to be able to react to what's going on in the world," Amber Nash, who voices Pam Poovey, told The Huffington Post. "Because that's why their show is what it is. And so 'Archer' is the opposite end of the spectrum to that."
In other words, although "Archer" has mirrored current events in the past, it takes so long to animate and plot out that none of it is intentional. (Unlike "South Park.") 
Still, Nash is excited for the upcoming season, called "Dreamland," that will be the show's eighth when it premieres April 5. In "Dreamland," protagonist Sterling Archer is in a coma and imagines the characters living in a noirish 1940s setting.
For the first time, Nash's character will not be assigned a gender, referred to simply as "Poovey." And creator Adam Reed gave the actress an unexpected explanation for that change to her character in Season 8.
"Adam had told me that Poovey was a little bit based on Russell Crowe's character from 'L.A. Confidential,'" Nash said with a laugh over the phone. "So, I kind of had that in the back of my mind when I was going into it, but honestly, Poovey doesn't sound any different."
"Dreamland" isn't the first time the show has ditched its typical conceit. "Archer" previously switched up its format in Season 5, which creators called "Archer: Vice." In that season, characters resorted to a life of crime after they learned that their spy agency was illegal. But in subsequent seasons the characters went back to performing more typical missions as an agency.
"At the end of the day, even if the show changes, we're all still the same group of assholes that are mean together no matter what situation we're in," Nash said, promoting the format changes for the characters. "If you're going to make good comedy, you've got to take risks. And I think that we do."
Read more tidbits from our conversation with Nash, which has been lightly edited for content and clarity, below.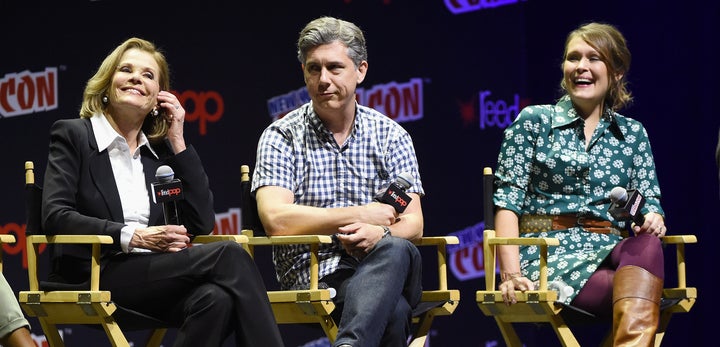 The entire cast didn't meet each other until after the first season. Nash didn't even know who the other stars were.
"When Season 1 started, I wasn't even union yet. I didn't even know who else was on the show. I hadn't met anybody or anything until after like the first season aired. And then I was like, 'Wait a minute, there's a bunch of famous people on this show. How did I get on it?' The first time I met them I think was before Season 2, we were out at Comic Con. I was so nervous to meet Chris Parnell because he's such an amazing comedic actor. I was so stoked to meet him. And he ended up being one of the nicest guys of all time."
Nash ― like others in the cast ― didn't understand many of the show's obscure references early on, but wasn't told the joke was that nobody should understand them.
"I think it was maybe halfway into doing the show, maybe Season 3 or 4 that I was like, 'Oh, I'm not the only person.' I just thought I was dumb and didn't get it and wasn't like savvy enough pop culture wise. And no, these are really deep-cut references that people have to research. Because lots of times, I'll get a script and something will happen and I'm like, 'I have no idea what this is,' and I'll have to look it up. And it's, 'Oh, that man is the guy that invented, like, elevators. OK, alright, I'm not the only person who doesn't know that.' They're all played like they're something everybody knows. It's one of my favorite things about the show."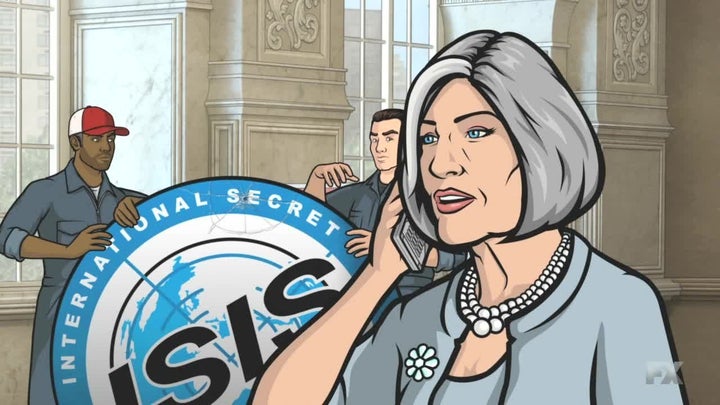 An ISIS sign at the production studio caused a problem with local cops.
"I actually have a funny story. Maybe ... OK, I'll tell you. I don't think I'll get in trouble for this. But we were at Floyd County [Productions], which is in Atlanta, and they had a little bit of a security issue at the offices. So late at night the executive producer had to go check on what was going on and talk to the police officers at the offices. [The office] had an old ISIS sign on the wall. They had this giant ISIS logo that was on the wall and the cops come in and they don't know where they're walking into. They're just walking into an office building. And they're like, 'So ... can you explain this?'"
The creators made a version of the pilot episode where Sterling Archer is a dinosaur with no lines aside from roars. Nash tried to explain why:
[Laughs] "I don't know exactly what the story is, but I have a sneaking suspicion that it's this: Matt Thompson, who is Adam Reed's [creative] partner and the executive producer of the show, is notoriously a jokester, a prankster. He gets giddy like a little kid when he gets to screw around. For a long time the [Adult Swim] office was just like him and a couple of dirty dudes working in a crappy house in East Atlanta, so they're just like 13-year-old boys at the end of the day. So I think it probably just stemmed from one of them saying, 'Hey, we should do this thing,' and then the next thing you know, someone has animated it and put a dinosaur in. I have a sneaking suspicion that that's where it came from. Screwing around."
Here's part of that dinosaur episode:
REAL LIFE. REAL NEWS. REAL VOICES.
Help us tell more of the stories that matter from voices that too often remain unheard.
BEFORE YOU GO