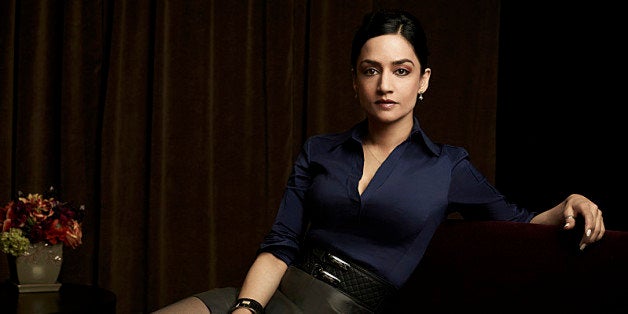 Archie Panjabi knows viewers want more Kalinda on "The Good Wife," but she's enjoying the amount of screentime her co-stars have been getting with the big Lockhart/Gardner exit storyline.
"I think what's fun about it is just the reboot quality for the show and the last time we had a big storyline like that was when Kalinda was found out [to have slept] with Peter, so it's really nice to see Christine Baranski have some really good storylines and really shine, and Matt have some time on screen because last year he didn't really have much," Panjabi told The Huffington Post in a phone interview. "It's really nice to see my colleagues have their moment. My character's had so much attention and it is quite refreshing to allow everybody to have their moment and have some really good scenes and I think they're doing such a great job with it."
Read on for more scoop about what's ahead for Kalinda and Panjabi's work with Rotary. Warning, slight spoilers.
Were you sad to have your romance with Juliet Rylance cut?
Was I sad? I think the thing with the way my character works is, it's such a work in progress. I get the scripts, I watch everything and I go back and forth with Robert. I do so many different options in the takes that he almost cut and pastes a different character together. He writes one, I do another, and we create this whole other character. It kind of happened in Season 1. Now, the advantage of that is you do something amazing and the character gets trended about, which has happened quite a number of times. You do something that doesn't work, you also provoke a certain reaction, negative or positive. You've got to be very careful with this character. I know this was cut for time and for other reasons, but I'm a little bit more immune now to when stuff is cut or edited just because I know the character is such a popular character and is also so provocative. I have to take the good and the bad.
I've gotten so many questions about where Kalinda's been this year. What do you want to see happen to her?
Well, I think currently she's kind of sitting in the background and letting the kids argue it out because it is about the partners. I think after feeling betrayed by Alicia, she's kind of just unsure about things. I think there's still a little residue of the husband, him having left her, or however that ended up, I really don't know. But I think once this has blown over -- the whole build-up has been very about the other characters -- and I think come say Episodes 7, 8 and 9, as it goes on, her storyline starts to come back in focus. I think they're kind of feeling the pressure because everyone's asking, "What's happened to her. Is she being written off the show?" To be honest, it's been great because I've had so much time off it's allowed me to get so involved with the polio aspect, but it's just a part of the business, really.
A line Kalinda says [about Alicia in "Hitting the Fan"] made me so sad because I love the two of them together.
Me too.
Do you think that they'll ever be able to mend that fence?
Well, I mean, those two characters haven't kind of had scenes since midway through Season 4. They've not a had a single scene together. I feel one of the reasons why my character's kept apart is because she's so disconnected from "The Good Wife" story wise and scene wise, and the very existence of Kalinda is her connection to Alicia. I've been told that is going to continue, but I'm really hoping it doesn't because I feel like it's so important for the character and something everybody that I meet always talks to me about. So, who knows. You never know with "The Good Wife," do you?
Let's just go back to the days of them doing tequila shots at the bar.
[Laughs.] I have seen a couple of scripts where they've got a new character in and there's definitely a really interesting relationship. I won't tell you of what kind, but there's definitely a very interesting relationship developing.
How did you become involved with Rotary?
I don't know if you know this, but when I was a child I went over to India at a very young age. My school was five minutes from home -- I was about 10 at the time -- and on my way to school I would witness these young children on the street begging for money without limbs -- either arms or legs -- it was just something that kind of affected me a bit. I didn't know what they were suffering from because nobody really wanted to talk about it. A couple of years ago after the success of "The Good Wife," I got approached if I wanted to be an ambassador for polio. I didn't have a clue as to what it was until I went online and researched it. When I realized it was very much what those children were suffering from, I kind of jumped at the opportunity to be involved in something like that.
I assume it must be very rewarding to use your fame and success and give back like this.
Extremely, you know I do love my job. It's a very colorful profession to be in. When you do something like this it kind of makes you put life in perspective, but seeing the children and going there also helps me deal with what I saw as a child. It's really nice to be able to use your voice in a positive way to make a difference.
Definitely. I know you're doing something on Saturday with the cast of "The Good Wife."
That's right, busy schedule! It's the 100th episode so we're going to the Rockaways to help build a house of Hurricane Sandy victims.
Any news on "The Fall" Season 2? I know Jamie Dornan is in "50 Shades Of Grey."
I know! I just heard that, that's fantastic -- I hope. [Laughs.] They are going ahead with Season 2. I'm not 100 percent sure if I'm doing it, but I have kind of read some of the stuff, it's pretty amazing. I keep doing all this dark stuff, Chris, I need to do something light!
Do you want to do a comedy?
Yeah, I mean "Bend It Like Beckham" -- I used to do a lot of comedies. I think it's always nice to come out of your comfort zone, refresh yourself and then go back and do serious stuff.
"The Good Wife" airs Sundays, 9 p.m. ET on CBS.

REAL LIFE. REAL NEWS. REAL VOICES.
Help us tell more of the stories that matter from voices that too often remain unheard.
BEFORE YOU GO
PHOTO GALLERY
'The Good Wife'