Parnell, a 66-year-old former tax attorney, will formally reveal his plans Monday morning at a cultural center in Sumter that used to be his high school. Local Democratic dignitaries, including House Assistant Minority Leader James Clyburn (D-S.C.), are due to join him.
According to an advance copy of his remarks, Parnell plans to emphasize the importance of restoring the "ladder of opportunity" that is now out of reach for many of the district's residents.
"I am running for Congress again because we should be doing better," the speech says. "Every child born in South Carolina should have the chance to pursue their dreams."
But Parnell is also breaking the news in a minute-long video that offers a tongue-in-cheek account of what he's been up to since losing his first bid.
We see the bookish and bespectacled Parnell sitting in a tattoo parlor with a sleeve of his suit jacket cut off so he can get his arm inked. The ad shows him reading the mock novel "Fifty Shades of the U.S. Tax Code," going bowling, shopping for groceries, and getting a haircut in a barbershop.
In the video, Parnell mentions "all of the madness that's happening in Washington right now," and adds that he's consulted his wife, Sarah, and "held some high-level meetings with some very good friends" ― as the camera cuts to him playing a game of "Go Fish" with Rep. Clyburn.
"And today, I'm proud to announce that I'm running for Congress again, to create good jobs, lower your taxes and to make our communities the kind of places we all want them to be," Parnell concludes, this time back in the tattoo parlor.
The tattoo artist then finishes his work and pulls away a bandage to reveal a tattoo that says, "Parnell For Congress 2018."
"Quite lovely, thank you," Parnell tells him.
The video echoes a similarly self-deprecating May campaign ad in which Parnell depicts himself as a tamer version of the "House of Cards" character Frank Underwood. Underwood hails from a fictional district that is clearly based on Parnell's. Both ads were produced by the Washington-based political consulting firm GMMB.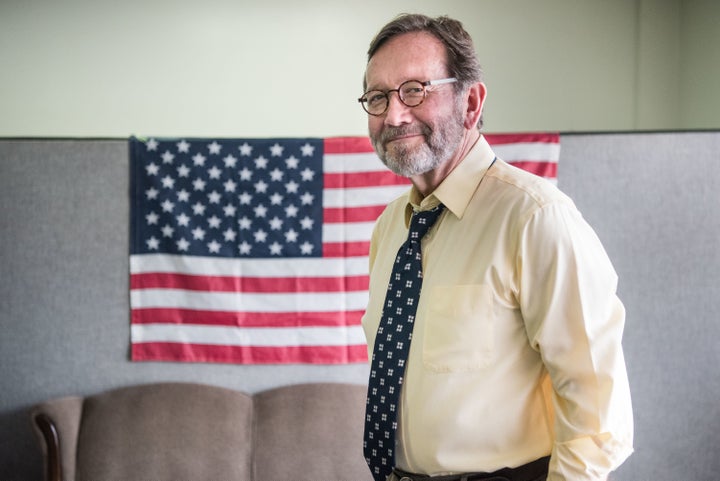 Parnell lost to Republican Ralph Norman by 3.2 percentage points in a June 20 race to fill a seat vacated by former Rep. Mick Mulvaney (R-S.C.), who is now White House budget director. Norman is a 64-year-old real estate developer and former state lawmaker who ran as a hard-line conservative.
The largely rural 5th District, which stretches from Sumter to Rock Hill, has grown reliably Republican since the ultra-conservative Mulvaney was first elected there in 2010. He was re-elected in 2016 by 20 percentage points, and Donald Trump defeated Democrat Hillary Clinton among the district's voters by 18.5 points.
Perhaps as a result, national Democrats largely overlooked Parnell's long-shot bid in June. It did not help matters that the election occurred the same day as the contest for Georgia's 6th Congressional District, where Democrat Jon Ossoff's campaign drew record-breaking donations and wall-to-wall media coverage.
Parnell ultimately defied expectations, however, with a campaign focused on pocketbook issues like protecting Social Security, lowering prescription drug costs and reforming the tax code for the benefit of working people. 
Ossoff, by contrast, lost by 3.6 percentage points ― a larger margin than Parnell, notwithstanding the unprecedented support he received. 
Of course, while Ossoff raised an unprecedented sum of money for a congressional candidate, he also sustained a comparably large wave of Republican firepower. It is impossible to know how Parnell would have fared if he had endured the volume of attacks that Ossoff experienced. 
Parnell, who held top posts at Goldman Sachs before retiring in 2016, will once again have the advantage of his considerable personal wealth.
Notwithstanding his long history of work in corporate America, Parnell succeeded in rallying many progressive supporters of Sen. Bernie Sanders (I-Vt.) behind his bid. He argued that his experience helping Goldman Sachs and other firms comply with their tax obligations gave him a unique understanding of the best ways to crack down on corporate tax avoidance and make the tax code fairer.
REAL LIFE. REAL NEWS. REAL VOICES.
Help us tell more of the stories that matter from voices that too often remain unheard.
BEFORE YOU GO
PHOTO GALLERY
2017 Scenes From Congress & Capitol Hill