It's rare that I write this column in first person.
But I do it today, for a special occasion: a new book.
Earlier this month, Routledge Press announced the publication of Drawing from Practice: Architects and the Meaning of Freehand. It was inspired by a column I wrote in this space in January 2011. Titled "Drawing Like a House Afire," it took a long look at the demise of the hand sketch in architecture during the past few decades.
Among the architects featured in that post were Richard Meier, Frank Harmon, Bill Pedersen, Brian MacKay Lyons and the late Michael Graves. Each was articulate in describing the importance of drawing by hand to the creative process.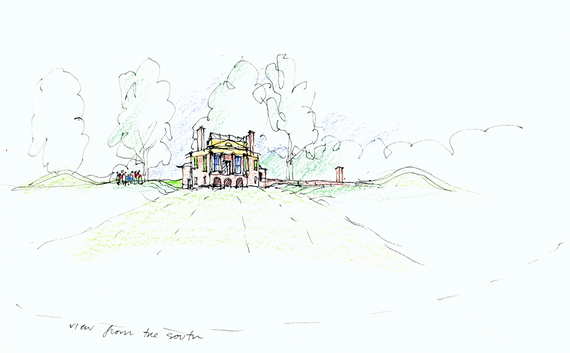 Poplar Forest; Drawing by Frank Harmon
And each is featured in Drawing from Practice, along with 21 other designers and collaborators who are responsible for some of this nation's more interesting buildings and landscapes.

It's a diverse crowd. Included are architects from every generation practicing today, including Aidlin Darling Design, Alberto Alfonso, Deborah Berke, Marlon Blackwell, Peter Bohlin, Warren Byrd, Ellen Cassilly, Jim Cutler, Chad Everhart, Formwork, Phil Freelon, Eric Howeler and Meejin Yoon, Leon Krier, Tom Kundig, Daniel Libeskind, Suchi Reddy, Witold Rybczynski, in situ studio, Laurinda Spear, Stanley Tigerman and Tod Williams Billie Tsien Architects.
Its foreword is by Robert McCarter, who's a practicing architect and professor at Washington University in St. Louis, and also author of exquisite but easy-to-read books on Carlo Scarpa, Frank Lloyd Wright and Louis Kahn.
Early reviews have been gratifying:
It's "a fantastic book that sheds light on the creative process of how architects envision and bring their buildings to life," says Wendy Goodman, design editor at New York magazine.
At a time when so much is lost to mechanization, Welton's book reinforces the fact that nothing is as powerful and engaging as the art of the hand, especially in architecture. It is a book that every architecture student and enthusiast should have.
From Amanda Dameron, editor-in-chief at Dwell Media:
Many architects will say that before they dreamed of building, they dreamed of art. In Drawing from Practice, J. Michael Welton explores this essential connection through his interviews with many of the most compelling minds practicing today.

In so doing he establishes that architecture is art, and that through drawing, artists create buildings.
And from Lynn Medford, editor of the Washington Post Magazine:
Michael Welton's deeply researched and thoughtfully composed book brings us inside the work and process of the nation's esteemed architects.

It is a powerful reminder of all the humanity that goes into the art, beyond the science and the mathematics and even the beauty. Through the architects' drawings and words, we experience a rare intimacy.
At 221 pages, with about 200 drawings and photographs, the book's available in both softcover and hardcover.
J. Michael Welton writes about architecture, art and design for national and international publications. He's also the editor and publisher of a digital design magazine at www.architectsandartisans.com.
Calling all HuffPost superfans!
Sign up for membership to become a founding member and help shape HuffPost's next chapter