A few years ago, Forbes ranked the Silver Lake neighborhood the hippest in Los Angeles. The magazine might have questionable credentials in the judgment of cool, but it got this one right. The flatlands have lots of indie stores, art galleries, and nightclubs, graffiti art is everywhere, foodies jam restaurants like Moby's vegan Little Pine, and there is a cottage industry of recording studios. Hollywood creatives express their individualism in homes that cling to some of the steepest hills in the region (among them Rachel MacAdams and Ryan Gosling).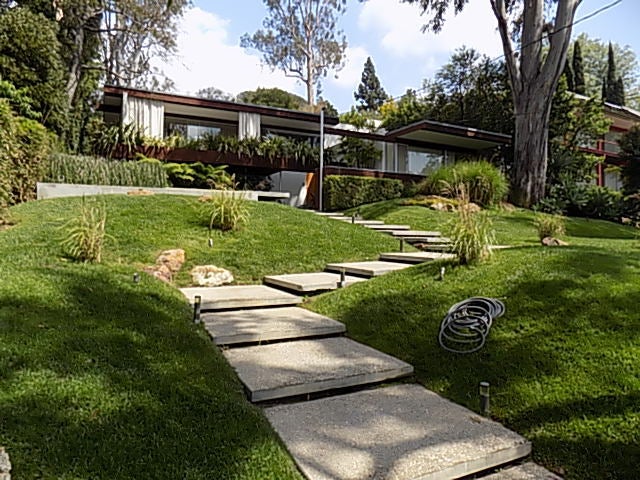 "Los Angeles has the world's most diverse architecture because people came here wanting to do what wasn't allowed or encouraged elsewhere," said Laura Massino, whose Architecture Tours of L.A. www.ArchitectureToursLA.com (323/464-7868) focuses on the most interesting buildings and homes Beverly Hills to Pasadena. She has also written books that provide more detail and historic photos of the places they visit (more background can be researched in the best general travel guide that focuses on architecture, Borislav Stanic's Los Angeles).
Silver Lake, northwest of downtown, is centered around a reservoir, now less than half full after a long drought, which was built in the early 20th century. The area came to hipster prominence when it was the site of the nation's first gay rights riots, in response to police raids of local bars, in 1967 (two years before the more famous Stonewall riots in New York).
The tour started at Gelson's supermarket, where a plaque notes that this was the location of the original Walt Disney Studio from 1926 to 1940, where Mickey Mouse was launched and "Snow White" was painstakingly animated, before moving to its current headquarters in Burbank. The area also hosted other early studios, including silent film star-producer Mack Sennett's, where music videos are still shot. The preservation of historic buildings in L.A. did not get traction until the 1970s, said Massino, but there are now over 1,000 buildings that are officially recognized as landmarks.
Passing by what looked like a Spanish castle with a red-tiled roof and towers, Massino explained that many buildings in Southern California have this type of Mediterranean look because the Southwestern U.S. was part of Mexico until 1848. Owned by the Catholic Church, just a few nuns are in assisted living there now and rumor has it that Katy Perry is trying to buy it. A style that stands out from the mild Southwestern palette is the English Tudor Revival, especially popular in the 1920s and 30s, which often features a steep roof and tall chimneys, painted white with bare timber frames.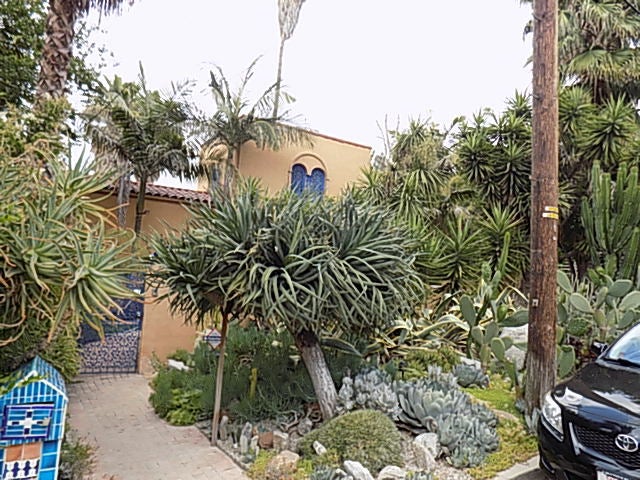 For all the liberal-mindedness of Los Angeles, the mid-century Modernist movement, a reaction to the influence of the tastes of European nobility, was shocking with their buildings of extreme simplicity, flat roofs, and extensive use of glass.
One of the best-known modernists was Rudolph Schindler, who came to L.A. from Vienna to manage Frank Lloyd Wright's American projects while Wright was overseeing construction of the Imperial Hotel in Tokyo. Schindler did much of the design work for that and supervised Wright's most important L.A. commissions, including the Hollyhock House. But when Schindler applied for his own license to practice architecture in Los Angeles in 1929, he mentioned his work on the Imperial Hotel and managing Wright's office, which Wright disputed, ending their friendship until they patched things up in 1953.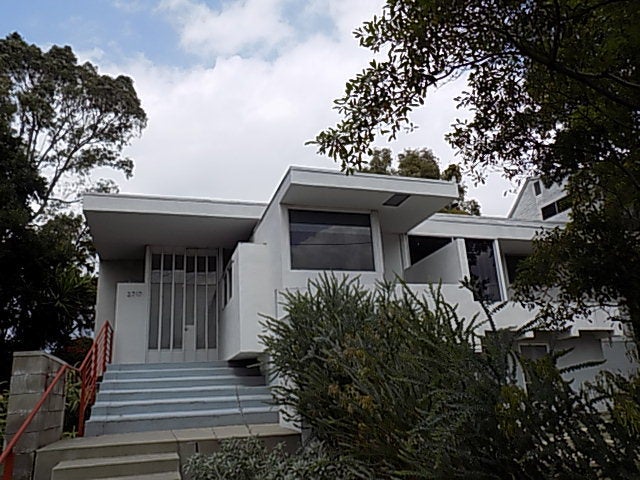 Schindler's early work emphasized concrete, glass, and redwood. He later became known for using a plastic "skin", striking colors, and three-dimensional forms, applying his designs on everything from churches to apartments.
Schindler and Richard Neutra had known each other in Vienna. Neutra (pronounced as in German, "noy-truh") moved to Chicago and was employed by Wright before accepting an invitation in 1925 from Schindler to live and work with him in Los Angeles. Their partnership soon fell apart because of rivalry.
The Lovell House in L.A., designed and built by Neutra in 1927-29, is considered the first to use a steel frame and an example of early use of sprayed-on concrete. He became famous for his emphasis on balancing his clients' practical needs while creating strikingly different homes using glass, landscaping, and water to put residents close to nature, which he regarded as beneficial to psychological and physical health.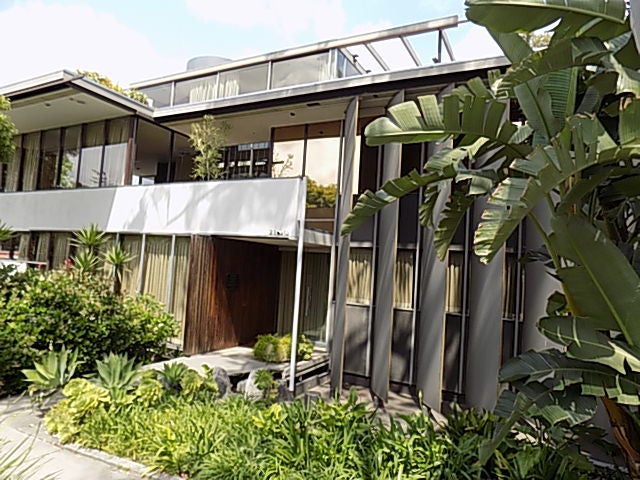 Neutra's own home and office (named the Van Der Leeuw Research House after the doctor who lent him the money interest-free) has lots of glass and two stories topped by a solarium surrounded by a pool. The front has reflecting pools and enormous movable shutters to block or allow in sunlight. It is being restored by the College of Environmental Design at California State Polytechnic University in Pomona, which conducts occasional tours http://www.neutra-vdl.org/site/default.asp.
We also visited a small colony of homes Neutra designed, some with his son, Dion, who still lives there on Neutra Place., next to the Tree Top Apartments, which Dion designed.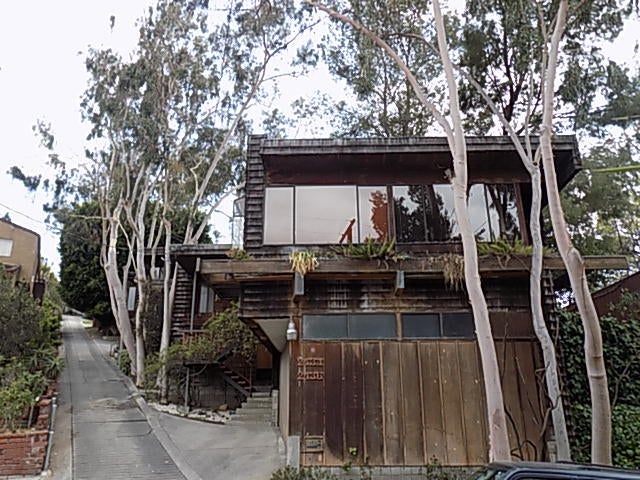 Neutra's minimalist aesthetic appealed to the Japanese, but after World War II, those born in Japan were not allowed to own property in the U.S. Neutra, who was Jewish, was sympathetic and allowed Japanese clients to buy his houses by putting them in the name of their American-born children.
The Over-the-Top Reiner Home
By far the most astonishing home in Silver Lake was planned by industrialist Kenneth Reiner and executed by John Lautner. Reiner had originally budgeted $75,000, but decided to keep building as they kept thinking up more futuristic touches, from an enormous cantilevered driveway to the first infinity pool (the water pours over the edges).
Neo-Modernist design remains popular in the area, with homes often topped by solar panels. Like all of Massino's tours, this was a fascinating revelation for even those who live in Los Angeles.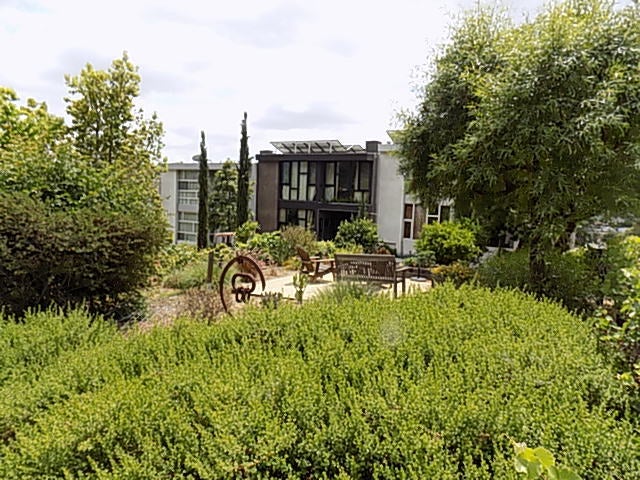 Related
Popular in the Community