"Los Angeles has the most diverse architecture of any American city because people from all over the world came here and began tapping Hollywood's creative talents to design homes and buildings," said Laura Massino, the architectural historian of Architecture Tours L.A. www.ArchitectureToursLA.com (323/464-7868). "L.A.'s historic core has been undergoing significant preservation efforts at the same time that important new buildings are being constructed, so there is a lot to see for anyone interested in architecture."
A decade ago there were just 30,000 residents in downtown, with whole neighborhoods like ghost towns at night. Now that number has doubled, while half a million work there daily, in everything from the lively fashion and jewelry district to import-export. Many areas are now buzzing 24/7, including filming for those who want to watch (L.A. is the most photographed city in the world). The L.A. Live entertainment district includes nightclubs, top restaurants, the Grammy Museum and Staples Center, which hosts sport events and concerts. Yet most residents don't get far out of their micro-neighborhoods and workers rarely walk than a few blocks for lunch, remaining unaware of downtown's rich and diverse culture and architectural history, even as the highest skyscraper ever constructed there is rising.
That lack of awareness is even more so for those living across L.A.'s sprawling county of 4,751 square miles. In 2000, I proposed to the travel editor of the Los Angeles Times that I write a story about all the great things to do downtown, since so few of its readers had gone there as tourists. I was told this was a stupid idea, since the section was about destinations outside the area (five years later, as downtown continued to bloom, they had someone else write up my idea).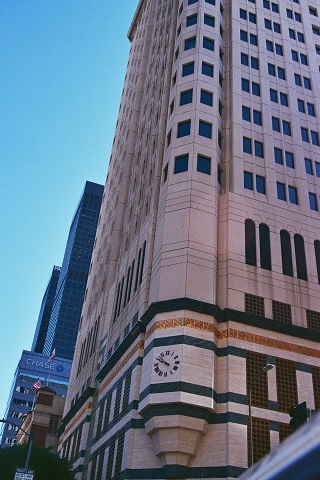 POSTMODERN HISTORIC ECLECTIC STYLE 1980s
In 2015, the number of tourists visiting L.A. rose 1.3 million to a record-breaking 45.4 million and there has been a dramatic increase in tour buses in Hollywood. But not many have discovered downtown yet, so it's a good time to go and I'm glad I rode along with Laura because aside from her impressive knowledge, it requires an expert to navigate the new construction maze. I brought along Borislav Stanic's Los Angeles Attractions, to consult for additional background, since it is by far the best tour guide to L.A. in general and in terms of its detail on architecture.

Downtown's Beginnings
Native Americans had been in Los Angeles for thousands of years before the first Spanish settlement in downtown in 1781. El Pueblo de Los Angeles Historic Monument has preserved some of the early buildings as museums and is worth several hours on foot by itself. After the Mexican-American War, California became a state in 1850, but L.A. grew slowly. During the first real estate boom in the 1880s, Victorian homes were built in Angelino Heights, which was a suburb of downtown, with commuters riding streetcars to work (L.A. had the world's most extensive system by the 1920s).
Silent film makers put L.A. on the map after realizing its year-round sunshine made it the ideal location (the first movie set was built downtown in 1907). This led to the era of grand theater palaces, first for films and later with plays and concerts, all with facades that are masterpieces of decorative detail. United Artists Theater was created by Mary Pickford and Douglas Fairbanks after they returned from their European tour, impressed by the cathedrals and castles. The Million Dollar Theatre is where movie impresario Sid Grauman began his career and was built in 1918 in Spanish Baroque style, with terra-cotta sculptural ornaments. The Mayan Theatre, opened in 1927, is now a nightclub and is notable for its hand-painted, cast-concrete decorations in the Pre-Columbian Revival style.
Alas, the gorgeous insides of most of these theaters can't be seen by casual visitors, but Stanic's book has the images and the L.A. Conservancy www.laconservancy.org does offer scheduled tours of some, such as the L.A. Theatre, opened in 1931 for a cost of $2 million (equal to $27 million today).
Bunker Hill
The highest point in downtown was named after the battle of the American Revolution by pioneers, who built homes here that were razed during misguided urban development in the 1960s. Its most famous building is the Frank Gehry-designed Walt Disney Concert Hall, with its highly-polished stainless steel sails (it offers guided tours inside). Next door is the equally distinctive and recently-opened Broad Museum, which features contemporary art from the vast private collection of billionaire Eli Broad, many of them by the famous and others little-known, but unusual. Across the street is the Museum of Contemporary Art and the Colburn School of Performing Arts. On the same hill are the Music Center and the Pritzker Prize-winning Cathedral of Our Lady of the Angels.
The Angel's Flight funicular railway transported Victorian ladies from lower downtown up to Bunker Hill and back and still is used by visitors who would otherwise have to walk.
Other Highlights
There is so much to see in the flatlands that just skimming by the highlights took two-and-a-half hours. You could spend a whole day in sections like Chinatown and Little Tokyo. Here are some of my favorites:
*Bradbury Building was opened in 1893 by a real estate millionaire who wanted to create a classic office building, but after rejecting the architect's design, he had one created by a draftsman with no formal training, George Wyman. Wyman allegedly consulted his dead brother via an Ouija board and was told to take the commission because it would make him famous. The design was influenced by Edward Bellamy's novel Looking Forward, a utopia set in 2000. It has one of only four elevators in the region that are handled by human operators. The tile floors set against handcrafted woodwork and iron balustrades make it stunning.
*Biltmore Hotel, opened in 1923 at a cost of $10 million, was the most luxurious hotel west of Chicago at the time and its Italian and Spanish Renaissance style make it impressive.
*Eastern Columbia Building, finished in 1930, is the finest remaining example of the Art Deco style in Los Angeles. Its highly-glazed turquoise, steel-blue, and gold terra-cotta tiles make it one of the region's most distinctive buildings.
*Westin Bonaventure Hotel consists of five, 35-story cylindrical towers sheathed in bronze mirror-glass. Opened in 1976, it still looks futuristic, which is one reason it appears in so many films (including "True Lies").
Downtown could be said to be one giant movie studio with cutting-edge sets rising daily, while the best of the past are being preserved for their value as high art. As any good showman would say, you have to see it to believe it.