Tour buses take loads of visitors around Beverly Hills, a city synonymous with the lifestyles of the rich and famous, to gawk at mega-mansions where stars allegedly live or once did.
Far more interesting and far less visible to the naked eye is the landscape master plan for "the most fabulous six square miles on earth," which attracted celebrities the long 10 miles from downtown Los Angeles, where the movie palaces were in the 1920s. Mary Pickford and Douglas Fairbanks were the first movie stars to move there and help promote it. Each major residential avenue was planted with one type of tree and given a long curve, so the foliage was always in view. The most striking in spring are the lavender-flowered jacarandas, while giant sycamores, magnolias, palms, bottle- brush or ficus trees give each street a distinctive look.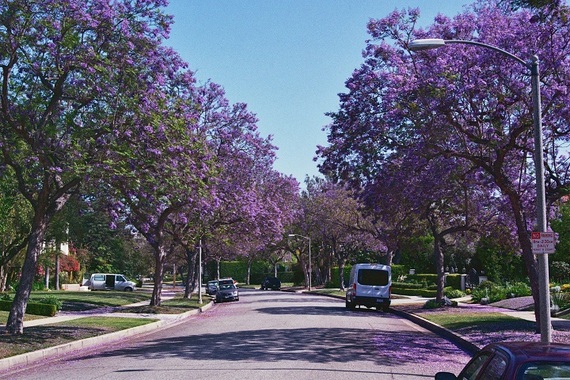 That was one of the many revelations on a recent tour of this gilded corner of L.A., as well as the next door arts, design, and nightlife town of West Hollywood, conducted by Laura Massino of Architecture Tours L.A. www.ArchitectureToursLA.com (323/464-7868). She has a mini-book for sale for each of her many local tours for those who don't want to rely on their own camera skills and note-taking for the memories and education.
For those who want the design analysis of actual stars' homes, Borislav Stanic's Los Angeles Attractions is the best layman's self-driving guide. We focused instead on architectural details of other houses and buildings. The beautiful Beverly Hills City Hall, for example, was designed in Spanish Renaissance style in 1932. As Massino noted, because of its earthquake faults, California has the strictest construction codes in the nation, but when it comes to what a building looks like, almost anything goes.
The most unusual example of how set designers have influenced the area's architecture is Spadena House aka The Witch's House, which was built as the colorful office for a movie studio in 1921 (it appeared in the 1965 classic, "The Loved One"). One of the best example of the region's appreciation of humor in design is the O'Neill House, an Art Nouveau classic, with curving walls bearing mosaic tiles and extravagant details.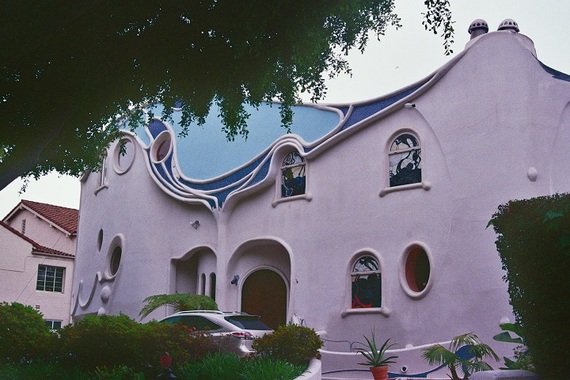 BevHills' most famous street is, of course, Rodeo Drive, and a stroll is mandatory to peek at the lavish details of the stores. Particularly innovative is the use of translucent walls at Prada.
Astoundingly, Beverly Hills didn't even have historic preservation standards until 2012, so many homes and buildings have been torn down to make way for larger and more glamorous quarters. But some are too iconic to change, such as the Beverly Wilshire Hotel, with its Italian Renaissance look. The pink façade of the Beverly Hills Hotel, which has appeared in movies from "The Way We Were" to "Shampoo," is another, despite remodeling that took several years.
West Hollywood
West Hollywood is known worldwide for its hot restaurants and legendary rock palaces like Whiskey a Go Go, Viper Room, and The Roxy (not to mention its flamboyant Halloween street parade, the largest in the world, with half a million participants).
WH's Pacific Design Center has massive, multiple, and distinctive buildings which house every manner of interior decorating manufacturer or service. One has to have a resale license to buy, but civilians are welcome to look. The surrounding area is filled with boutique design storefronts that would take days to thoroughly browse for furnishing shopaholics.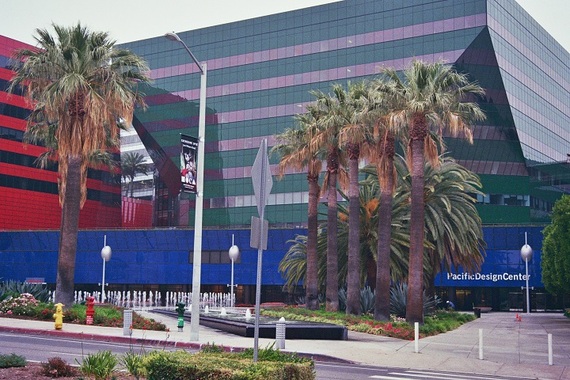 Every neighborhood in the city's packed two square miles seems to have a different eclectic assortment of homes, apartment buildings, and townhouses. Among the most interesting is Havenhurst Dr. which has La Ronda and Andalusia, two buildings done in Spanish Colonial Revival style by Arthur and Nina Zwebell, who were not even formally trained as architects. The neighboring Colonial House is where Katy Perry currently resides when in town and whose prior tenants have included Bette Davis, Clark Gable, Tim Burton, and Sandra Bullock.
Nearby in the Hollywood Hills, we looked at Storer House, formerly owned by movie producer Joel Silver, designed by Frank Lloyd Wright in 1923 with concrete blocks imprinted to appear like woven textile. A similar home by his son, Lloyd Wright, is down the street.
Most fascinating was our visit to Gemini G.E.L., designed by Frank Gehry, where very limited editions have been crafted by old-school printing presses for artists like David Hockney, Willem De Kooning, Roy Lichtenstein, and Ed Ruscha. Artist-in-residence right now is Richard Serra, one of whose silica-and-black-ink pieces fills a wall (one of 12 for $175,000).
For architecture buffs, the L.A. area is an endless feast.