In 2015, Arclight Cinemas presented the inaugural Women In Entertainment Summit, a full day event featuring keynotes, panels and fireside chats where some of the industry's most progressive minds addressed themes including equality, women's leadership, and empowerment. The event proved a success and has become an annual staple in the Arclight Cinema calendar. http://www.arclightwomen.com/
The second annual Women In Entertainment Summit took place November 2016. I chatted with three of this year's participants:- Haifaa al-Mansour, Director and Writer of Wadjda and Saudi Arabia's first female filmmaker.- Allison Schroeder, Screenwriter and Co-Chair of the WGA Committee of Women Writers- Gretchen McCourt, Executive Vice President Cinema Programming, ArcLight Cinemas
Gretchen McCourt welcomes the audience at Arclight Cinema's Women In Entertainment Summit (Courtesy of Cinematic Red):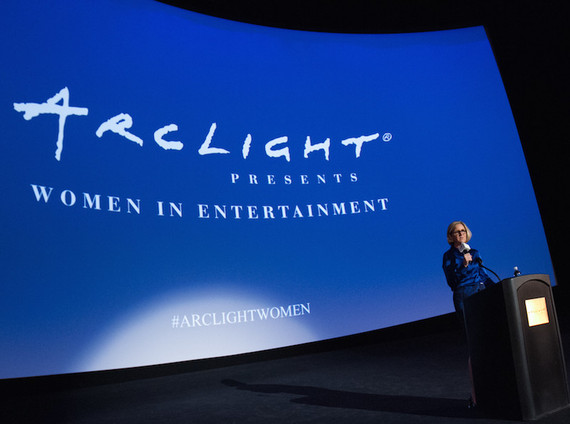 Xaque Gruber: Tell me one area within the entertainment industry that you'd like to see improve for women?
Haifaa al-Mansour: More voices behind the camera for sure. There is a serious lack of women directors in the industry, and this leads to a very serious lack of women's perspective in all forms of entertainment. We need to continue to encourage women to pursue directing and to encourage producers, actors and other industry professionals to support women directors.
Allison Schroeder: That's hard. I think the key is that there needs to be improvement in all areas, so that there's not just one woman in a room or on a team or within a department. But I think the biggest thing is getting women in the room to begin with. To pitch, to interview, to vie for the job. Then the key is staying in that position, which can be even harder.
Xaque Gruber: Haifaa, you're Saudi Arabia's first female filmmaker. So first of all, congratulations on that. I'm wondering what is something that American filmmakers, male or female, can learn from your experience of working in that restrictive culture?
Haifaa al-Monsour: I believe strongly in focusing on goals and finding avenues to achieve them regardless of the obstacles or restrictions in front of you. I feel that it is very easy sometimes to get stuck in a negative narrative about how difficult things are, and that we instead need to focus on the journey and the steps that are necessary to succeed.
Xaque Gruber: What are some recent female driven films that have moved you?
Gretchen McCourt: Jessica Chastain in Miss Sloane is fantastic. Hidden Figures is so important for everyone to see. I loved Viola Davis in Fences, she's fabulous.
Allison Schroeder: I recently saw Jackie and loved it. I thought it was an amazingly complicated portrait of a woman. There were so many scenes of her wrestling with her internal demons and decisions juxtaposed against the expectations of her as a beautiful woman. When she sat behind the Oval Office desk, I just cried. I felt how much she felt like an outsider even in the place she lived.
Haifaa al-Monsour: Anytime I need inspiration I re-watch Rosetta, which is a fantastic film about a young woman intensely focused on making it in her limited world. There are so many exciting films in 2016: 20th Century Women, American Honey, Carrie Kilby. The future looks bright! I actually really liked Bridget Jones Baby. I think there is a lot of unexplored potential in the rom/com genre, and I love a movie that can make me laugh and cry at different times.
Xaque Gruber: Allison, back in 2012 it was widely reported that Hollywood studios were not hiring women screenwriters to write big tentpole movies - especially action movies. Has that changed at all?
Allison Schroeder: Well, you have Nicole Perlman and Meg LeFauve writing Captain Marvel, which is a great thing. I'm not sure how many other big tentpoles have female writers helming them. After selling Agatha, an action-adventure film to Paramount, I pitched for a few action tentpoles, almost all with female leads, but often the projects got shelved before anyone was hired. I don't think I've ever been called up for an action film with a male lead -- which is a shame. I'd love to take on Bond. In my general meetings, I certainly tell producers and executives that I'm interested in writing action films, but I think there's still a very specific set of writers they look at. And I don't think there's a lot of female writers on that list. I've been told by quite a few film producers that when looking for a woman writer, they often turn to television, as there just aren't that many of us working in features.
Xaque Gruber: Haifaa, what are you working on now?
Haifaa al-Monsour: I am very excited about my new film A Storm In The Stars. We not only have a strong female producer (Amy Baer) and a female director, we have two amazing actresses (Elle Fanning and Bel Pawley) leading the cast. It tells the story of Mary Shelley writing Frankenstein, which went on to succeed in such a masculine genre.
Xaque Gruber: Gretchen, you have done a great job with Arclight Cinema's Women In Entertainment Summit. Congratulations on a successful second year.
Gretchen McCourt: Thank you! The highlight for me was the message that our summit was needed. We also organize workshops and mixers throughout the year. We made sure we were hearing from relatable women in front of and behind the camera. We want to cover women in all aspects of entertainment and plan to add sports to the mix. We want young women to see themselves in every area. There are women out there willing to help and tell their story.
Geena Davis speaks at Arclight Cinema's Women In Entertainment Summit (Courtesy of Cinematic Red):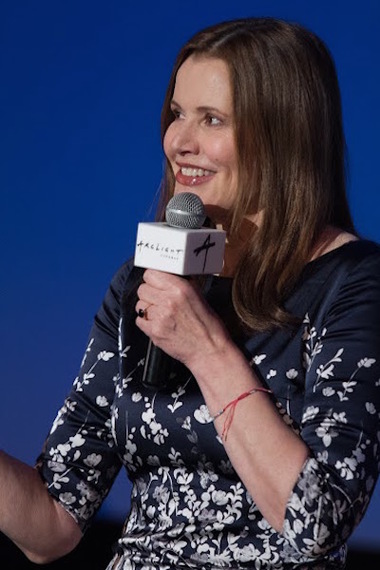 Popular in the Community