Arctic Alchemy is the adventurous endeavor that three friends and their small crew are undertaking in order to recreate a historic trek to the Canadian Arctic in the name of beer. The trip begins in Bethlehem, PA and ends on the banks of the Hudson and James Bay, where they will brew 100 gallons of Allsopp's Arctic Ale to bottle and sell as a promotional for the documentary they are filming along the way. Theirs is a story of man's curiosity, restless spirit, and love of adventure, not unlike the explorers that tread this path close to two hundred years ago.
The team consists of an award-winning brewer (Chris Bowen), a machinist (John Chay), and a data and communications company owner (Dick Gethin) who are all avid motorcycle enthusiasts and friends. I recommend a visit to their website for more information on them, as well as additional history of the original voyages. The film and photography crew have impressive works under their collective belts, which makes the completed 60-minute documentary a must-see.
So, what is the deal with Allsopp's 'Red Hand' Arctic Ale? Why are they brewing this particular beer in that location? The tale begins in England in the 1800's. Beer has long been sent with seamen on voyages as part of the daily rations and for medicine. It was often brewed with high malt content, thus giving it higher alcohol content due to the additional sugars in the fermentation process. The more alcohol it had, the slower it froze, which made it ideal for excursions to places like the Northwest Passage. In the case of this particular ale, the alcohol hit 12%, which is quite a 'big beer'. Sir Edward Belcher was sent to the Arctic in 1852 with 5 ships to scour the ice for traces of a previous voyage that went missing. Allsopp's 'Red Hand' Arctic Ale was the beer that was commissioned by Queen Victoria for Sir Belcher's voyage. In the book, The Last of the Arctic Voyages, Sir Belcher narrates his personal experimentations with Allsopp's Ale to create an even higher alcohol content.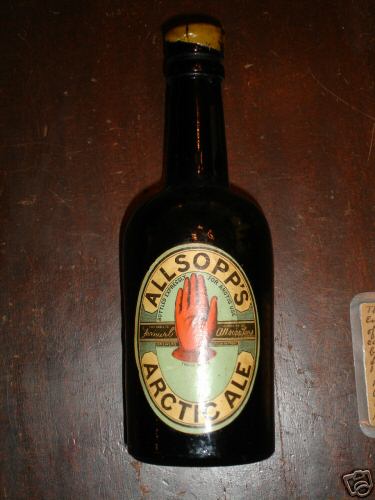 At the time Samuel Allsopp & Sons first brewed Allsopp's Arctic Ale, they were the largest brewery in England. Over the years they changed ownerships and merged with other breweries, eventually being acquired by Allied Breweries. As of about 1990, Allied Breweries (now Allied Domecq) was no longer in the brewing business but instead focused on wine and spirits, so Allsopp's Arctic Ale is no more than a memory of a prominent past.
In 2007, an unopened, corked and waxed bottle of an 1852 Allsopp's 'Red Hand' Arctic Ale went up on eBay for auction. It sold at over a whopping $500,000. A few months before, a bottle went up for sale on eBay and sold for a little over $300. The cause of this vast difference in sale price was a spelling error. The seller of the $304 bottle listed it as Allsop's as opposed to the correct spelling, Allsopp's. That 'p' did the seller in. The second, correctly spelled bottle sold for $503,300.
Mind your p's and q's, my friends.
Here is a question for you: would you drink a beer this old? Do you think it would age well like a fine wine or do you think it would skunk like a warm Schlitz? Granted, I can't afford a half-million dollar bottle of beer, but I'm not even sure I'd want to taste a $300 bottle if it was that old.
The story is fascinating and it's one I plan on following through until the end. I hope to get my hands on at least one of the bottles of Allsopp's Arctic Ale when they're through. You should get yours too. Visit Arctic Alchemy at their website and follow their ongoing adventure via their Facebook.
Happy brewing and happy drinking!

Popular in the Community