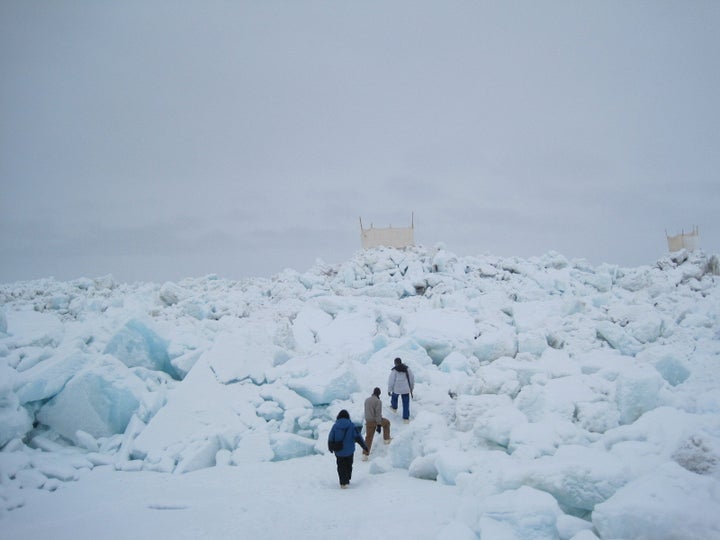 The latest attempt by federal regulators to address concerns of environmental groups about plans for oil and gas development off the coast of Alaska appears likely to fall far short.
A revised draft environmental impact statement, (E.I.S.) published Friday by the Bureau of Ocean Energy Management, Regulation and Enforcement (BOEMRE), a division of the Department of the Interior, describes the potential consequences of federal oil and gas lease sales in the Chukchi Sea off Alaska's northwest coast.
But it is already being described as inadequate by critics who say it ignores a long-standing call for more robust scientific analysis of the rugged and remote ecosystem.
The revised review was ordered after a federal court ruled last summer that the government had done a poor job of analyzing the potential impacts of natural gas development in the Chukchi lease area the first time around. Known as the Chukchi Lease Sale 193, the area represents millions of acres of potential oil and gas development as a warming climate leaves more of the Alaskan coastal waters free of ice.
Perhaps more importantly, the court also found that other scientific data on the Arctic's unique marine ecosystem was also lacking, and that at least some baseline data should be included in any substantive E.I.S. concerning an industry likely to be as invasive -- and potentially risky -- as oil and gas development.
That ruling came in response to a suit filed by a wide coalition of environmental and indigenous-rights groups in early 2008. The groups claimed that federal regulators, in preparing to lease Chukchi 193 to oil and gas companies, had sidestepped federal environmental protection rules.
A month after the suit was filed, the government went ahead and opened up Chukchi 193 for business, selling a total of 487 oil and gas leases and earning some $2.6 billion in proceeds along the way. Royal Dutch Shell bought up the lion's share of the leases, spending $2.1 billion. ConocoPhillips and Norway-based Statoil also scooped up stakes.
But those leases have been on hold since.
BOEMRE said on Friday that its updated draft addressed the court's concerns. The revised document "offers additional scientific, environmental and technical analysis that will assist in future decisions pertaining to the leases issued in Sale 193 in the Chukchi Sea," said BOEMRE Director Michael R. Bromwich in releasing the document. "Because of what is at stake, it is extremely important that we continue to make this a transparent process that encourages the maximum amount of public participation."
Included in the new analysis is vastly improved modeling aimed at estimating how long it would take to respond to a catastrophic oil spill similar to what unfolded last year in the Gulf of Mexico. The report suggests that it could take anywhere from 39 to 74 days to successfully cap a well with flow rates up to 61,000 barrels per day. The original E.I.S., prepared in 2007 under the Bush administration, modeled for an oil spill scenario of under 5,000 barrels total.
"It's my hope that this additional analysis on the potential impacts on the region will help resolve the legal challenges that have held up resource exploration in the Chukchi Sea," Murkowski said in a statement published to her Congressional website. "There's still a lot of process yet to occur, but this is a step in the right direction."
And Chuck Clusen, the director of National Parks and Alaska Projects for the Natural Resources Defense Council (NRDC) in Washington, D.C., was among other environmental advocates who praised the more robust oil spill analysis -- though he also said the report was lacking in other key ways.
"It's good that they did that. And they should do that," he told HuffPost. "But we still think that this document is highly flawed, because of these information gaps."
Chief among NRDC's complaints is the continued lack of scientific information on the unique ecosystems of the Chukchi, which have been only thinly studied to date.
The United States Geological Survey has reportedly completed a 500-page scientific gap analysis for both the Chukchi and nearby Beaufort Seas that seeks to fill the void in some areas -- including the effect of noise on various mammals native the to the areas, the potential cumulative impacts of development, oil spill risks and response and shifting climate impacts. But that study, which was due out at the end of April, has not yet been released.
The Chukchi is home to dozens of rare bird species and roughly half of America's polar bears, according to Audubon Alaska, along with ringed, ribbon, bearded and spotted seals. Endangered fin and humpback whales, gray whales and beluga whales use the areas in and around the Chukchi for feeding and breeding.
Just how these various species -- and the indigenous populations living along Alaska's North Slope who often depend on them -- will be impacted by a burgeoning oil and gas industry are key questions, and critics say the new E.I.S. still gives them short shrift.
"BOEMRE appears not to have changed much, as it still says that out of the huge amount of missing information about the Arctic on such basic things as whales, walruses, even fish species, none of the missing information matters to their decision to issue leases," said Peter Van Tuyn, an environmental attorney in Alaska who represents the North Slope village of Point Hope, in a email to HuffPost. "Such intentional ignorance is what got us in trouble in the Gulf."
Marilyn Heiman -- a former Alaska policy adviser for the Department of Interior during the Clinton administration who is now director of the U.S. Arctic Program and Offshore Energy Reform for the Pew Environment Group -- said in a telephone interview that other aspects of the challenging Chukchi environment are glossed over by BOEMRE. Failing to wait for more thorough scientific study is perilous, she added.
For example, precious little is known about water and air currents of the Chukchi. Both would be crucial for understanding and responding quickly to oil spills in the rough seas. Virtually nothing is known about the behavior of leaking oil trapped beneath thick layers of broken sea ice -- a situation that Heiman says would likely be nearly impossible to address.
"There is currently no way to track oil under sea ice," Heiman said. "We have no idea. Nobody's been up there doing that work, because until recently it's been covered in ice."
This was just one of the many conclusions reached in a comprehensive analysis of what Pew called the "unexamined risks and unacceptable consequences" of oil spill prevention and response in the nation's Arctic waters, published in November.
Officials at BOEMRE did not immediately respond to a request for comment on criticism of its revised E.I.S. This story will be updated if a response is received.
The agency's revised document is due to be published in the Federal Register by the end of the week. A public comment period will run from then through July 11. BOEMRE hopes to issue a final decision on the impact statement by Oct. 3, 2011.
Related
Popular in the Community