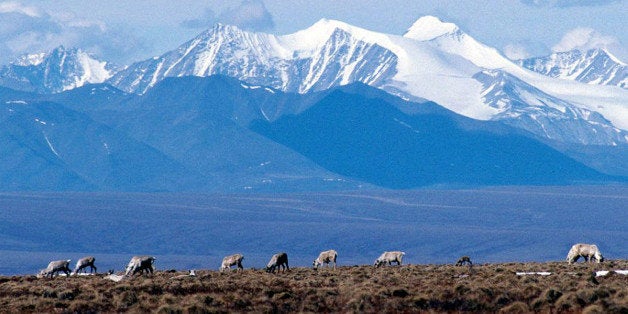 Some Alaskan Inupiat Eskimos contend that their community's future would be bleak if President Obama's proposal to designate most of the Arctic National Wildlife Refuge (ANWR) as a wilderness becomes law.
Such an official permanent designation, they say, would put oil drilling off limits in the area and deprive them of energy tax revenues that have enabled them to acquire the basic amenities of the modern world.
But just how detrimental or beneficial the ANWWR wilderness designation would be is in the eyes of the beholder.
The Gwich'in Athabaskan Indians, who live on the opposite side of ANWR from the Inupiat, have a totally different take on the wilderness label. They say that any industrial activity in the refuge would ultimately doom the indigenous porcupine caribou herd on which the tribe depends for all its basic needs. Gwich'in elders warn that the loss of the caribou would sound the death knell for their society's culture and spiritual bond with the land. Therefore they believe that a wilderness designation (which must be formalized by Congress) is the only thing that will secure their future.
Which Alaskan ethnic group has a more persuasive case? While the Gwich'iny have acquired a few trappings of the modern world, they still lead an essentially subsistence, hunter-gatherer lifestyle. Any disruption in this pattern would indeed be an existential threat to their continued survival as a distinct people.
It is not all that cut-and-dried with the Inupiat. There are conflicting views in Kaktovik, their tiny village tucked between the Beaufort Sea and ANWR's coastal plain. Many of the younger residents support opening up ANWR to drilling, considering that the village gets most of its revenue from oil company activities on Alaska's North Slope.
Others in the village, especially some older adults, fear that that industry's entry into ANWR would adversely impact the wildlife that has traditionally been the main source of the Inupiat's diet. There is also concern about a mass invasion of the non-native culture from the south. In the past this has produced culture shock that has led to increases in domestic abuse, alcoholism, and drug use. A Kaktovik health clinic worker worries that air pollution from oil production would result in a spike in asthma cases.
Even those Inupiat who are receptive to drilling on ANWR oppose offshore wells because of continued heavy reliance on marine life for sustenance. Since oil companies' onshore drilling in ANWR would likely require shipping activity near Kaktovik to transport the product in ecologically sensitive waters, what native enthusiasm exists for development could quickly evaporate. And what happens after all the oil runs out?
The oil industry and other opponents of a wilderness designation want you to think they have overwhelming support of the native peoples residing in ANWR's vicinity.
Not quite. Alaskan natives' spiritual affinity to their heritage and reluctance to totally discard a unique, deeply rooted lifestyle still have some staying power against cold, hard cash.
Popular in the Community