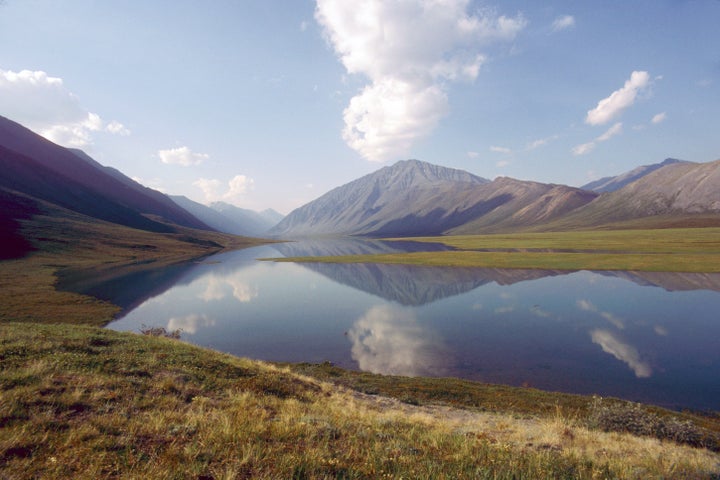 Almost every Senate Republican voted Thursday to block an amendment that would have protected a swath of the Alaskan Arctic from oil exploration, flouting attempts from Democrats and environmental groups to keep the region under government protection.
Democrats, led by Sen. Maria Cantwell (Wash.), were attempting to attach an amendment to the chamber's budget plan that would bar drilling in the Arctic National Wildlife Refuge, which covers more than 19 million acres in northeastern Alaska. The region, described by the state's tourism bureau as one of Alaska's crown jewels, is home to polar bears, caribou, moose and hundreds of species of migratory birds.
"The notion that we, tonight, after 60-plus years, would give up what is a biologically important area, a critical habitat for polar bears, a breeding ground for caribou, migratory birds and over 200 species ― for what? For oil we don't need?" Cantwell said on the Senate floor Thursday, according to The Hill.
Republicans, including Sen. Lisa Murkowski of Alaska, have pushed to allow the Senate's Energy and Natural Resources Committee (which Murkowski chairs) to pass legislation to raise $1 billion over the next decade. While a provision including the ANWR ― as the Arctic reserve is known ― isn't explicit, environmental groups say government revenue from drilling permits in a portion of the refuge is a likely source to raise such money.
"Those who would support this amendment will deny us the opportunity to do something constructive in this country, when it comes to our opportunities to produce energy, to produce wealth," Murkowski said. Parts of the ANWR that could be opened for drilling are thought to hold 10.3 billion barrels of oil, according to the U.S. Geological Survey.
The amendment was voted down, 52 to 48. Democrat Joe Manchin (W.Va.) was the sole member of his party to vote against it, and Sen. Susan Collins (Maine) was the lone Republican in support. A bill to open up drilling in the ANWR would require only a 51-majority vote in the Senate since it is in the budget plan, rather than the 60 votes needed for most legislation, making the prospects of such a decision far easier.
"Republicans are trying to use the budget process to ram through drilling in the crown jewel of America's wildlife refuge system because they know they don't have the votes to do so through regular order," Sen. Ed Markey (D-Mass.) said in a statement. "Republicans are moving forward with a budget that includes this poison pill to hand over the wildest place left in America to Big Oil. This is nothing more than fossil fuel folly."
Environmental groups were livid after the amendment's defeat.
"Right now polar bear mothers are preparing to hibernate and give birth on the coastal plain in the Arctic National Wildlife Refuge," Jamie Rappaport Clark, president of Defenders of Wildlife, said in a statement. "Already contending with climate change, today's vote casts their future into even greater doubt. Hundreds of bird species, as well as a vast caribou herd, muskoxen and wolves also stand to lose from drilling in the refuge. Enough already."
"The budget passed by the Senate today sets in motion a sellout of some of our most iconic public lands and waters to the highest bidder, in order to fund tax breaks for billionaires," Trip Van Noppen, president of the environmental group Earthjustice, said in a statement. "This is a blatant attempt to use the budget reconciliation process to pass a divisive and controversial proposal that would lead us in the wrong direction on climate."
"This is a really big deal," Niel Lawrence, Alaska director of the Natural Resources Defense Council, told The New York Times in September. "This is a frontal attack in an ideological battle. The Arctic is the holy grail."
Popular in the Community