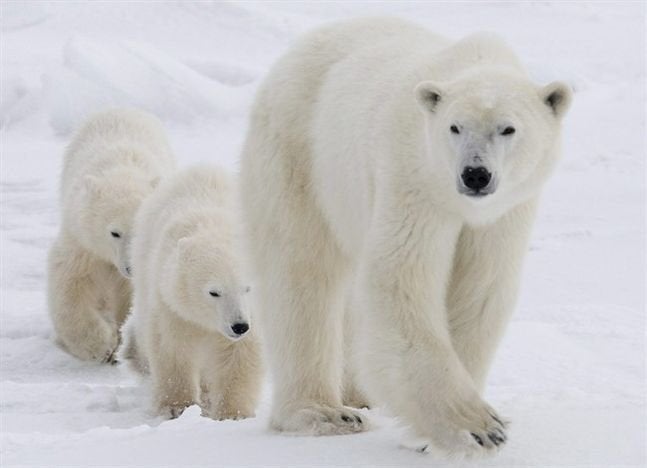 Up in the frozen arctic, where polar bears rule over a biogem world, massive oil drilling plans threaten the Arctic National Wildlife Refuge. Shell, the oil behemoth that made $4.8 billion in profits last quarter, intends to boost those numbers by drilling in the Beaufort and Chukchi Seas off Alaska. And the Obama Administration appears eager to help them.
Last year Shell was granted approval to conduct exploratory deepwater drilling operations in one of the most fragile ecosystems -- and most hazardous environments -- on the planet. This month, federal regulators may approve Shell's cleanup response plan in this remote area that is a thousand miles from modern ports and oil industry infrastructure. If approved, Shell could send its drilling fleet out into the arctic this summer to bore into the seabed, searching for the black gold oil industry execs have been salivating over for decades. The problem is, drilling in these remote, harsh arctic environments involve huge risks and threatens all forms of life, including the arctic's most iconic creature, the polar bear. 
Check out the hazards oil drilling will pose to unique polar bear birthing grounds in this new NRDC video, narrated by Robert Redford. Go to www.StopShell.org to find out how you can help tell the Obama Administration to deny Shell its final drilling permit. 
As the ice slowly thaws in these pristine Alaskan waters and the snow retreats with the warming winds of spring, pregnant polar bears will begin an annual trek to birthing grounds this summer. But for the first time, a massive oil drilling operation and a flotilla of support ships may also join their arctic habitat. Some wonder if this is just the beginning of an oil platform invasion that could turn this immaculate seascape into an oil-rig studded Gulf of Mexico.
Let's hope not. We all have pretty short memories if we don't remember the horrendous consequences of oil drilling operations off our more hospitable southern shores, where a disaster still unfolds and impacts to fisheries, wildlife and human health have yet to be counted or fully known.    
But in the frozen north, an oil disaster could be far worse -- and irreparable. As we know from the Exxon Valdez fiasco, the ecology of Alaska's northern seas is even more sensitive to the assault of toxic petroleum compounds, assaults that are continuing more than two decades later. NRDC President Frances Beinecke, a member of the presidential commission that investigated the Deepwater Horizon, blogged about it this way;
By allowing drilling into the Arctic Ocean before the government and the industry have addressed the failures that led to the Deepwater Horizon blowout, the Bureau of Ocean Energy Management, Regulation and Enforcement is taking a dangerous gamble. Residents, fishermen, business owners and all the people who love the Gulf of Mexico can tell us who pays the price for such recklessness. 
We have seen the price of drilling in the Gulf and witnessed hollow oil industry promises that catastrophic accidents will not happen. The sad truth is that nearly two years after the Deepwater Horizon explosion, we still are no closer to passing crucial federal laws to protect us from increasingly dangerous drilling practices that push further into more hazardous offshore environments.
So should we believe the industry that brought us Exxon Valdez and the Deepwater Horizon that oil blowouts can be contained and controlled in the frigid oceans of the arctic? The video sums it up best; if the oil industry couldn't stop and clean up its cataclysm in the Gulf of Mexico, then how will it clean up an arctic blowout faced with 20-foot surging seas, gale force winds and subzero temperatures?  
Let's hope we don't leave it to the polar bears to figure that out.
REAL LIFE. REAL NEWS. REAL VOICES.
Help us tell more of the stories that matter from voices that too often remain unheard.