WASHINGTON — A little more than two years after recommending that the coastal plain of Alaska's Arctic National Wildlife Refuge be designated as wilderness, a move that would have permanently protected the area from commercial development, the U.S. Fish and Wildlife Service (FWS) on Thursday voiced support for oil and gas drilling in this remote and fragile ecosystem.
Although a significant change in course, the move comes as little surprise. The Trump administration's 2018 fiscal year budget calls for allowing oil and gas production in the 1.5 million-acre coastal plain, also known as the 1002 area.
The administration says that development there would generate an estimated $1.8 billion over a decade — a figure that's both highly disputed and only slightly more than the $1.6 billion President Donald Trump is looking to slash from the Interior Department's annual budget.
Greg Sheehan, principal deputy director of the FWS, was among a dozen panelists to testify during an hours-long, and at times tense, hearing Thursday of the Senate Committee on Energy and Natural Resources. As expected, he went to bat for a Republican-led effort to open the refuge to energy exploration and extraction.
"We support responsible development, in whatever form or fashion that best occurs in," he said. Sheehan added that if Congress passes legislation, the agency would "use the best science, the best technologies and other strategies" to ensure activities have the "least amount of impact on the native wildlife species."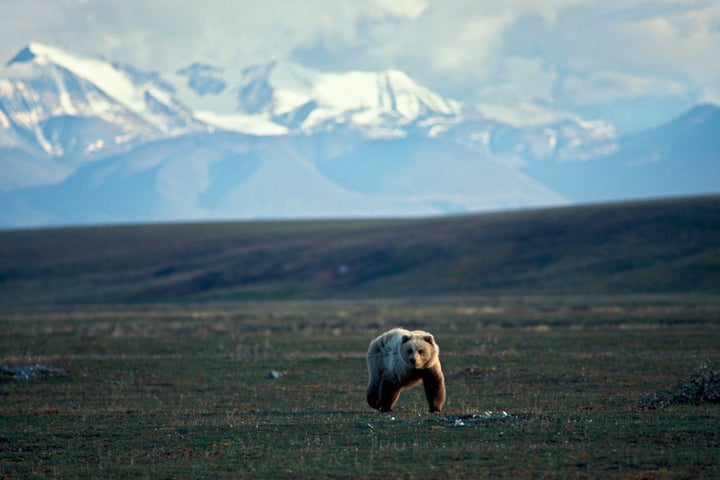 The Arctic National Wildlife Refuge (ANWR), described by some as "America's Serengeti," covers more than 19 million acres in northeastern Alaska. It is home to polar bears, caribou, moose and hundreds of species of migratory birds. In 1980, with the passage of the Alaska National Interest Lands Conservation Act, Congress expanded the refuge, but opted not to give wilderness status to the 1002 area, setting it aside for potential future oil and gas development. Granting leases for that purpose, however, requires an act of Congress.
The issue of drilling in the arctic refuge has long been the subject of controversy and debate. Over the last several decades, many attempts to open the area to drilling — as well as others aimed at banning it — have failed.
The battle over this pristine slice of arctic land has been given new life under the Trump administration, which is pushing for increased fossil fuel development in its quest for "energy dominance." In May, Interior Secretary Ryan Zinke signed an order to "jump-start Alaskan energy production." He said at the time that the move was an "important first step in a smart and measured approach to energy development in ANWR."
Republicans, including Alaska Sen. Lisa Murkowski and other state lawmakers, have for years been advocating for opening ANWR's coastal plain. The Senate budget plan includes a provision that tasks the Senate Committee on Energy and Natural Resources, of which Murkowski is chair, with finding $1 billion in additional revenue over the next decade to help pay for tax reform.
Murkowski stressed Thursday that opening up "a small portion" of the 1002 area to oil and gas would not only get the job done, but benefit both the state and the nation for decades.
"We are asking [for] 2,000 acres, or about one ten-thousandth of the refuge," she said. "And we've waited nearly 40 years for the right technologies to come along so that the footprint of development is small enough to ensure that the environment continues to be respected and will not be harmed. This is not a choice between energy and the environment. We are past that."
But the economic benefits that supporters of the proposal often speak about are not clear cut. An analysis by the left-leaning Center for American Progress found that by drilling in the refuge, the U.S. government would likely only collect $37.5 million over 10 years. David Murphy, an assistant professor at St. Lawrence University, concluded in a report published Wednesday that "drilling there would have little appreciable effect on increasing U.S. energy security," and that "current presidential and congressional budget projections are unrealistic, and thus that it would be fiscally irresponsible to pursue this path on a budget justification."
Bloomberg reported Wednesday that previous lease sales in the Arctic "suggest the U.S. is likely to collect less than a fifth of that billion-dollar goal over the next decade — about $145.5 million — from auctioning off territory in the sprawling northeast Alaska refuge."
Sen. Maria Cantwell (D-Wash.), the minority's ranking member of the Senate Committee on Energy and Natural Resources, said she is both "disturbed" by the process — budget bills require only a simple majority vote and cannot be filibustered — and finds it "hard to believe that there will be the economic incentive to drill" in ANWR.
"We are here today because someone has come up with a ludicrous idea that we can pass a tax reform bill that raises the deficit and increases our taxes, and that will take a sliver out of a wildlife refuge to do it," she said. "I almost want to call this 'caribou for millionaires' because it is the most ridiculous idea I have ever heard as it relates to meeting the tax reform agenda."
Rep. Don Young (R-Alaska), who joined the hearing as a panelist, called drilling in the refuge an issue of national security and dismissed the idea that opening the coastal plain would have severe negative environmental impacts. To make his point, he reached for a pen.
"I represent Alaska," he said, drawing a small dot on the tip of his nose. "You see anything different with my nose right now?" (The mark was clearly visible)
"This little dot on my nose — I weigh 225 pounds — this little dot is what we're talking about," he said. "I don't think it changed my appearance very much, because the coastal plain is not that pristine area you see in the propaganda that's portrayed by all the environmental groups. It is a flat terrain that in fact was set aside by this Congress" for development and not preservation, he added.
Perhaps the most powerful testimony Thursday came from Samuel Alexander, a representative of the Gwich'in tribe. He said it is the duty of Gwich'in people to protect the land and animals on it. And the tribe, he said, views drilling in the 1002 area as an attack on their freedom and the caribou on which they depend.
"Money can't buy our wealth, but the reckless pursuit of money can take it away," he said. "And for that, we will never stop fighting to protect the porcupine caribou herd and our way of life."
Asked by Sen. Al Franken (D-Minn.) about claims that developing oil in ANWR and elsewhere in the U.S. under strict environmental regulations helps mitigate the effects of climate change, Alexander said it reminded him of a phrase he and others used during his time in the Army: a "self-licking ice cream cone."
"That's really what this has become," he said. "We are trying to drill more oil, pump out more pollutants to address climate change and the impact that it has. That is just insanity to me."
Alaska Lt. Gov. Byron Mallot said Thursday that developing the coastal plain "will allow us to have fiscal resources to meet rapidly changing climate circumstances. Otherwise, we have no real ability to respond."
Earlier this month, Senate Republicans blocked an attempt by Cantwell and other Democrats to bar drilling in ANWR. On Thursday, Democrats accused Republicans of putting short-term economic gains over environmental protection.
"It ought to be clear," Cantwell said. "If you want to open up the arctic refuge, you should just admit you're going to destroy the wildlife refuge."
"We clearly disagree that this is an either-or proposition," she said. "It clearly is not. For those of us who call Alaska home, to suggest that we would despoil our environment for short-term gain is offensive."
Before You Go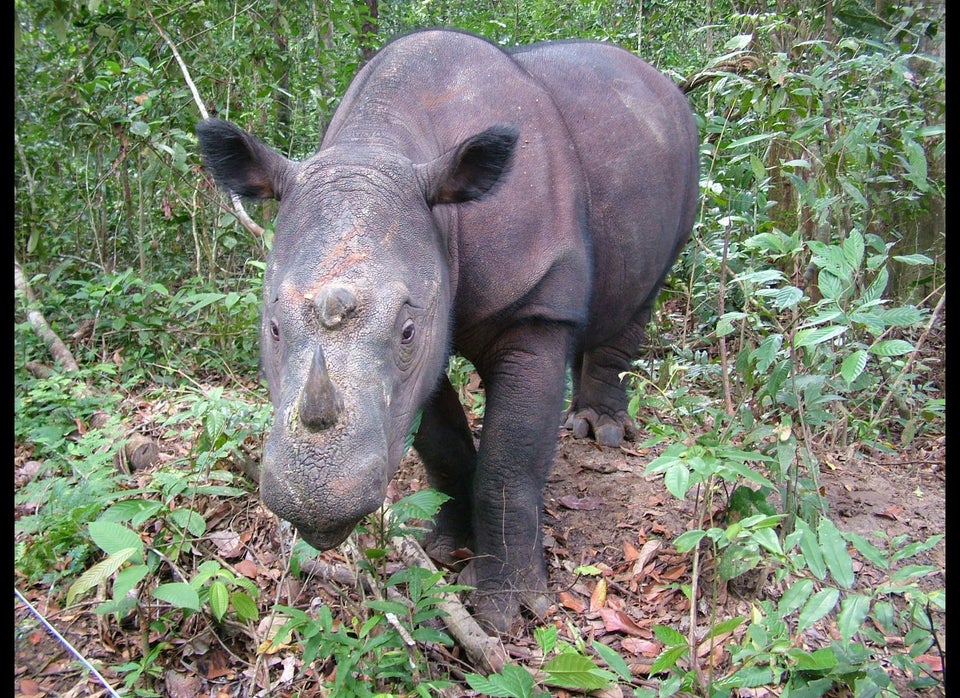 100 Most Threatened Species
Popular in the Community